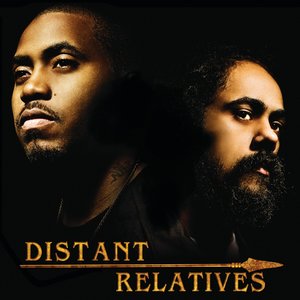 Distant Relatives is a collaborative studio album by American rapper Nas and Jamaican reggae artist Damian Marley, released May 18, 2010, on Universal Republic and Def Jam Recordings. Production for the album took place during 2008 to 2010 and was handled primarily by Damian Marley and Stephen Marley. Fusing musical elements of hip hop and reggae, Distant Relatives features lyrical themes concerning ancestry, poverty, and the plight of Africa. The album debuted at number five on the US Billboard 200 chart, selling 57,000 copies in its first week. Upon its release, Distant Relatives received generally positive reviews from most music
Read Full Bio
Distant Relatives is a collaborative studio album by American rapper Nas and Jamaican reggae artist Damian Marley, released May 18, 2010, on Universal Republic and Def Jam Recordings. Production for the album took place during 2008 to 2010 and was handled primarily by Damian Marley and Stephen Marley. Fusing musical elements of hip hop and reggae, Distant Relatives features lyrical themes concerning ancestry, poverty, and the plight of Africa.

The album debuted at number five on the US Billboard 200 chart, selling 57,000 copies in its first week. Upon its release, Distant Relatives received generally positive reviews from most music critics.

News of the album first came at the 2009 Grammy Awards, when Nas told MTV reporters "Right now, I'll tell you first, I'm working on an album with Damian Marley. We tryin' to build some schools in Africa with this one, and trying to build empowerment. We're tryin' to show love and stuff with this album. So, the record's … all about really the 'hood and Africa also as well. The album title derives from Nas and Marley's relationship, their shared African ancestry, and the shared ancestry of the entire human race; which musically and lyrically inspired each recording. Leftover tracks from Nas and Marley's previous albums were originally planned for an EP based on Africa. After working together, the duo decided to record a full album together.

Wikipedia,
the free encyclopedia. Feed your brain!
Genre not found
Artist not found
Album not found
Search results not found
Song not found
As we enter, come let we take you on to dig this adventure
Must be dementia that you ever thought you could touch our credentials
What's the initials? Q-B Jamrock the lyrical officials
Send out the order, laws, and the rituals
Burn candles, say prayers, paint murals
It is truth we big news we hood heroes
Put ass to anchor, we come to conquer
I not badman, we not play Willy Wonka
And I got the guns, I got the ganja
And we could blaze it up on your block if you want to
Or haze it up stash-box in a Hummer
Or you could run up and get done up
Or get something that you want none of
Unlimited amount you collect from us
Direct from us, street intellectuals
And I'm shrewd about decimals and my man'll speak Patois
And I can speak rap star, y'all feel me
Even if it's in Swahili or body Ghani
Masuri Sana, switch up the language and move to Ghana
Salute and honor, real revolution rhymers
Rhythm piranhas, like two Obamas, unfold the drama
Word is out, hysteria you heard about
Nas and Jr. Gong came to turn it out
Body the verses till they scream "murder" out
The kings is back time to return the crown
Who want it? Tuck your chain, we're due coming
Renegades that'll peel you back like new hundreds
Bet your jewels on it you don't want to lose on it
Either move on or move on it
Queens to Kingston gunshot we use and govern the kingdom
Rise up to Winstead I can see the fear up in your eyes, realize you can die any instant
And I can hear the sound of your voice when you must lose your life like mice in the kitchen
Snitching, I can see him pissing on his-self and he wetting up his thighs and he trying to resist it
Switching, I can smell him digging up shit like a fly, come around, and keep persisting
That's how you end up in a hit list
In a bad man business
No evidence
Crime scene, fingerprint-less
Flow effortless
Casual like the weekends
No pressure when
We're comfy and decent
We set this off beasting
Hunting season
And, frankly speaking
Word is out, hysteria you heard about
Nas and Jr. Gong came to turn it out
Body the verses till they scream "murder" out
The kings is back time to return the crown
Who want it? Tuck your chain, we're due coming
Renegades that'll peel you back like new hundreds
Bet your jewels on it you don't want to lose on it
Either move on or move on it
Word is out, hysteria you heard about
Nas and Jr. Gong came to turn it out
Body the verses till they scream "murder" out
The kings is back time to return the crown
Who want it? Tuck your chain, we're due coming
Renegades that'll peel you back like new hundreds
Bet your jewels on it you don't want to lose on it
Either move on or move on it
Lyrics © BMG Rights Management, Universal Music Publishing Group
Written by: DAMIAN ROBERT NESTA MARLEY, JAMAAL ANWAR SUBLETT, MULATU ASTATKE, NASIR JONES

Lyrics Licensed & Provided by LyricFind
To comment on specific lyrics,
highlight them