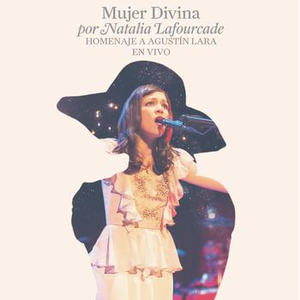 Mujer Divina - Homenaje a Agustín Lara [En Vivo]
María Natalia Lafourcade Silva (born 26 February 1984) is a Mexican pop and folk singer-songwriter who since her debut in 2003 has been one of the most successful singers in Latin America. Lafourcade's voice has been categorized as a lyric soprano. Lafourcade was born in Mexico City, Mexico, surrounded by music and art. Her father is the Chilean musician Gastón Lafourcade who had French parents and her mother is the pianist María del Carmen Silva Contreras. Her uncle is the Chilean writer Enrique Lafourcade, a representative of the so-called "Generation of the 50s". She attended Instituto Anglo Español, a Catholic
Read Full Bio
María Natalia Lafourcade Silva (born 26 February 1984) is a Mexican pop and folk singer-songwriter who since her debut in 2003 has been one of the most successful singers in Latin America. Lafourcade's voice has been categorized as a lyric soprano.

Lafourcade was born in Mexico City, Mexico, surrounded by music and art. Her father is the Chilean musician Gastón Lafourcade who had French parents and her mother is the pianist María del Carmen Silva Contreras. Her uncle is the Chilean writer Enrique Lafourcade, a representative of the so-called "Generation of the 50s". She attended Instituto Anglo Español, a Catholic middle school, and studied painting, flute, theater, music, acting, piano, guitar, saxophone and singing. When she was 10, Natalia sang in a Mariachi group.

She grew up in Coatepec, Veracruz, Mexico, where she studied music with her mother, María del Carmen Silva Contreras, imitating artists such as Gloria Trevi and Garibaldi. Her mother studied piano with a specialty in musical pedagogy and is the creator of the Macarsi Method for musical training and personal development for children and educators. She adapted and practiced the method with Natalia to help her rehabilitate through music following a head injury from being kicked by a horse.

When she was 17, Loris Ceroni gave Lafourcade the opportunity to be in a pop/rock group under his guidance. Lafourcade was hesitant, and Ceroni instead encouraged her to become independent. Lafourcade produced her first LP under the label of Sony Music. It was recorded in Italy and was cowritten with Aureo Baqueiro. Sabo Romo played in 2 songs. Natalia Lafourcade is a mix of pop, rock, bossa-nova and Latin rhythms. It features the songs "Busca Un Problema", "Elefantes", "Te Quiero Dar", "Mírame, Mírate", and her biggest hit, "En El 2000".

In 2005, she released Casa, her second album, but this time as Natalia y La Forquetina, the name of her band. Produced mostly by Café Tacuba's Emmanuel del Real, Casa presents a more mature, rock-oriented sound while retaining pop and bossa-nova influences on a few tracks, such as lead single "Ser Humano" (pop-rock) and its follow-up "Casa" (pop-bossa-nova). Aureo Baqueiro returned to produce the few tracks not produced by del Real. More than a year after Natalia departed from La Forquetina, she recorded an instrumental album called The 4 Seasons of Love under Sony BMG label. She also wrote the Lyrics for "Tú y Yo" from Ximena Sariñana's self-titled album.

In 2009, she released the album Hu Hu Hu, a top 10 album in Mexico. The album was produced by Emmanuel del Real (who produced "Casa" in 2005), Marco Moreno and Ernesto García. It was nominated for Best female Pop Vocal Album at the 2009 Latin Grammy Awards (won by Laura Pausini) and Best Latin Pop album at the 2010 Grammy Awards (won by La Quinta Estación). Club Fonograma also named the album the second best of 2009, and the seventh best of the decade.

In 2012, she released a tribute album to Agustín Lara called Mujer Divina.

Her next album, Hasta La Raíz, was released in March 2015. "Nunca Es Suficiente" (It's Never Enough), the first single off the album, was released on 10 February. The track "Hasta La Raíz" was No. 5 of the Viral 50 Global Spotify Chart and the No. 1 on the Viral 50 México chart.

In 2017, she recorded "Remember Me" as a duet with contemporary R&B singer Miguel for the credits of the movie Coco, and together they also performed the song at the 90th Academy Awards ceremony.

2020 saw her release the eponymous Un Canto por México, Vol. 1.
Genre not found
Artist not found
Album not found
Search results not found
Song not found