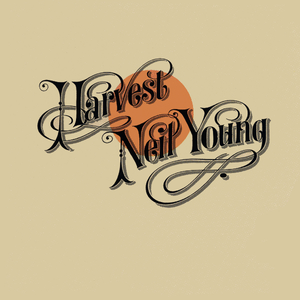 Harvest is an album by Neil Young, which was the best-selling album of 1972. The album featured several high calibre guests, including the London Symphony Orchestra, Linda Ronstadt, Stephen Stills, Graham Nash, David Crosby and James Taylor. Harvest hit #1 on the Billboard Music Charts (North America) pop albums chart, spawning two hit singles, "Old Man", which peaked at #31 on the Billboard Hot 100, and "Heart of Gold", which peaked at #1. After the supergroup Crosby, Stills, Nash & Young split, Young recruited a new group of country session musicians, which he christened The Stray Gators and recorded a
Read Full Bio
Harvest is an album by Neil Young, which was the best-selling album of 1972. The album featured several high calibre guests, including the London Symphony Orchestra, Linda Ronstadt, Stephen Stills, Graham Nash, David Crosby and James Taylor. Harvest hit #1 on the Billboard Music Charts (North America) pop albums chart, spawning two hit singles, "Old Man", which peaked at #31 on the Billboard Hot 100, and "Heart of Gold", which peaked at #1.

After the supergroup Crosby, Stills, Nash & Young split, Young recruited a new group of country session musicians, which he christened The Stray Gators and recorded a country rock record in Harvest. The record was a massive hit, producing a US number one single in "Heart of Gold". Other songs returned to some usual Young themes: "Alabama" was "an unblushing rehash of 'Southern Man'"; "Words (Between the Lines of Age)" featured a lengthy guitar workout with the band; and "The Needle and the Damage Done" was a lament for great artists who had died of heroin addiction, particularly Danny Whitten of Crazy Horse. The album's success caught Young off guard and his first instinct was to back away from stardom. He would later write that "Heart of Gold" "put me in the middle of the road. Traveling there soon became a bore so I headed for the ditch. A rougher ride but I saw more interesting people there."
Genre not found
Artist not found
Album not found
Search results not found
Song not found
Out on the Weekend
Neil Young Lyrics
Think I'll pack it in and buy a pick-up
Take it down to L.A.
Find a place to call my own and try to fix up
Start a brand new day
The woman I'm thinking of, she loved me all up
But I'm so down today
She's so fine, she's in my mind
I hear her callin'
See the lonely boy, out on the weekend
Trying to make it pay
Can't relate to joy, he tries to speak and
Can't begin to say
She got pictures on the wall, they make me look up
From her big brass bed
Now I'm running down the road trying to stay up
Somewhere in her head
The woman I'm thinking of, she loved me all up
But I'm so down today
She's so fine, she's in my mind
I hear her callin'
See the lonely boy, out on the weekend
Trying to make it pay
Can't relate to joy, he tries to speak and
Can't begin to say, oh
Lyrics © Silver Fiddle, Peermusic Publishing, WORDS & MUSIC A DIV OF BIG DEAL MUSIC LLC
Written by: Neil Young

Lyrics Licensed & Provided by LyricFind
To comment on specific lyrics,
highlight them