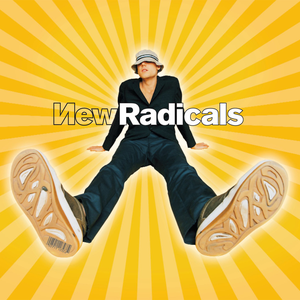 Maybe You've Been Brainwashed Too
Maybe You've Been Brainwashed Too is the only album by the New Radicals, released in late 1998 by MCA Records. Two singles were released off it in 1999, "You Get What You Give" and "Someday We'll Know". The album reached #41 on the Billboard 200 and achieved Platinum status (1,000,000 copies sold) on October 14, 1999 in the United States. On the UK Albums Chart, the album reached as high as #10. The New Radicals' lead singer, Gregg Alexander, released two albums, Michigan Rain (1989) and Intoxifornication (1992), before signing with MCA Records in 1997 and allegedly receiving an $600,000
Read Full Bio
Maybe You've Been Brainwashed Too is the only album by the New Radicals, released in late 1998 by MCA Records. Two singles were released off it in 1999, "You Get What You Give" and "Someday We'll Know".

The album reached #41 on the Billboard 200 and achieved Platinum status (1,000,000 copies sold) on October 14, 1999 in the United States. On the UK Albums Chart, the album reached as high as #10.

The New Radicals' lead singer, Gregg Alexander, released two albums, Michigan Rain (1989) and Intoxifornication (1992), before signing with MCA Records in 1997 and allegedly receiving an $600,000 advance for Maybe You've Been Brainwashed Too. While the album was credited to New Radicals, many critics considered it more of a Gregg Alexander album, as he wrote and produced all songs (only the first two singles were co-written with other artists), played several instruments on it and is basically the only constant member of the band (save the possible exception of Danielle Brisebois).

The sound of Maybe You've Been Brainwashed Too has often been compared to a wide range of atypical influences for a modern pop-rock album, such as Todd Rundgren, World Party, Hall & Oates and the early work of Prince and Mick Jagger from The Rolling Stones. And while even unfavorable critics had to admit that—musically—the album, with its upbeat pop-rock and influences of funk and Soul, was a "well-crafted project" and one of "the more promising releases of late 1998", the album's lyrics, with Alexander complaining about the commercialisation of Western society, media and religion, divided critics. Some deemed these attacks "shallow posturing" and "empty social pronouncements" while others found that Alexander's social criticism and observations "would sound clichéd if they werent so insightful and articulated with such uninhibited truth."
Genre not found
Artist not found
Album not found
Search results not found
Song not found
Mother We Just Can't Get Enough
New Radicals Lyrics
There's something about you
Tears me inside and out whenever you're around
There's something about you
Speeding through my veins until we hit the ground
And there's something about the rush
Take it away
It made me feel so good
I get a feeling you get a feeling we got a feeling
Like we could die
And guess what mother
We just can't get enough
We just can't get enough
Lover
We just gotta get it up
We just gotta get it up
There's something about you
Tears me inside and out whenever you're around
And there's something about you
That makes me fly
You're a heart attack just the kind I like
And there's something about your kiss
Haunting and strange
That makes me feel so good
I get a feeling you get a feeling we got a feeling
Like we're alive
And mother
We just can't get enough
We just can't get enough
Lover
We just gotta get it up
We just gotta get it up
This world may not have too much time
But baby I'm fine because maybe you're mine
We just can't get enough
You better give up
Come on and give up
Better get ready to give up your life
Give up your life
It's you for me and me for you
You make my dreams come true
Off the wall coming from me
But I wanna see this through, my baby
You're on my mind all the time
I found a billion dime
You rolled the dice, and lost them all
And baby I just don't mind
And accidentally mother
We just can't get enough
We just can't get enough
Lover
We just gotta get it up
We just gotta get it up
This world may not have too much time
But baby I'm fine because maybe you're mine
We just can't get enough
We just can't get enough
And I don't want none
If I can't have you
A world of illusion
But baby you're true
I know I deceived you
I once told you lies
If you don't believe me
Just look in my eyes
Social security number please
Credit card number please
Money please
Money please
Money please
Soul please
Please deposit eighty five dollars
For the next three minutes please
Or your call will be fucking disconnected immediately
Aw yeah all right feel good tonight
Aw yeah all right feel good tonight
Lyrics © BMG Rights Management
Written by: GREGG ALEXANDER

Lyrics Licensed & Provided by LyricFind
To comment on specific lyrics,
highlight them