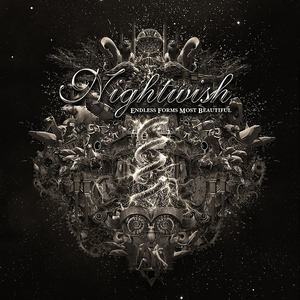 Endless Forms Most Beautiful
Endless Forms Most Beautiful is the eighth album by Finnish symphonic power metal band Nightwish. It was released on March 27, 2015 in the EU and Argentina, and will be released on March 30 in the UK and on March 31 in the USA. It is the band's first album with new singer Floor Jansen, as well as the first to feature Troy Donockley, who played uillean pipes and various other instruments on Dark Passion Play and Imaginaerum, as a full-time member. The album was primarily inspired by the work of naturalist Charles Darwin. According to Nightwish's main songwriter Tuomas
Read Full Bio
Endless Forms Most Beautiful is the eighth album by Finnish symphonic power metal band Nightwish. It was released on March 27, 2015 in the EU and Argentina, and will be released on March 30 in the UK and on March 31 in the USA. It is the band's first album with new singer Floor Jansen, as well as the first to feature Troy Donockley, who played uillean pipes and various other instruments on Dark Passion Play and Imaginaerum, as a full-time member.

The album was primarily inspired by the work of naturalist Charles Darwin. According to Nightwish's main songwriter Tuomas Holopainen, the album found its main inspiration from a famous quote from Darwin's 1859 highly influential book On the Origin of Species. This quote included the words "endless forms most beautiful", used by Darwin to describe the evolution from one common ancestor to all living organisms, that were subsequently chosen as the title of the album.

Tuomas said he would like fans to listen to the album from beginning to the end, like they do when they watch a movie, instead of listening to songs on a random basis. He also said there is a "very loose" concept in the album: "It's all about beauty of life, the beauty of existence, nature, science". Comparing it with Imaginaerum, he said: "The previous album was a tribute to the power of imagination. Endless Forms Most Beautiful would be an equal tribute to science and the power of reason".
Genre not found
Artist not found
Album not found
Search results not found
Song not found
Shudder Before the Beautiful
Nightwish Lyrics
The deepest solace lies in understanding
This ancient unseen stream
A shudder before the beautiful
Awake ocean born
Behold this force
Bring the outside in
Explore the self to epiphany
The very core of life
Is soaring higher of truth and light
The music of this awe
Deep silence between the notes
Deafens me with endless love
This vagrant island Earth
A pilgrim shining bright
We are shuddering
Before the beautiful
Before the plentiful
We're the voyagers
Tales from the seas
Cathedral of greed
The very core of life
Is soaring higher of truth and light
The music of this awe
Deep silence between the notes
Deafens me with endless love
This vagrant island Earth
A pilgrim shining bright
We are shuddering
Before the beautiful
Before the plentiful
We're the voyagers
The unknown
The grand show
The choir of the stars
Interstellar
Theater play
The nebula curtain falls
Imagination
Evolution
A species from the veil
As we wander
In search of
The source of the tale
The music of this awe
Deep silence between the notes
Deafens me with endless love
This vagrant island Earth
A pilgrim shining bright
We are shuddering
Before the beautiful
Before the plentiful
We're the voyagers
The music of this awe
Deep silence between the notes
Deafens me with endless love
This vagrant island Earth
A pilgrim shining bright
We are shuddering
Before the beautiful
Before the plentiful
We're the voyagers
The music of this awe
Deep silence between the notes
Deafens me with endless love
This vagrant island Earth
A pilgrim shining bright
We are shuddering
Before the beautiful
Before the plentiful
We're the voyagers
Lyrics © Sony/ATV Music Publishing LLC
Written by: TUOMAS HOLOPAINEN

Lyrics Licensed & Provided by LyricFind
To comment on specific lyrics,
highlight them