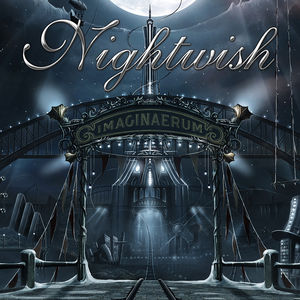 Imaginaerum is the seventh studio album by Finnish symphonic metal band Nightwish. The album is a concept album, as said by Tuomas in an interview, telling the story of an old composer on his deathbed, reminiscing of his youth. The album was produced alongside the movie of the same name, directed by Stobe Harju, who previously directed Nightwish's "The Islander" music video, and the album and the film share the same themes and general story. The first single off the album, Storytime, was released on November 9, and quickly topped the Finnish single charts. The album was released in Finland
Read Full Bio
Imaginaerum is the seventh studio album by Finnish symphonic metal band Nightwish. The album is a concept album, as said by Tuomas in an interview, telling the story of an old composer on his deathbed, reminiscing of his youth. The album was produced alongside the movie of the same name, directed by Stobe Harju, who previously directed Nightwish's "The Islander" music video, and the album and the film share the same themes and general story.

The first single off the album, Storytime, was released on November 9, and quickly topped the Finnish single charts. The album was released in Finland on November 30. According to Iltasanomat, Imaginaerum sold more than 50,000 copies in Finland during the first day after release. It has been described as Nightwish's best album by Sonic Seducer and has been album of the month by Dutch metal magazine Aardschok Magazine.

The album has been described as following a natural development from Dark Passion Play, inspired greatly by film scores. Like Dark Passion Play as well as Once and Century Child, it features a live orchestra, again orchestrated by Pip Williams. The orchestrations have been described as "beautiful, twisted, tribal and cinematic", but will not be featured on every track as it was on Dark Passion Play. Bassist Marco Hietala has emphasized that the album is heavier than the predecessor. Imaginaerum is the first Nightwish album since their debut that features no music written by the guitarist Emppu Vuorinen. The reason for this, according to Vuorinen, is that after long and exhausting touring for Dark Passion Play, he had no interest to touch his instrument for months.

Holopainen has cited three major influences on the album — film director Tim Burton, author Neil Gaiman and painter Salvador Dalí. Musical influences include Hans Zimmer, Danny Elfman, Ennio Morricone, Christy Moore, Van Halen and Pantera, and one song especially - Rest Calm - is inspired by death/doom giants Paradise Lost and My Dying Bride. Holopainen has called one song the "epic song of the album", Song Of Myself, which is almost as long as Dark Passion Play's The Poet And The Pendulum at 13 minutes. It is divided into four parts and especially influenced by poet Walt Whitman.
Genre not found
Artist not found
Album not found
Search results not found
Song not found
Lapsistain rakkain tää näyttämö on
Mis kuutamo kujillaan kulkee
Taipunut havu, kesä hoivassa sen
Valkomeren niin aavan
Joka aavekuun siivin
Saapuu mut kotiin noutamaan
Päällä talvisen maan hetki kuin ikuisuus
Mi pienen kissan jaloin luokseni hiipii
Tääl tarinain lähteellä asua saan mis
Viulu valtavan kaihon
Ikisäveltään maalaa
Laulullaan herättää maan
Lyrics © Sony/ATV Music Publishing LLC
Written by: ERNO VUORINEN, JUKKA NEVALAINEN, MARKO HIETALA, TUOMAS HOLOPAINEN

Lyrics Licensed & Provided by LyricFind
To comment on specific lyrics,
highlight them