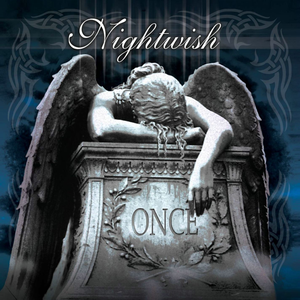 Once is the fifth studio album of Finnish quintet Nightwish, released June 7, 2004 by Nuclear Blast Records. Spinefarm Records also released a platinum edition of this album on November 24, 2004, containing the original tracks in addition to Live to Tell the Tale, White Night Fantasy and the video for Nemo by Antti Jokinen. The North American version of Once contains the video for Wish I Had an Angel instead. During the first week of its release, Once entered the German, Finnish, Norwegian and Greek charts as number one, selling over 80,000 copies in Germany alone. It was also
Read Full Bio
Once is the fifth studio album of Finnish quintet Nightwish, released June 7, 2004 by Nuclear Blast Records. Spinefarm Records also released a platinum edition of this album on November 24, 2004, containing the original tracks in addition to Live to Tell the Tale, White Night Fantasy and the video for Nemo by Antti Jokinen. The North American version of Once contains the video for Wish I Had an Angel instead.

During the first week of its release, Once entered the German, Finnish, Norwegian and Greek charts as number one, selling over 80,000 copies in Germany alone. It was also the first Nightwish album to chart in the U.S., reaching #42 on the Billboard Top Heatseekers chart. It was also the band's first album to chart in UK, reaching #102. In May, Nemo was the first single to be released from this album, followed by Wish I Had an Angel in September, Kuolema tekee taiteilijan (only in Finland) in November and The Siren in July 2005. The total sales of the album have been over 1 million copies.

Once is the last of the Nightwish studio albums to feature vocals by Tarja Turunen.

The single Nemo topped the charts in Finland and Hungary, and reached the top ten in five additional countries. "Nemo" therefore remains their most successful single release to date.

In an interview Tuomas Holopainen (main song writer of the band) said that it is up to the listener to find out the meaning of the title Once. Every name has a meaning — though, he doesn't feel comfortable talking about it. Every song's lyrics on album feature at least one word "once".

Once utilizes a full orchestra in nine of the eleven songs on the album. Unlike Century Child, Nightwish decided to look for an orchestra outside of Finland this time, choosing the London Philharmonic Orchestra, which also features in their sixth studio album, Dark Passion Play. It is also their second album to feature a full-length song in Finnish, "Kuolema Tekee Taiteilijan" (English: "Death Makes an Artist"). Once has sold triple platinum in Finland, platinum in Germany, gold in Sweden and reached #1 in the Greek, Norwegian, Hungarian and European album charts. The following singles were: "Wish I Had an Angel" (featured on the soundtrack of the Alone in the Dark film), "Kuolema Tekee Taiteilijan" (released only in Finland and Japan) and "The Siren".
Genre not found
Artist not found
Album not found
Search results not found
Song not found
Dark Chest of Wonders
Nightwish Lyrics
Once I had a dream
And this is it
Once there was a child's dream
One night the clock struck twelve
The window open wide
Once there was a child's heart
The age I learned to fly
And took a step outside
Once I knew all the tales
It's time to turn back time
Follow the pale moonlight
Once I wished for this night
Faith brought me here
It's time to cut the rope and fly
Fly to a dream
Far across the sea
All the burdens gone
Open the chest once more
Dark chest of wonders
Seen through the eyes
Of the one with pure heart
Once so long ago
The one in the Big Blue is what the world stole from me
This night will bring him back to me
Fly to a dream
Lyrics © Warner Chappell Music, Inc.
Written by: TUOMAS LAURI JOHANNES HOLOPAINEN

Lyrics Licensed & Provided by LyricFind
To comment on specific lyrics,
highlight them