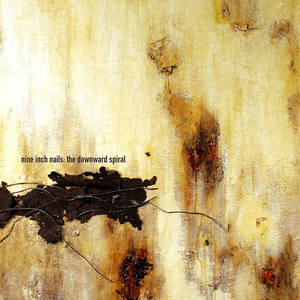 The Downward Spiral (also known as Halo 8) is the third major release by American Industrial rock act Nine Inch Nails, released in 1994 on Reznor's own Nothing Records (a vanity label of Interscope Records). "Halo 8" of the official Nine Inch Nails halo releases, it is a concept album detailing the destruction of an undisclosed man; from the beginning to his climatic suicide. The album was a major commercial success that secured Nine Inch Nails as a force in the 1990s music scene, in particular following the release of the single "Closer" and its controversial video. To record the
Read Full Bio
The Downward Spiral (also known as Halo 8) is the third major release by American Industrial rock act Nine Inch Nails, released in 1994 on Reznor's own Nothing Records (a vanity label of Interscope Records). "Halo 8" of the official Nine Inch Nails halo releases, it is a concept album detailing the destruction of an undisclosed man; from the beginning to his climatic suicide. The album was a major commercial success that secured Nine Inch Nails as a force in the 1990s music scene, in particular following the release of the single "Closer" and its controversial video.

To record the album, Reznor rented the house located at 10050 Cielo Drive in Beverly Hills, California where actress Sharon Tate was murdered by members of the Manson Family in 1969. Reznor built a studio space in the house which he named Le Pig, after the message that was scrawled on the front door with Tate's blood by her murderers. Reznor told Entertainment Weekly that despite the notoriety attached to the house, he chose to record there because, "I looked at a lot of places, and this just happened to be the one I liked most." Reznor moved out of the house in December 1993, after he said "there was too much history in that house for me to handle." After the album's recording, Trent Reznor consulted with the landlords and had the house demolished shortly after.

Reznor made a statement about working in the Tate house during a 1997 interview with Rolling Stone:

" While I was working on Downward Spiral, I was living in the house where Sharon Tate was killed. Then one day I met her sister. It was a random thing, just a brief encounter. And she said: 'Are you exploiting my sister's death by living in her house?' For the first time, the whole thing kind of slapped me in the face. I said, 'No, it's just sort of my own interest in American folklore. I'm in this place where a weird part of history occurred.' I guess it never really struck me before, but it did then. She lost her sister from a senseless, ignorant situation that I don't want to support. When she was talking to me, I realized for the first time, 'What if it was my sister?' I thought, 'Fuck Charlie Manson.' I went home and cried that night. It made me see there's another side to things, you know? "

Reznor set out to make an album that was a departure from the 1992 Broken EP, emphasizing "mood, texture, restraint and subtlety." He brought in a number of guest performers to record, including former Jane's Addiction and Porno for Pyros drummer Stephen Perkins and progressive rock guitarist Adrian Belew. Perkins played a number of drum parts that were recorded live in the studio; these tracks were in turn turned into sample loops. Reznor took a similar approach to recording guitar parts. Reznor would record 20 to 25-minute long sessions of himself playing guitar on a hard disc recorder with a Studio Vision sequencer, then would cut out parts of the recording he found interesting for later use. Reznor said, "99 percent of the stuff we do–even vocals–is recorded into the computer first. We get an arrangement together and then dump it to tape."
Genre not found
Artist not found
Album not found
Search results not found
Song not found
I am the voice inside your head (and I control you)
I am the lover in your bed (and I control you)
I am the sex that you provide (and I control you)
I am the hate you try to hide (and I control you)
I take you where you want to go
I give you all you need to know
I drag you down, I use you up
Mr. Self Destruct
I speak religion's message clear (and I control you)
I am denial guilt and fear (and I control you)
I am the prayers of the naive (and I control you)
I am the lie that you believe (and I control you)
I take you where you want to go
I give you all you need to know
I drag you down I use you up
Mr. Self Destruct
You let me do this to you (I am the exit)
You let me do this to you (I am the exit)
You let me do this to you (I am the exit)
You let me do this to you (I am the exit)
You let me do this to you (I am the exit)
You let me do this to you (I am the exit)
You let me do this to you (I am the exit)
You let me do this to you (I am the exit)
I am the needle in your vein
I am the high you can't sustain
I am the pusher, I'm a whore
I am the need you have for more
I am the bullet in the gun (and I control you)
I am the truth from which you run (and I control you)
I am the silencing machine (and I control you)
I am the end of all your dreams (and I control you)
I take you where you want to go
I give you all you need to know
I drag you down, I use you up
Mr. Self Destruct
I take you where you want to go
I give you all you need to know
I drag you down, I use you up
Mr. Self Destruct
Lyrics © CONCORD MUSIC PUBLISHING LLC, Kobalt Music Publishing Ltd.
Written by: Trent Reznor

Lyrics Licensed & Provided by LyricFind
To comment on specific lyrics,
highlight them