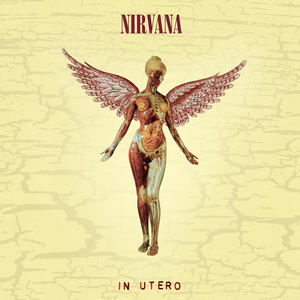 In Utero is the third and final studio album by the American alternative rock band Nirvana, released on September 21, 1993 by DGC Records. Following the success of the group's 1991 breakthrough album Nevermind, Nirvana sought to avoid that album's polished production and hired recording engineer Steve Albini to produce the record. The band recorded In Utero with Albini in two weeks in February 1993, capturing an abrasive and naturalistic sound for the record. While some of the songs had been written years prior, the lyrics largely dealt with frontman Kurt Cobain's reflections on his newfound fame and recent personal
Read Full Bio
In Utero is the third and final studio album by the American alternative rock band Nirvana, released on September 21, 1993 by DGC Records. Following the success of the group's 1991 breakthrough album Nevermind, Nirvana sought to avoid that album's polished production and hired recording engineer Steve Albini to produce the record. The band recorded In Utero with Albini in two weeks in February 1993, capturing an abrasive and naturalistic sound for the record. While some of the songs had been written years prior, the lyrics largely dealt with frontman Kurt Cobain's reflections on his newfound fame and recent personal troubles, incorporating imagery of sickness and disease.

Soon after recording was completed, controversy erupted as news reports stated that DGC did not like the band's sessions with Albini and refused to release the album, deeming it uncommercial. Nirvana denied the statements but were also not fully satisfied with the sound Albini captured. The band ultimately made some minor changes to the album's sound and hired producer Scott Litt to mix the singles "Heart-Shaped Box" and "All Apologies". Upon its release, In Utero debuted at number one on the Billboard 200 and received critical acclaim as a drastic departure from Nevermind. The record has been certified five times platinum by the Recording Industry Association of America, and has sold over four million copies in the United States.

To avoid over-hyping the album, DGC Records took a low-key approach to promoting In Utero; the company's head of marketing told Billboard before the album's release that the label was taking a promotional strategy similar to that of Nevermind, and explained that the label would "set things up, duck, and get out of the way". The label aimed its promotion at alternative markets and press, and released the album on vinyl record as part of this strategy. In contrast to the previous album, the label did not release any of In Utero's singles commercially in the United States. DGC sent promo copies of the album's first single "Heart-Shaped Box" to American college, modern rock, and album-oriented rock radio stations in early September, but the label did not target Top 40 radio. Despite the label's promotion, the band was convinced that In Utero would not be as successful as Nevermind. Cobain told Jim DeRogatis, "We're certain that we won't sell a quarter as much, and we're totally comfortable with that because we like this record so much."

In Utero was released on September 13, 1993 in the United Kingdom, and on September 14 in the United States; it was initially only available in vinyl record and cassette tape formats, with the American vinyl pressing limited to 25,000 copies. Although the album was issued on compact disc in the UK on September 14, a full domestic release did not occur until September 21. In Utero debuted at number one on the Billboard 200 album chart, selling 180,000 copies in its first week of release. Meanwhile, retail chain stores Wal-Mart and Kmart refused to sell the album. According to The New York Times, Wal-Mart claimed it did not carry the album due to lack of consumer demand, while Kmart representatives explained that the album "didn't fit within our merchandise mix". In truth, both chains feared that customers would be offended by the artwork on the album's back cover. DGC issued a new version of the album with reworked packaging to the stores in March 1994. This version featured edited album artwork, and listed the name of "Rape Me" as "Waif Me". A spokesperson for Nirvana explained that the band decided to edit the packaging because as kids Cobain and Novoselic were only able to buy music from the two chain stores; as a result they "really want to make their music available to kids who don't have the opportunity to go to mom-and-pop stores".

In Utero received acclaim from critics. Time's Christopher John Farley stated in his review of the album, "Despite the fears of some alternative-music fans, Nirvana hasn't gone mainstream, though this potent new album may once again force the mainstream to go Nirvana." Rolling Stone reviewer David Fricke wrote, "In Utero is a lot of things – brilliant, corrosive, enraged and thoughtful, most of them all at once. But more than anything, it's a triumph of the will." Entertainment Weekly reviewer David Browne (who gave the album a rating of B+) commented "Kurt Cobain hates it all", and noted that the sentiment pervades the record. Browne argued, "The music is often mesmerizing, cathartic rock & roll, but it is rock & roll without release, because the band is suspicious of the old-school rock cliches such a release would evoke." NME gave the album an eight out of ten rating. However, reviewer John Mulvey had doubts about the record; he concluded, "As a document of a mind in flux — dithering, dissatisfied, unable to come to terms with sanity — Kurt should be proud of . As a follow-up to one of the best records of the past ten years it just isn't quite there." Ben Thompson of The Independent commented that in spite of the album's more abrasive songs, "In Utero is beautiful far more often than it is ugly", and added, "Nirvana have wisely neglected to make the unlistenable punk-rock nightmare they threatened us with." Critics ranked In Utero as one of the best releases of the year. It placed first and second in the album categories of the Rolling Stone and Village Voice Pazz & Jop year-end critics' polls, respectively. Additionally, The New York Times included it on its list of the top ten albums of the year. The album was nominated for Best Alternative Music Album at the 1994 Grammy Awards.

That October, Nirvana embarked on its first American tour in two years to promote the album. A second single, a split release that featured "All Apologies" and "Rape Me", was issued in December in the United Kingdom. The band began a six-week European leg of the tour in February 1994, but it was cancelled after Cobain suffered a drug overdose in Rome on March 6. Cobain agreed to enter drug rehabilitation, but the singer went missing soon afterwards, and on April 8 he was found dead in his Seattle home as the result of suicide by a shotgun blast. The intended third single from In Utero, "Pennyroyal Tea", was cancelled in the wake of Cobain's death and the subsequent dissolution of Nirvana; limited promotional copies were released in Britain. Three days after Cobain's body was discovered, In Utero moved back up the Billboard charts, from number 72 to number 27.

In the ensuing years, In Utero has continued to perform commercially and gather critical praise. In a 2003 Guitar World article that commemorated the tenth anniversary of the album's release, Cobain biographer Charles R. Cross argued that In Utero was "a far better record and one that only 10 years later seems to be an influential seed spreader, judging by current bands. If it is possible for an album that sold four million copies to be overlooked, or underappreciated, then In Utero is that lost pearl." That same year, Pitchfork Media placed In Utero at number 13 on its list of the 100 best albums of the 1990s, and Rolling Stone ranked it at number 439 on its list "The 500 Greatest Albums of All Time". In 2004 Blender ranked it at number 94 in its "100 Greatest American Albums of All Time" list, while in 2005, Spin placed it at number 51 on its "100 Greatest Albums 1985-2005" retrospective. In Utero has been certified five times platinum by the Recording Industry Association of America for shipments of over five million units, and has sold a total of four million copies in the United States, according to Nielsen SoundScan.
Genre not found
Artist not found
Album not found
Search results not found
Song not found
Serve the Servants
Nirvana Lyrics
Teenage angst has paid off well
Now I'm bored and old
Self-appointed judges judge
More than they have sold
If she floats then she is not
A witch like we thought
A downpayment on another
One at Salem's lot
Serve the servants, oh no
Serve the servants, oh no
Serve the servants, oh no
Serve the servants
That legendary divorce is such a bore
As my bones grew, they did hurt
They hurt really bad
I tried hard to have a father
But instead, I had a dad
I just want you to know that I
Don't hate you anymore
There is nothing I could say
That I haven't thought before
Serve the servants, oh no
Serve the servants, oh no
Serve the servants, oh no
Serve the servants
That legendary divorce is such a bore
Serve the servants, oh no
Serve the servants, oh no
Serve the servants, oh no
Serve the servants, oh no
Serve the servants, oh no
Serve the servants, oh no
Serve the servants
That legendary divorce is such a bore
Lyrics © BMG Rights Management
Written by: Kurt Cobain

Lyrics Licensed & Provided by LyricFind
To comment on specific lyrics,
highlight them