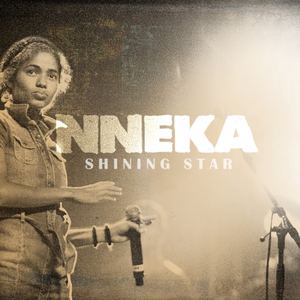 Nneka Lucia Egbuna (born 24 December 1980 in Warri, Nigeria) is a German-Nigerian hip hop/soul singer and songwriter. She sings in both Igbo and English.
After relocating to Hamburg in 2003, Nneka has been working closely with the hip hop beatmaker DJ Farhot. As a young singer she first gained public attention in 2004 while performing as an opening act for dancehall reggae star Sean Paul at Hamburg Stadtpark. After much acclaim, Nneka released her
Read Full Bio
Nneka Lucia Egbuna (born 24 December 1980 in Warri, Nigeria) is a German-Nigerian hip hop/soul singer and songwriter. She sings in both Igbo and English.
After relocating to Hamburg in 2003, Nneka has been working closely with the hip hop beatmaker DJ Farhot. As a young singer she first gained public attention in 2004 while performing as an opening act for dancehall reggae star Sean Paul at Hamburg Stadtpark. After much acclaim, Nneka released her debut EP The Uncomfortable Truth with the music label Yo Mama's Recording Company after which she performed on her first tour with Patrice, playing shows in Germany, Austria and Switzerland.
She finished recording her first album in the autumn of 2005. Entitled Victim of Truth. Garnering rave reviews from the media, the UK's Sunday Times later declared it "the year's most criminally overlooked album", comparing it favourably to 'The Miseducation of Lauryn Hill'.
In February 2008, she released her second album, No Longer at Ease. The title of the album is taken from a novel of the same name by Chinua Achebe and reflects the lyrical content of the record. Most of the songs are political, talking about the plight of the Niger Delta and the corruption in Nneka's homeland. "No Longer at Ease" combines the political and the personal in "a winning mix of soul, hip-hop an reggae". The lead single from it, "Heartbeat", became her first song to break into the German Top 50.
In November 2009, Nneka staged her first concert tour of the United States where she performed shows in New York City, Vienna (Washington DC), Boston, Philadelphia, Los Angeles and San Francisco. Furthermore she was a special guest on The Roots Jam session. Her first US release Concrete Jungle was set for 2 February 2010.
Nneka recorded her last album Soul Is Heavy in Nigeria. She also co-founded a charity foundation called the "ROPE foundation" with Genda, Ahmed Nyei from Sierra Leone. She has worked extensively in charity and arts with the foundation in Sierra Leone. Nneka has also worked with Reebok and her track "Shinning" topped global charts in 2013.
Genre not found
Artist not found
Album not found
Search results not found
Song not found
Shining Star
Nneka Lyrics
In this madness, in this world,
With its swiftness and its coldness
You're my peace of mind, yes!
When the world just jeeps turning
And I know not where to head to
You're peace of mind!
And when I look up in the skies
Is the one that you created.
[Chorus]
Oh shining star, please look down for me!
Oh, what you are?
When you look down at me
Beautiful star, do keep your eyes on me!
Oh, oh, what you are
When you look down on me?
Greed your heart strict, love me
I appreciate you baby!
And though you seem so far away
You pursuit me I can feel you
? within my mind
And I know you're sometimes lonely
Oh, I wish that I could change it,
Oh then I know you still got me
And I pray my love will give you life
? to keep you smile
You're my shining star, to take my love and live!
[Chorus: x2]
Where you smile I smile,
Where you live I live,
Where you die, I die!
Oh, yeah! You!
I'm a shining star, oh I wonder what you are?
Lyrics © Kobalt Music Publishing Ltd.
Written by: Farhad Samadzada, Nneka Lucia Egbuna, Serigne M'Baye Gucye

Lyrics Licensed & Provided by LyricFind
To comment on specific lyrics,
highlight them