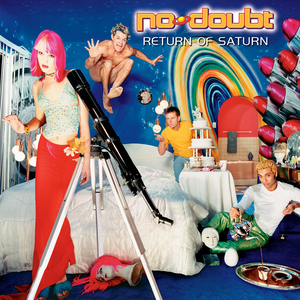 Return of Saturn is the fourth studio album by the American rock band No Doubt, released on Interscope Records on April 11, 2000. After touring for two and a half years to promote their breakthrough third studio album Tragic Kingdom, No Doubt wrote several dozen songs for its follow-up and eventually settled on working with producer Glen Ballard. Creating the album became a tumultuous process lasting two years, during which there was dissension amongst band members and between the band and its label. The album was completed after the band returned to the studio and recorded what became two of
Read Full Bio
Return of Saturn is the fourth studio album by the American rock band No Doubt, released on Interscope Records on April 11, 2000. After touring for two and a half years to promote their breakthrough third studio album Tragic Kingdom, No Doubt wrote several dozen songs for its follow-up and eventually settled on working with producer Glen Ballard. Creating the album became a tumultuous process lasting two years, during which there was dissension amongst band members and between the band and its label. The album was completed after the band returned to the studio and recorded what became two of the album's singles.

The album maintains the ska punk and reggae influences of the band's previous work, but with slower, more ballad-like songs. The lyrics to many of the songs describe singer Gwen Stefani's pining for a more domestic life, contrasting that with her commitment to a music career.

The album produced four singles: Ex-Girlfriend, Simple Kind of Life, Bathwater and New.
Genre not found
Artist not found
Album not found
Search results not found
Song not found
Ex-Girlfriend
No Doubt Lyrics
I kinda always knew I'd end up your ex-girlfriend, whoa
I kinda always knew I'd end up your ex-girlfriend
I kinda always knew I'd end up your ex-girlfriend
I hope I hold a special place with the rest of them
And you know it makes me sick to be on that list
But I should have thought of that before we kissed
You say you're gonna burn before you mellow
I will be the one to burn you
Why'd you have to go and pick me?
When you that we were different, completely
I kinda always knew I'd end up your ex-girlfriend, whoa
I kinda always knew I'd end up your ex-girlfriend, whoa
I hope I hold a special place with the rest of them, whoa
I kinda always knew I'd end up your ex-girlfriend
And I'm another ex-girlfriend on your list
But I should have thought of that before we kissed
Your wildness scares me
So does your freedom
You say I can't stand the restrictions
I find myself trying to change you
If you were meant to be my lover I wouldn't have to
And I feel so mean, I feel in between
'Cause I'm about to give you away
I kinda always knew I'd end up your ex-girlfriend
(For someone else to take)
I kinda always knew I'd end up your ex-girlfriend
(Am I making a mistake?)
I hope I hold a special place with the rest of them
(All the time that we spent)
I kinda always knew I'd end up your ex-girl, friend
And I'm another ex-girlfriend on your list
But I should have thought of that before we kissed
I'm another ex-girlfriend on your list
But I should have thought of that before we kissed
I know I messed up
I'm about to give you away for someone else to take
I'm about to give you away for someone else to take
We keep repeating mistakes for souvenirs
And we've been in between the days for years
And I knew that when I say you are going to die
I know I'm gonna want you and you know why
It's gonna kill me to see you with the next girl
'Cause I'm the most gorgeously jealous kind of ex-girl
But I should have thought of that before we kissed
I kinda always knew I'd end up your ex-girlfriend, whoa
I kinda always knew I'd end up your ex-girlfriend, whoa
I hope I hold a special place with the rest of them (all the time we spent)
I kinda always knew I'd end up your ex-girlfriend
And now I'm another ex-girlfriend on your list
But I should have thought of that before we kissed
I'm another ex-girlfriend on your list
I should have thought of that before we kissed
Lyrics © Kobalt Music Publishing Ltd.
Written by: Gwen Renee Stefani, Thomas Dumont, Tony Ashwin Kanal

Lyrics Licensed & Provided by LyricFind
To comment on specific lyrics,
highlight them