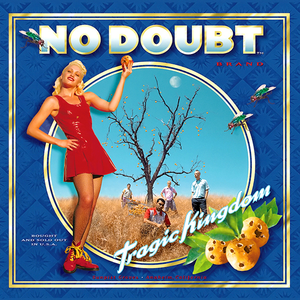 Tragic Kingdom is the third studio album by American third wave ska band No Doubt, released on October 10, 1995, by Trauma Records, a division of Interscope Records. The album was produced by Matthew Wilder and was recorded in eleven different studios across California between March 1993 and October 1995. The album takes its name from the nickname Tom Dumont's teacher had for Disneyland in California – a pun on the nickname "The Magic Kingdom". Following the release of the band's debut album, No Doubt (1992), Interscope Records paired the band with producer Matthew Wilder and rejected much of the
Read Full Bio
Tragic Kingdom is the third studio album by American third wave ska band No Doubt, released on October 10, 1995, by Trauma Records, a division of Interscope Records. The album was produced by Matthew Wilder and was recorded in eleven different studios across California between March 1993 and October 1995. The album takes its name from the nickname Tom Dumont's teacher had for Disneyland in California – a pun on the nickname "The Magic Kingdom".

Following the release of the band's debut album, No Doubt (1992), Interscope Records paired the band with producer Matthew Wilder and rejected much of the band's material, refusing to let them record a second album under Interscope. This alienated songwriter Eric Stefani, who withdrew from and eventually left the band in 1994. Frustrated by their lack of progress with Interscope, No Doubt recorded and released their second album, The Beacon Street Collection (1995), independently. It sold 100,000 copies and ensured that Interscope would finance another album. During one of the recording sessions for Tragic Kingdom, No Doubt met Paul Palmer, owner of Trauma Records, who persuaded Interscope to sign No Doubt to him and released the album under his own label.

Upon its release, Tragic Kingdom received mixed reviews from music critics. It sold over sixteen million copies worldwide and was certified Diamond in the U.S. and Canada, Platinum in the UK and triple Platinum in Australia. At the 39th Grammy Awards, No Doubt earned nominations for Best New Artist and Best Rock Album. The album's sales helped to initiate the ska revival of the 1990s, persuading record labels to sign more ska bands and helping them attract mainstream attention. Tragic Kingdom yielded seven singles from 1995 to 1998, including "Just a Girl", "Spiderwebs", "Excuse Me Mr.", "Sunday Morning" and "Don't Speak".
Genre not found
Artist not found
Album not found
Search results not found
Song not found
Spiderwebs
No Doubt Lyrics
You think that we connect
That the chemistry's correct
Your words walk right through my ears
Presuming I like what I hear
And now I'm stuck in the
The web you're spinning
You've got me for your prey
Sorry I'm not home right now
I'm walking into spiderwebs
So leave a message
And I'll call you back
A likely story, but leave a message
And I'll call you back
You're intruding on what's mine
And you're taking up my time
Don't have the courage inside me
To tell you please let me be
Communication, a telephonic invasion
I'm planning my escape
Sorry I'm not home right now
I'm walking into spiderwebs
So leave a message
And I'll call you back
A likely story, but leave a message
And I'll call you back
And it's all your fault
I screen my phone calls
No matter who calls
I gotta screem my phone calls
Now it's gone to deep (now, it's gone too deep)
You wake me in my sleep (wake me in my sleep)
My dreams become nightmares (dreams become nightmares)
'Cause you're ringing in my ears
Sorry I'm not home right now
I'm walking into spiderwebs
So leave a message
And I'll call you back
A likely story (yeah), but leave a message
And I'll call you back
And It's all your fault
I screen my phone calls
No matter-matter-matter-matter who calls
I gotta screem my phone calls
Ooh spider webs
Leave a message and I'll call you back
I'm walking in a spider webs
So leave a message and I'll call you back
And It's all your fault
I screen my phone calls
No matter matter matter who calls
I gotta screem my phone calls
It's all your fault
It's all your fault
No matter who calls
No matter who calls
I'm walking into spiderwebs
So leave a message
And I'll call you back
I'm walking into spiderwebs
Leave a message
And I'll call you back
(It's all your fault) I'm walking into spiderwebs
Leave a message and I'll call you back (no matter who calls)
(I gotta screen my phone calls) I'm walking into spiderwebs
Leave a message and I'll call you back (it's all your fault)
(No matter-matter-matter who calls) I'm walking into spiderwebs
Leave a message and I'll call you back (I screen my phonecalls)
I'm walking into spiderwebs
Leave a message and I'll call you back
Lyrics © Kobalt Music Publishing Ltd.
Written by: Gwen Stefani, Tony Kanal

Lyrics Licensed & Provided by LyricFind
To comment on specific lyrics,
highlight them