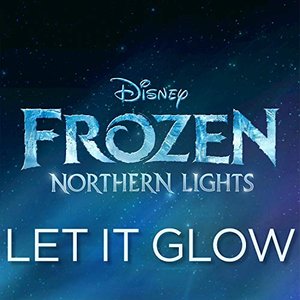 Let It Glow (From "Frozen Northern Lights")
Olivia Isabel Rodrigo is an American singer-songwriter. She is known for her roles as Paige Olvera on the Disney Channel series Bizaardvark and Nini Salazar-Roberts on the Disney+ series High School Musical: The Musical: The Series.

Rodrigo signed with Interscope Records and Geffen Records in 2020. On January 8, 2021, she released her debut single, "drivers license", which she co-wrote with producer Dan Nigro. Within the week of its release, "drivers license" was critically acclaimed
Read Full Bio
Olivia Isabel Rodrigo is an American singer-songwriter. She is known for her roles as Paige Olvera on the Disney Channel series Bizaardvark and Nini Salazar-Roberts on the Disney+ series High School Musical: The Musical: The Series.

Rodrigo signed with Interscope Records and Geffen Records in 2020. On January 8, 2021, she released her debut single, "drivers license", which she co-wrote with producer Dan Nigro. Within the week of its release, "drivers license" was critically acclaimed, and broke Spotify's record twice for most daily streams ever for a non-holiday song: on January 11, Rodrigo's song had over 15.7 million global streams on Spotify, which she surpassed the next day with over 17 million global streams of the song. The song debuted at number one on Billboard Hot 100, and also reached number-one chart positions. Rodrigo stated in an interview that "It's been the absolute craziest week of my life... My entire life just, like, shifted in an instant." On April 1, 2021, Rodrigo released her follow-up single, "deja vu", which debuted at number 8 on the Billboard Hot 100, making her the first artist to debut their first two releases in the top 10 of the Hot 100. On the day of the release of "deja vu", she announced that her debut album, titled Sour, was set for release on May 21, 2021.

Rodrigo has named Taylor Swift and Lorde as her idols and biggest inspirations. She has described herself as "the biggest Swiftie in the whole world".
Genre not found
Artist not found
Album not found
Search results not found
Song not found
We have lyrics for 'Let It Glow' by these artists:



Christian Amby Feat. Alex Forgot about that girl I didn't kiss About the one show…
Olivia Rodrigo Madison Hu When the sky′s awake with crazy colors green and blue. You…
tobyMac & Kirk Franklin What does it mean To be a bible machine In a planetary…
tobyMac Kirk Franklin What does it mean To be a bible machine In a planetary…



We have lyrics for these tracks by Olivia Rodrigo:



1 step forward 3 steps back Called you on the phone today Just to ask you how…
All I Want I found a guy, told me I was a star He…
Bop to the Top Gotta bump the competition, blow them all away Caliente Sua…
Breaking Free We're soarin', flyin' There's not a star in heaven that we…
brutal "I want it to be like, messy" I'm so insecure, I…
deja vu Car rides to Malibu Strawberry ice cream One spoon for two A…
Driver's License I got my driver's license last week Just like we always…
enough for you I wore make-up when we dated 'Cause I thought you'd like…
Even When/The Best Part I think of you in the window Every night, I've been…
favorite crime Know that I loved you so bad I let you treat…
good 4 u Well good for you, I guess you moved on really…
Granted How can something shake up every dream I hoped for? Wakin'…
happier We broke up a month ago Your friends are mine You know…
hope ur ok I knew a boy once, when I was small A tow-head…
I Think I Kinda You Know So much has happened, think of what we've done In the…
jealousy jealousy I kind of wanna throw my phone across the room 'Cause…
Just for a Moment I fell in love With the only girl who knows what…
Out of the Old Feels like I'm not where I'm supposed to be I don't…
Start of Something New Livin' in my own world, didn't understand That anything can …
The Best Part I think of you in the window Every night, I've been…
The Rose Song All my life, I've seen myself through your eyes Wonderin' if…
traitor Ooh-ooh-ooh Ah-ah-ah-ah-ah Brown guilty eyes and little whi…
What I've Been Looking For It's hard to believe that I couldn't see You were always…
Wondering Seems like a part of me will always have to…

The lyrics can frequently be found in the comments below, by filtering for lyric videos or browsing the comments in the different videos below.