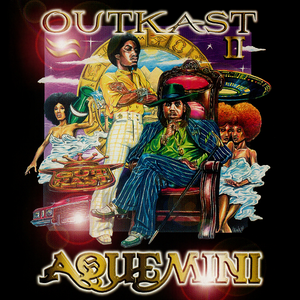 A vaguely futuristic, synthesizer-drenched album punctuated with anthemic choruses and bluesy beats, Aquemini addresses numerous topics such as emancipation, drug addiction and problematic relationships, while exploring the bleakest aspects of humanity. In contrast to much of hip hop music in the late 1990s, OutKast did not tone down the regional qualities, like the harmonica break on "Rosa Parks" and distinctive Atlanta slang and diction throughout. "Rosa Parks" was later nominated for the 1999 Grammy Award for Best Rap Performance by a Duo or Group. The song led to much controversy with Rosa Parks filing a defamation suit against OutKast. Aquemini
Read Full Bio
A vaguely futuristic, synthesizer-drenched album punctuated with anthemic choruses and bluesy beats, Aquemini addresses numerous topics such as emancipation, drug addiction and problematic relationships, while exploring the bleakest aspects of humanity. In contrast to much of hip hop music in the late 1990s, OutKast did not tone down the regional qualities, like the harmonica break on "Rosa Parks" and distinctive Atlanta slang and diction throughout. "Rosa Parks" was later nominated for the 1999 Grammy Award for Best Rap Performance by a Duo or Group. The song led to much controversy with Rosa Parks filing a defamation suit against OutKast. Aquemini also featured live instrumentation and poetic lyricism, such as the reggae horns on the seven-minute long "SpottieOttieDopaliscious" and wah-wah guitar on the closing track "Chonkyfire". The album also included West Savannah, which was an outtake from Outkast's debut album Southernplayalisticadillacmuzik. The track was also featured as an intro to the "Benz Or Beamer" video, but was held off Southernplayalisticadillacmuzik and not used on the duo's follow-up album ATLiens, finally to surface on this album. The song is the original version and was not re-recorded for the album. A small intro to the song begins at the end of Slump, with Big Boi referring to the song's history.

Lyrics

Delivered with rhythmic vocal styles and distinctive Southern rapping, the main focus of the album seemed to be on morality. With complex metaphors and dirty South slang, Andre addresses his critics in the album opener, "Return of the G". It's the return of the gangsta/Thanks ta' them niggas that think you soft/And say, "Y'all be gospel rappin'" /But they be steady clappin'/When you talk about bitches and switches/And hoes and clothes and weed.... Aquemini's catchy lyrics are a mix of street-wise and common sense. RapReviews.com noted that "Aquemini is full of small moments that make you nod your head and look forward to hearing them again." "SpottieOttieDopaliscious" featured a soulful hook by Sleepy Brown and introspective lyricism by Big Boi and Andre, reciting it in spoken word style.

The L.A. Times called Aquemini a "brilliant slice of hip-hop". It also received a "classic" ranking of 5 mics from The Source magazine, which later wrote of the album that it "possesses an uncanny blend of sonic beauty, poignant lyricism and spirituality that compels without commanding". In a November 1998 article, What Magazine praised Aquemini, as they wrote:

"OutKast's third album is the perfect concoction of spirituality, street reality and chunky Southern beats. On Aquemini, Atlanta's first soldiers have pointed their Cadillacs toward the Cosmos. Lyrically, Big Boi's street patter flawlessly complements Dre's increasingly abstract cerebral flow. While Big Boi keeps your feet firmly planted in reality, Dre drags your head through the many dimensions of the spiritual universe. The results are dangerous."
—What Magazine

Some critics appreciated the absence of a materialist focus. Rolling Stone declared that the album proved "that you don't have to sell out to sell records", while PopMatters agreed, claiming "(i)n a year where excess was romanticized by nearly everyone, OutKast was one of the few commercial groups concerned with more than just 'the Benjamins'". The music website Nude as the News called "Rosa Parks" "one of the best rap songs ever crafted." The album was later ranked #21 on Chris Rock's list of the Top 25 Hip-Hop Albums of all time.
Genre not found
Artist not found
Album not found
Search results not found
Song not found
Hold On Be Strong
OutKast Lyrics
Hold on, be strong
Lyrics © BMG Rights Management
Written by: Andre Benjamin, Antwan Patton

Lyrics Licensed & Provided by LyricFind
To comment on specific lyrics,
highlight them