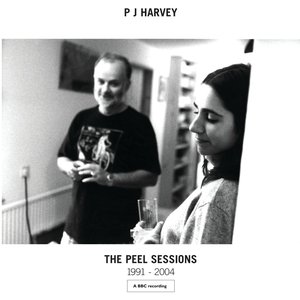 The Peel Sessions 1991 - 2004
PJ Harvey is an abbreviation of singer-songwriter Polly Jean Harvey (b. 9 Oct 1969 in Yeovil and raised in nearby Corscombe, Dorset, England) and a name of two acts. First was a Harvey-led trio, formed in 1991 with Rob Ellis (drums) and Steve Vaughan (bass), which débuted with Dry (Mar 1992). Overlapping with the trio, Harvey reused the name for solo work, inaugurated by 4-Track Demos (Oct 1993). The trio broke up in 1995 and Harvey continued solo - with her album Let England Shake (Feb 2011) and her latest album The Hope Six Demolition Project (April 2016). The trio's
Read Full Bio
PJ Harvey is an abbreviation of singer-songwriter Polly Jean Harvey (b. 9 Oct 1969 in Yeovil and raised in nearby Corscombe, Dorset, England) and a name of two acts. First was a Harvey-led trio, formed in 1991 with Rob Ellis (drums) and Steve Vaughan (bass), which débuted with Dry (Mar 1992). Overlapping with the trio, Harvey reused the name for solo work, inaugurated by 4-Track Demos (Oct 1993). The trio broke up in 1995 and Harvey continued solo - with her album Let England Shake (Feb 2011) and her latest album The Hope Six Demolition Project (April 2016).

The trio's material on Dry and Rid of Me was praised by critics for its raw, guitar-driven sound and sharp-witted, melancholic lyrics. After the trio broke up, in 1995, Harvey released To Bring You My Love, a blues-heavy album that expanded the range of her sound through the incorporation of strings, organs, and electronic sound effects. Her stage show became more theatrical, with Harvey performing in ballgowns, pink catsuits, wigs and garish, vampish make-up. Never one to rest, she followed this album with the softer, more experimental Is This Desire?, released in 1998, and then Stories From the City, Stories From the Sea, released in 2000, which combined her more guitar-driven work with cleaner, lusher arrangements. Stories won her the 2001 Mercury Prize.

In 2004 she released Uh Huh Her, a return to her earlier, rawer sound. Uh Huh Her was met with a somewhat mixed response; while some critics welcomed Harvey's re-exploration of her previous styles, others felt that the album was something of a rehash. Around the same time, she produced and co-wrote half of Marianne Faithfull's album Before the Poison, which received much critical praise.

Apparently the result of writer's block (according to reports made by the BBC), 2007's White Chalk saw Harvey exploring new territory. Jettisoning her trademark guitar-driven sound, White Chalk was a collection of eerie, skeletal piano ballads; Harvey received widespread praise for the album. In 2011, Harvey released the album Let England Shake, in which she explored war-related themes, using Britain's involvement in World War I as a historical backdrop. The album received widespread critical acclaim and won Harvey her second Mercury Prize; to date, she is the only person to win the prize more than once.

On April 15, 2016, PJ Harvey released her 9th studio album entitled "The Hope Six Demolition Project".

PJ Harvey has collaborated with a number of other artists, including: Nick Cave, Thom Yorke, Björk, John Parish, Tricky, Sparklehorse, Pascal Comelade and Mark Lanegan. She has also been a collaborator in the Desert Sessions, along with Josh Homme, Jeordie White, Dave Catching, Nick Oliveri, Mark Lanegan, Chris Goss, Alain Johannes and Dean Ween.
Genre not found
Artist not found
Album not found
Search results not found
Song not found
Oh, my lover
Don't you know it's all right?
You can love her
And you can love me at the same time
Much to discover
I know you don't have the time but
Oh, my lover
Don't you know it's all right?
Oh, my sweet thing
Oh, my honey thighs
Give me your troubles
I'll keep them with mine
Take at your leisure
Take whatever you can find but
Oh, my sweet thing
Don't you know it's all right?
It's all right
It's all right
There's no time
So it's all right
What's that color
Forming around your eyes?
Waltz, my lover
Tell me that it's all right
Just another
Before you go, go away
Oh, my lover
Why don't you just say my name?
And it's all right
Say it's all right
There's no time
Oh
I, i, i, 'ime
La, i, i, 'ime
Lyrics © Sony/ATV Music Publishing LLC
Written by: POLLY HARVEY

Lyrics Licensed & Provided by LyricFind
To comment on specific lyrics,
highlight them