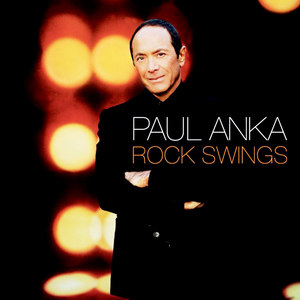 Recorded in November 2004 and released on May 31, 2005 in Canada and June 7, 2005 in the United States, Rock Swings contains swing jazz covers of popular rock and pop songs from the 1980s and 1990s. Reportedly, the Michael Jackson song "Billie Jean" was slated to be on the album in the recording stages, but Paul Anka could not get through a vocal take without bursting into laughter. The album features 'It's My Life' by Bon Jovi, a song which includes the line "Like Frankie said, 'I did it my way'" - a tongue-in-cheek reference to the Sinatra classic
Read Full Bio
Recorded in November 2004 and released on May 31, 2005 in Canada and June 7, 2005 in the United States, Rock Swings contains swing jazz covers of popular rock and pop songs from the 1980s and 1990s.

Reportedly, the Michael Jackson song "Billie Jean" was slated to be on the album in the recording stages, but Paul Anka could not get through a vocal take without bursting into laughter. The album features 'It's My Life' by Bon Jovi, a song which includes the line "Like Frankie said, 'I did it my way'" - a tongue-in-cheek reference to the Sinatra classic My Way, the English lyrics to which were written by Anka.

After the release of this album, Anka was awarded a star on Canada's Walk of Fame in Toronto. A DVD release of the same name, including live performances of these songs by Anka, was released on December 6, 2005.
Genre not found
Artist not found
Album not found
Search results not found
Song not found
It's My Life
Paul Anka Lyrics
This ain't a song for the broken-hearted
No silent prayer for the faith-departed
I ain't gonna be just a face in the crowd
You're gonna hear my voice
When I shout it out loud
It's my life
It's now or never
I ain't gonna live forever
I just want to live while I'm alive
(It's my life)
My heart is like an open highway
Like Frankie said
I did it my way
I just wanna live while I'm alive
It's my life
This is for the ones who stood their ground
For Tommy and Gina who never backed down
Tomorrow's getting harder make no mistake
Luck ain't even lucky
Got to make your own breaks
It's my life
And it's now or never
I ain't gonna live forever
I just want to live while I'm alive
(It's my life)
My heart is like an open highway
Like Frankie said
I did it my way
I just want to live while I'm alive
'Cause it's my life
Better stand tall when they're calling you out
Don't bend, don't break, baby, don't back down
It's my life
And it's now or never
'Cause I ain't gonna live forever
I just want to live while I'm alive
(It's my life)
My heart is like an open highway
Like Frankie said
I did it my way
I just want to live while I'm alive
It's my life
And it's now or never
'Cause I ain't gonna live forever
I just want to live while I'm alive
(It's my life)
My heart is like an open highway
Like Frankie said
I did it my way
I just want to live while I'm alive
'Cause it's my life
Lyrics © Universal Music Publishing Group, Sony/ATV Music Publishing LLC, Kobalt Music Publishing Ltd.
Written by: Jon Bon Jovi, Richard S. Sambora, Max Martin

Lyrics Licensed & Provided by LyricFind
To comment on specific lyrics,
highlight them