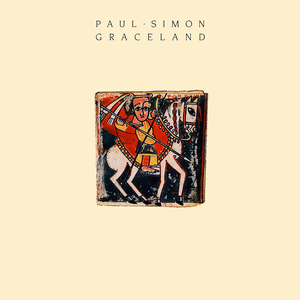 Graceland is an album released by Paul Simon in 1986. It was a hit in the UK topping the charts at #1. It also reached #3 in the US. The album won the Album of the Year Grammy award, while the title song won the Record of the Year Grammy award, for 1986 and 1987 respectively. In 2006, the album was added to the United States National Recording Registry, along with another 24 significant recordings that year. Coming at a time when Simon's musical career was at something of a low ebb following the disappointing public response to Hearts and
Read Full Bio
Graceland is an album released by Paul Simon in 1986. It was a hit in the UK topping the charts at #1. It also reached #3 in the US. The album won the Album of the Year Grammy award, while the title song won the Record of the Year Grammy award, for 1986 and 1987 respectively. In 2006, the album was added to the United States National Recording Registry, along with another 24 significant recordings that year.

Coming at a time when Simon's musical career was at something of a low ebb following the disappointing public response to Hearts and Bones, the project was originally inspired by Simon's listening to a cassette of the Boyoyo Boys instrumental "Gumboots", lent to him by Heidi Berg, a singer-songwriter with whom Simon was working (and who would later become an award-winning jingle singer and writer). Simon later wrote lyrics to sing over a re-recording of the song, which became the fourth track on the album.

The group Los Lobos appear on the last track, "All Around the World or The Myth of Fingerprints." According to Los Lobos's saxophone player Steve Berlin, Simon stole the song from Los Lobos, giving them no songwriting credit:

"It was not a pleasant deal for us. I mean he quite literally — and in no way do I exaggerate when I say — he stole the songs from us... We go into the studio, and he had quite literally nothing. I mean, he had no ideas, no concepts, and said, "Well, let's just jam." ...Paul goes, "Hey, what's that?" We start playing what we have of it, and it is exactly what you hear on the record. So we're like, "Oh, ok. We'll share this song." ...A few months later, the record comes out and says "Words and Music by Paul Simon." We were like, "What the fuck is this?" We tried calling him, and we can't find him. Weeks go by and our managers can't find him. We finally track him down and ask him about our song, and he goes, "Sue me. See what happens."

Paul Simon answered: "I just said at this stage I don't care whether the album comes out without Los Lobos on it. I was getting really tired of it—I don't want to get into a public slanging match over this, but this thing keeps coming up. So we finished the recordings. And three months passed, and there was no mention of 'joint writing.' The album came out and we heard nothing. Then six months passed and Graceland had become a hit and the first thing I heard about the problem was when my manager got a lawyer's letter. I was shocked. They sent this thing to my manager, not me. If there was a problem, they could have contacted me direct. They've got my home number; we talked a lot. If you ask me, it was a lawyer's idea. You know, 'The record's a hit, and there's $100,000 in it.' They had nine months from the recordings to talk to me about all this, but I heard nothing. And it's still not sorted out, because they still keep bringing it up—I heard they'd done this interview for you. I don't want to get into a public slanging match with them, because I really like their music."

Graceland was Paul Simon's highest charting album in the U.S. in over a decade, reaching #3 in the national Billboard charts, receiving a certification of 5× Platinum by the RIAA and eventually selling over 14 million copies, making it the singer's most commercially successful album. Critics welcomed its eclectic mix of sounds and broad, quirky subject matter and it regularly shows up in critic polls and "recommended" lists. The album also helped to draw worldwide attention to the music of South Africa.

In the Graceland Classic Albums video, Simon states that he considers the title track the best song he has ever written. A popular music video starring Simon and Chevy Chase was made for the hit song "You Can Call Me Al". Simon toured the album extensively, featuring many of the artists from the album in addition to exiled South Africans Hugh Masekela and Miriam Makeba. Two concerts in Harare, Zimbabwe, were filmed in 1987 for release as "The African Concert". The audience was a multi-racial mix with many travelling from South Africa.

Rankings:

* Voted the best album of the year in The Village Voice Pazz & Jop critics poll.
* In 1998, Q magazine readers voted it the 56th greatest album of all time.
* It was also ranked #84 in a 2005 survey held by British television's Channel 4 to determine the 100 greatest albums of all time.
* In 1989, it was rated #5 on Rolling Stone magazine's list of the 100 Greatest Albums of the '80s.
* It is #81 on the list of Rolling Stone magazine's 500 Greatest Albums of All Time.
* The song "Graceland" was voted #485 in the list of Rolling Stone's 500 Greatest Songs of All Time.
* According to AcclaimedMusic.net, a site which combines hundreds of best-of lists from critics and musicians from around the world, Graceland is ranked at #66 on the greatest albums of all time. It is also ranked #13 for albums released in the 1980s, and it is the second-highest ranking album of 1986, behind The Smiths' The Queen Is Dead).
* In 2002, Pitchfork Media named it the 85th best album of the 1980s.
* In 2006, Time named it one of the All-Time 100 Greatest Albums.
Genre not found
Artist not found
Album not found
Search results not found
Song not found
The Boy in the Bubble
Paul Simon Lyrics
It was a slow day
And the sun was beating
On the soldiers by the side of the road
There was a bright light
A shattering of shop windows
The bomb in the baby carriage
Was wired to the radio
These are the days of miracle and wonder
This is the long distance call
The way the camera follows us in slo-mo
The way we look to us all
The way we look to a distant constellation
That's dying in a corner of the sky
These are the days of miracle and wonder
And don't cry, baby, don't cry
Don't cry
It was a dry wind
And it swept across the desert
And it curled into the circle of birth
And the dead sand
Falling on the children
The mothers and the fathers
And the automatic earth
These are the days of miracle and wonder
This is the long distance call
The way the camera follows us in slo-mo
The way we look to us all, oh yeah
The way we look to a distant constellation
That's dying in a corner of the sky
These are the days of miracle and wonder
And don't cry baby, don't cry
Don't cry
It's a turn-around jump shot
It's everybody jump start
It's every generation throws a hero up the pop charts
Medicine is magical and magical is art
Think of the boy in the bubble
And the baby with the baboon heart
And I believe
These are the days of lasers in the jungle
Lasers in the jungle somewhere
Staccato signals of constant information
A loose affiliation of millionaires
And billionaires and baby
These are the days of miracle and wonder
This is the long distance call
The way the camera follows us in slo-mo
The way we look to us all, oh yeah
The way we look to a distant constellation
That's dying in a corner of the sky
These are the days of miracle and wonder
And don't cry baby, don't cry
Don't cry, don't cry
Lyrics © Universal Music Publishing Group, Sony/ATV Music Publishing LLC
Written by: Forere Motlhoheloa, Paul Simon

Lyrics Licensed & Provided by LyricFind
To comment on specific lyrics,
highlight them