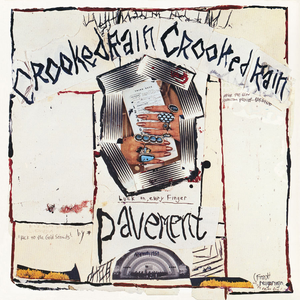 Crooked Rain, Crooked Rain
Crooked Rain, Crooked Rain is an album released by Pavement in 1994. With this album, the band abandoned the lo-fi sound displayed on Slanted and Enchanted (as well as their drummer, Gary Young). During the tour for Slanted, the band added percussionist Bob Nastanovich and bassist Mark Ibold; partway through this album's recording sessions, Gary Young was replaced by Steve West. The album featured the band at its most easily accessible, and the single "Cut Your Hair" was the band's closest brush with mainstream success. As of 2007, the album has sold almost 500,000 copies and was a UK Top
Read Full Bio
Crooked Rain, Crooked Rain is an album released by Pavement in 1994. With this album, the band abandoned the lo-fi sound displayed on Slanted and Enchanted (as well as their drummer, Gary Young). During the tour for Slanted, the band added percussionist Bob Nastanovich and bassist Mark Ibold; partway through this album's recording sessions, Gary Young was replaced by Steve West. The album featured the band at its most easily accessible, and the single "Cut Your Hair" was the band's closest brush with mainstream success. As of 2007, the album has sold almost 500,000 copies and was a UK Top 20 hit upon release. Although it was not so successful in the US charts, it has since been critically acclaimed across the US music press as a classic alternative rock album. The album was reissued on October 26, 2004 by Matador Records under the name Crooked Rain, Crooked Rain: LA's Desert Origins.
Genre not found
Artist not found
Album not found
Search results not found
Song not found
Silence Kit
Pavement Lyrics
You said things I wouldn't say
Straight to my face, boy
You tossed the egg up
And I found my hands in place, boy
After backing up as far as you could get
Don't you know nobody parts two rivers met?
Don't you know I'm very happy?
You know me well
I'm even happier
I like it
I like it
With all of the time in the world to spend it
Wild and unwise, I want to be mesmerizing too
Mesmerizing too
Mesmerizing to you
With all of the time in the world to spend it
Wild and unwise, I want to be mesmerizing too
Mesmerizing too
Mesmerizing to you
Lyrics © BMG RIGHTS MANAGEMENT US, LLC
Written by: STEPHEN MALKMUS

Lyrics Licensed & Provided by LyricFind
To comment on specific lyrics,
highlight them