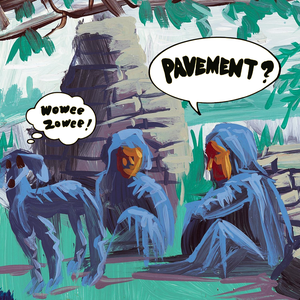 Wowee Zowee is the third studio album by Pavement. The album showcased a more experimental and spontaneous side of the group, returning them to the clatter and unpredictability of their early recordings after the classic rock vibe of 1994's Crooked Rain, Crooked Rain. The cover art was painted by New York-based artist Steve Keene and resembles the cover of Guru Guru's 1972 album, "Känguru." Rolling Stone speculated that the relative success of their previous album (having sold 169,000 copies by this time) was a reason for this album's eclectic nature; the magazine's review claimed Pavement were afraid of success. Stephen
Read Full Bio
Wowee Zowee is the third studio album by Pavement. The album showcased a more experimental and spontaneous side of the group, returning them to the clatter and unpredictability of their early recordings after the classic rock vibe of 1994's Crooked Rain, Crooked Rain. The cover art was painted by New York-based artist Steve Keene and resembles the cover of Guru Guru's 1972 album, "Känguru."

Rolling Stone speculated that the relative success of their previous album (having sold 169,000 copies by this time) was a reason for this album's eclectic nature; the magazine's review claimed Pavement were afraid of success. Stephen Malkmus later refuted this, attributing the stylistic shift to excessive marijuana consumption. Rolling Stone voted Wowee Zowee the 12th Coolest Album of all time.

The songs "Grounded," "Flux=Rad," "Pueblo," and "Kennel District" were originally written at the same time as the songs that became Crooked Rain, Crooked Rain, and rough versions appear on Crooked Rain, Crooked Rain: LA's Desert Origins disc 2.

The album was recorded at Easley Studios in Memphis, Tennessee, with the exception of some tracks recorded at Random Falls, in NY.
Genre not found
Artist not found
Album not found
Search results not found
Song not found
There is no castration fear
In a chair
We'll dance...
But no one will dance with us
In this zany town
Chim chim chim sing a song of praise
For your elders
They're in the back
Pick out some Brazilian nuts
For your engagement
Check that expiration date, man
It's later than you think
You can't enjoy yourself,
I can't enjoy myself
Move that swing
And watch it break straight like an arc
But I won't be there to leave you
'Cause I don't have a clue anymore
Maybe we can dance together?
First time you see
And then you'll be
Five times forever
And you never get lost
Lyrics © Sony/ATV Music Publishing LLC, Kobalt Music Publishing Ltd.
Written by: NADIR KHAYAT, SAVAN KOTECHA, NANNA

Lyrics Licensed & Provided by LyricFind
To comment on specific lyrics,
highlight them