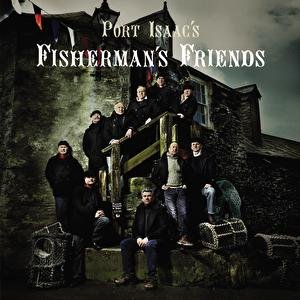 Port Isaac's Fisherman's Friends
This group's original name was Fisherman's Friends; their first album with Universal, Port Isaac's Fisherman's Friends, was recorded in St Kew Parish Church, Cornwall, and released in April 2010 The group can usually be heard singing on Friday evenings throughout the summer on the Platt in wonderful Port Isaac. Fisherman's Friends are John, Julian and Jeremy Brown, Trevor Grills, John Lethbridge, Billy Hawkins, Nigel Sherratt, Peter Rowe, John McDonnell and Jon Cleave. Fisherman's Friends, from Port Isaac on the North Cornwall coast, have secured a deal – said to be worth £1 million – with Universal, the company behind acts
Read Full Bio
This group's original name was Fisherman's Friends; their first album with Universal, Port Isaac's Fisherman's Friends, was recorded in St Kew Parish Church, Cornwall, and released in April 2010

The group can usually be heard singing on Friday evenings throughout the summer on the Platt in wonderful Port Isaac.

Fisherman's Friends are John, Julian and Jeremy Brown, Trevor Grills, John Lethbridge, Billy Hawkins, Nigel Sherratt, Peter Rowe, John McDonnell and Jon Cleave.

Fisherman's Friends, from Port Isaac on the North Cornwall coast, have secured a deal – said to be worth £1 million – with Universal, the company behind acts such as Lady Gaga, Take That and Amy Winehouse

The 10-strong group, which also has a date at this year's Glastonbury Festival, will issue an album of traditional tunes and folk songs next month after being discovered by a record producer on holiday.

Fisherman's Friends are shanty singers--each of whom are or have been fishermen, lifeboatmen and coastguards (as well as builders, artisans, hoteliers, and shop keepers) in the local area--from Port Isaac on Cornwall's rugged north coast.

At around eight in the evening during the summer months, tourists and locals gather to hear this ten-man group sing a rousing set of shanties and Cornish folk songs. This album, recorded in a 15th-century church in nearby St Kew, features a rich haul of 12 songs from their Port Isaac repertoire, including the classic "South Australia", the haunting Cornish robber ballad "The Cadgwith Anthem" and the beautiful "Brightly Beams".

In February 2013 Trevor Gills and tour manager Paul McMullen were both killed in a tragic accident while touring.
Genre not found
Artist not found
Album not found
Search results not found
Song not found
In South Australia I was born
heave away, haul away
In South Australia round Cape Horn
We're bound for South Australia
Haul away you rolling kings
To me heave away, haul away
Haul away, you'll hear me sing
We're bound for South Australia
As I walked out one morning fair
'Twas there I met Miss Nancy Blair
I sher up and I sher down
I sher round and round the town
I run her all night and I run her all day
And I run her until we sailed away
There ain't but one thing grieves me mind
To leave Miss Nancy Blair behind
And as we wallop around Cape Horn
You'll wish to God you'd never been born
In South Australia my native land
Full of rocks and thieves and fleas and sand
I wish I was on Australia's strand
With a bottle of whiskey in my hand
Contributed by Isabella L. Suggest a correction in the comments below.
To comment on specific lyrics,
highlight them