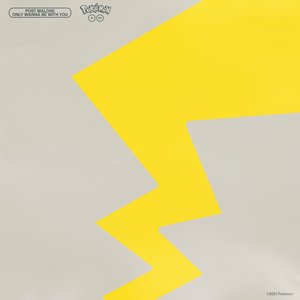 Only Wanna Be With You (Pokémon 25 Version)
Austin Richard Post (born July 4, 1995), known professionally as Post Malone, is an American recording artist. He first gained major recognition in February 2015, after the release of his debut single "White Iverson". In August 2015, Malone landed a record deal with Republic Records. On December 9, 2016, he released his debut studio album Stoney.

Following the success of his 2016 Stoney single Congratulations, Post followed in late 2017 with the 21 Savage featuring Rockstar
Read Full Bio
Austin Richard Post (born July 4, 1995), known professionally as Post Malone, is an American recording artist. He first gained major recognition in February 2015, after the release of his debut single "White Iverson". In August 2015, Malone landed a record deal with Republic Records. On December 9, 2016, he released his debut studio album Stoney.

Following the success of his 2016 Stoney single Congratulations, Post followed in late 2017 with the 21 Savage featuring Rockstar, which hit #1 on the Billboard Hot 100 and was included in his 2018 grammy nominated album "Beerbongs and Bentleys". His newest album, "Hollywood's Bleeding" (2019), tells a more personal story about Austin's life after all the fame and success he has achieved.
Genre not found
Artist not found
Album not found
Search results not found
Song not found
Only Wanna Be With You
Post Malone Lyrics
You and me, we come from different worlds
You like to laugh at me when I look at other girls
Sometimes you're crazy and you wonder why
I'm such a baby 'cause the Cowboys make me cry
But there's nothin' I can do
I've been lookin' for a girl like you
You look at me, you got nothin' left to say
I'm gonna pout at you until I get my way
I won't dance and you won't sing
I just wanna love you but you wanna wear my ring
But there's nothin' I can do
I only wanna be with you
You can call me your fool
I only wanna be with you
Put on a little Dylan, sittin' on a fence
I say that line is great, you asked me what it meant by
Said I shot a man named Gray, took his wife to Italy
She inherited a million bucks and when she died, it came to me
I can't help it if I'm lucky
I only wanna be with you
Ain't Bobby so cool?
I only wanna be with you
Yeah, I'm tangled up in blue
I only wanna be with you
You can call me your fool
I only wanna be with you
Sometimes I wonder if it'll ever end
You get so mad at me when I go out with my friends
Sometimes you're crazy and you wonder why
I'm such a baby, yeah, the Cowboys make me cry
But there's nothin' I can do
I only wanna be with you
You can call me your fool
I only wanna be with you
Yeah, I'm tangled up in blue
I only wanna be with you
(I only wanna be with you)
I only wanna be with you
(I only wanna be with you)
I only wanna be with you
Lyrics © Sony/ATV Music Publishing LLC
Written by: Darius Rucker, Dean Felber, Jim Sonefeld, Mark Bryan

Lyrics Licensed & Provided by LyricFind
To comment on specific lyrics,
highlight them