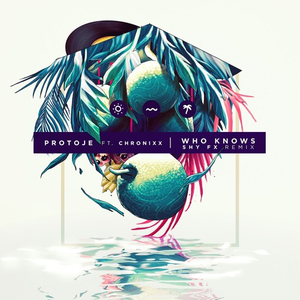 Who Knows (feat. Chronixx) [SHY FX Remix]
Oje Ken Ollivierre popularly known as Protoje, is a contemporary reggae singer and songwriter from Saint Elizabeth, Jamaica. His mother is Jamaican singer, Lorna Bennett and his father is a former Calypso king.
In 2010, Protoje began working with his cousin and popular Jamaican producer Don Corleon. After releasing "Dread", "JA" and "Roll" in 2010, Protoje's debut album, entitled The Seven Year Itch, was released in 2011. The first single off the album dubbed "Arguments" (2009) was responsible for his early popularity in Jamaica.
Read Full Bio
Oje Ken Ollivierre popularly known as Protoje, is a contemporary reggae singer and songwriter from Saint Elizabeth, Jamaica. His mother is Jamaican singer, Lorna Bennett and his father is a former Calypso king.
In 2010, Protoje began working with his cousin and popular Jamaican producer Don Corleon. After releasing "Dread", "JA" and "Roll" in 2010, Protoje's debut album, entitled The Seven Year Itch, was released in 2011. The first single off the album dubbed "Arguments" (2009) was responsible for his early popularity in Jamaica. In 2011, he released another single off the album entitled "Rasta Love" featuring Ky-Mani Marley.
His second album, The 8 Year Affair, was released in 2013. "Who Dem A Program" was the first single released from the album followed by "This Is Not A Marijuana Song". "Kingston Be Wise" was heavily promoted via traditional and social media. Protoje cited reggae artist Ini Kamoze and group Black Uhuru as influences when recording the album.

His third album Ancient Future is set for release in September 2014
Genre not found
Artist not found
Album not found
Search results not found
Song not found
Who Knows
Protoje Lyrics
And this a protoje
Chronixx a weh you say
Ok, (oh well)
Who knows, who knows, who knows, who knows
I just go where the trade winds blows
Sending love to my friends and foes
And I suppose I'm pleased
To be chilling in the West Indies
Jah provide all my wants and needs
I got the sunshine rivers and trees
Green leaves oh yea
When me see jah me see a way
Drastically stray from hiprocrosy I say (yea)
Every man to they own philosopy
I live the proper way and then mi read a chapter a day
Man deh in a city hungry and nuh eat
And food deh down a country just a drop off a di trees dem
You say proverty nuh real den
Is what the reasoning revealing
Who knows, who knows, who knows, who knows
I just go where the trade winds blows
Sending love to my friends and foes
And I suppose I'm pleased
To be chilling in the West Indies
Jah provide all my wants and needs
I got the sunshine rivers and trees
Green leaves oh yea
When the rain pitta pat pon the roof
Herb just a steam pepper pot pon the still
Life is a dream if you got gratitude
Go tell the regime dem can't stop what we do now
Information you think on your own
Or else you are a slave to the things that you know
What do you know if you learn everyday
So be careful a things weh you say
Who knows, who knows, who knows, who knows
I just go where the trade winds blows
Sending love to my friends and foes
And I suppose I'm pleased
To be chilling in the West Indies
Jah provide all my wants and needs
I got the sunshine rivers and trees
Green leaves oh yea
Africa in a we soul but a Jah in a we heart
Its of importance for i n i fi gather
If we cannot show now a balance that we had
How do we proposed now to carry it abroad
Cannot go to ethipoia and don't have a plan
The building of a nation a hand a help a hand
Everyone a love a one, every man is just a man
It shall be a coronation when we land, land, land
Who knows, who knows, who knows, who knows
I just go where the trade winds blows
Sending love to my friends and foes
And I suppose I'm pleased
To be chilling in the West Indies
Jah provide all my wants and needs
I got the sunshine rivers and trees
Green leaves oh yea
Who knows, who knows, who knows, who knows
Am pleased to be chilling in the West Indies
Jah provide all my wants and needs
Lyrics © Kobalt Music Publishing Ltd.
Written by: PHILIP JAMES, JAMAR ROLANDO MCNAUGHTON, OJE KEN OLLIVIERRE

Lyrics Licensed & Provided by LyricFind
To comment on specific lyrics,
highlight them