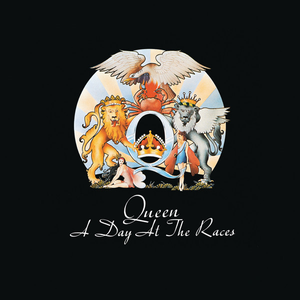 A Day at the Races is a rock album by English band Queen released in December 1976. A Day at the Races was the band's first self-produced album after co-producing their first four albums with Roy Thomas Baker (for Queen, Queen II, Sheer Heart Attack and A Night at the Opera) and John Anthony (Queen). A Day at the Races was recorded at Sarm East, The Manor and Wessex Studios in England and engineered by Mike Stone. The title of the album followed suit with its predecessor A Night at the Opera in taking its name from a film by
Read Full Bio
A Day at the Races is a rock album by English band Queen released in December 1976.

A Day at the Races was the band's first self-produced album after co-producing their first four albums with Roy Thomas Baker (for Queen, Queen II, Sheer Heart Attack and A Night at the Opera) and John Anthony (Queen).

A Day at the Races was recorded at Sarm East, The Manor and Wessex Studios in England and engineered by Mike Stone. The title of the album followed suit with its predecessor A Night at the Opera in taking its name from a film by the Marx Brothers.

A Day at the Races peaked at number 1 in the UK, in Japan and in the Netherlands. It reached number 5 on the US Billboard album chart and was Queen's fifth US album to ship Gold in the U.S.. It subsequently reached Platinum status in sales in the U.S.


Track listing

Side one
"Tie Your Mother Down" (May) – 4:47
"You Take My Breath Away" (Mercury) – 5:09
"Long Away" (May) – 3:34
"The Millionaire Waltz" (Mercury) – 4:54
"You and I" (Deacon) – 3:25

Side two
"Somebody to Love" (Mercury) – 4:56
"White Man" (May) – 4:59
"Good Old-Fashioned Lover Boy" (Mercury) – 2:54
"Drowse" (Taylor) – 3:45
"Teo Torriatte (Let Us Cling Together)" (May) – 5:50

Bonus tracks (1991 Hollywood Records CD reissue)
"Tie Your Mother Down" (1991 Remix by Matt Wallace) – 3:44
"Somebody to Love" (1991 Remix by Randy Badazz) – 5:00

Song information

Tie Your Mother Down
Main article: Tie Your Mother Down
"Tie Your Mother Down" was written in Tenerife, when Brian May was earning his PhD in Astronomy in early 1975. He wrote it on Spanish guitar and thought he'd change the title and chorus later on, but Mercury liked it and they kept it that way.

The song is preceded by a one-minute instrumental intro using a Shepard tone guitar figure, which is actually a reprise of the ending of "Teo Torriatte": this was intended to create a "circle" in the album, typical, for example, of Pink Floyd's albums. The ascending scale was created by recording a descending scale on a guitar and playing it backwards for the record. The main theme of the intro is the same as that of "White Man."


You Take My Breath Away
"You Take My Breath Away" was written by Freddie Mercury and based on the harmonic minor scale. All of the vocals and piano were done by him, and he performed it by himself at Hyde Park before recording it. There is a vocal interlude between this song and the next one that begins with a wash of vocals (repeating the words "long away") created by echoes (of a multitracked Mercury) regenerating in reverse, which gradually evolves into the repeated phrase "you take my (breath away)" and reintegrates into the next track, "You Take My Breath Away."


Long Away
Main article: Long Away
"Long Away" was composed and sung by May. He used a Burns Double Six 12-string electric guitar for the rhythm parts instead of his Red Special. He'd wanted to use a Rickenbacker because he admired John Lennon, but he didn't get along well with the thin neck of the instrument.


The Millionaire Waltz
"The Millionaire Waltz" was written by Mercury about John Reid (Queen's and Elton John's manager at the time). It's another multi-key and multi-metre song like Bohemian Rhapsody, using abrupt arrangement changes and including Brian May doing multi-tracked guitar choirs.


You and I
"You And I" is John Deacon's song on the album. It features him on acoustic guitar and Mercury playing Elton John-esque piano parts. It's arguably Deacon's only dark sounding song on any album. This song was never played live.


Somebody to Love
Main article: Somebody to Love (Queen song)
"Somebody to Love" is the hit single of the album. It was Freddie Mercury's own favourite song.

Like "Bohemian Rhapsody", the major hit from Queen's previous album, this song has a complex layering of vocal tracks, this time based on a gospel choir arrangement. It was the first single off the album A Day at the Races. It is a rock ballad on which band members Mercury, May and Taylor multi-tracked their voices to create the impression of a 3-voices gospel choir. The lyrics, especially combined with the gospel influence, create a song about faith, desperation and soul-searching; the singer questions both the lack of love experienced in his life and the role and existence of God. Staying true to Queen's guitar-driven style, it was also filled with intricate harmony parts and a solo by May. Mercury recorded a huge range of notes, going from a G2 (in the last choral verse) to a Ab5 (at the peak of his melisma on "ooh" over the choir break). It went to number 2 on the UK charts and number 13 on the U.S. singles chart.


White Man
"White Man" was written by May about the suffering of Native Americans at the hands of European immigrants. Its riff was used for the album intro, similarly to "Father To Son" and "Procession" some years before. This song would be the focal point for a Freddie Mercury vocal solo on the A Day at the Races tour and would serve as both a Mercury vocal solo spot and a Brian May guitar solo spot on the 1977-78 News of the World tour. The song is one of Queen's heaviest works, thematically and musically.


Good Old-Fashioned Lover Boy
Main article: Good Old-Fashioned Lover Boy
"Good Old-Fashioned Lover Boy" was written by Mercury. The song starts with a piano and vocal introduction by Mercury, then continues, with the bass and drums adding on, at the start of the chorus. The second verse is sung, followed by another chorus. At this point, the drums, bass and guitar drop out, which then leads into the bridge, sung by Freddie Mercury and Mike Stone. Following the Brian May guitar solo, another verse is sung, and then the chorus ends the track.

Multi-tracked vocals enhanced the song as well as May's guitar choirs. The song was once performed live on Top of the Pops in June 1977, with Roger Taylor singing the Mike Stone part. Most of the track was a concert staple on the "A Day at the Races" and "News Of The World" tours.


Drowse
"Drowse" was Roger Taylor's song in 6/8 having him playing rhythm guitar and timpani and doing all of the vocals. May played slide guitar during this and "Tie Your Mother Down" (the second guitar solo in the middle of the song).


Teo Torriatte (Let Us Cling Together)
Main article: Teo Torriatte (Let Us Cling Together)
"Teo Torriatte" was Brian May's tribute to the Japanese fans.

The song is notable for having two verses sung in Japanese; it is one of only three Queen songs (the others being "Las palabras de amor" from Hot Space and "Mustapha", from the album Jazz) in which an entire verse is sung in a language other than English. The song features a piano, a plastic piano, and a harmonium, all of which are played by Brian May. It is the only point in the album in which Mercury does not play piano.

The album's closing guitar melody is also its opening melody; the sequence was attached to the beginning of "Tie Your Mother Down", the first track on the album. May described it as "a never-ending staircase", otherwise commonly known, musically, as a Shepard tone.


Singles
In the UK the first track to be released as a single was Somebody to Love on November 12, 1976 (EMI 2565). It reached number 2. Tie Your Mother Down followed on March 4, 1977 (EMI 2593), reaching number 31. In the US, Somebody to Love was released on 10 December 1976 ( Elektra E45362) and reached number 13. It was followed by Tie Your Mother Down (Elektra E45385) in March 1977, which reached number 49. Both of these were released in Japan: in addition, Teo Torriatte was also released exclusively in Japan.


Personnel
Freddie Mercury: Lead Vocals, Piano, Backing Vocals
Brian May: Electric Guitars, Acoustic Guitars, Lead Vocals, Backing Vocals, Piano, Plastic Piano, Harmonium
Roger Taylor: Drums, Percussion, Lead Vocals, Backing Vocals, Electric Guitar
John Deacon: Bass, Acoustic Guitar
Mike Stone: Additional Vocal on "Good Old Fashioned Lover Boy"
Charts
Country Charts Sales
Peak position Weeks Certification
Austria 8 12
Germany 10 Gold 350.000
Japan 1 Gold 200.000
Netherlands 1 100.000
Norway 3 17
Sweden 8 8
United Kingdom 1 24 2x Platinum 750.000
Canada Platinum 200.000
United States 5 19 Platinum 1.500.000
Genre not found
Artist not found
Album not found
Search results not found
Song not found
Tie Your Mother Down
Queen Lyrics
Jump to: Overall Meaning | Line by Line Meaning
Ooh, ooh yeah, ooooh yeah
Get your party gown
Get your pigtail down
Get your heart beatin' baby
Got my timin' right
Got my act all tight
It's gotta be tonight my little
School babe

Your Mamma says you don't
Your Daddy says you won't
And I'm boilin' up inside
Ain't no way I'm gonna lose out this time, oh no

Tie your mother down
Tie your mother down
Lock your daddy out of doors
I don't need him nosin' around
Tie your mother down
Tie your mother down
Give me all your love tonight

You're such a dirty louse
Go get outta my house
That's all I ever get from your
Family ties, in fact I don't think I ever heard
A single little civil word from those guys
But you know I don't give a light
I'm gonna make out all right
I've got a sweetheart hand
To put a stop to all that
Snipin' an' grousin' goin' on all night

Tie your mother down
Tie your mother down
Take your little brother swimmin'
With a brick (that's all right)
Tie your mother down - yeah yeah
Tie your mother down
Or you ain't no friend of mine, ooh no friend of mine
No no, ow, yeah, bad guy

Ooh, your Mammy and your Daddy gonna
Plague me till I die
They can't understand it, I'm just a
Peace lovin' guy

Ooh, tie your mother down
Tie your mother down
Get that big big big big big big daddy out of doors
Tie your mother down - yeah
Tie your mother down
Give me all your love tonight
All your love tonight

Give me every inch of your love - ooh
All your love tonight
Yeah, gotta get my timin' right hey
Ooh, all your love
Tie your mother down
Overall Meaning
The song "Tie Your Mother Down" by Queen is an anthem for rebellion against authority and parental expectations. The song is written in a fast tempo, and the opening verse encourages the listener to get ready for a wild party, while the next verse expresses confidence and determination to make the night count. The chorus of the song is a chant that urges the listener to tie their mother down and lock their daddy out of doors, to avoid interference and meddling from their parents.
The song's lyrics suggest a struggle for independence and defiance against restrictive social norms, with Queen dismissing the older generation's values and authority. The singer openly opposes and dismisses the parents' advice and critics them for being unapproachable and unsupportive. The song argues that while society may impose rules and restrictions, it is up to us to decide how to live our lives and determine our destiny. The singer is resolute in his belief that he will not let anyone hinder his aspirations, and he urges others to do the same.
Overall, "Tie Your Mother Down" is a bold and rebellious song that encourages listeners to be fearless, independent, and determined in pursuing their dreams. The song rejects traditional expectations and social norms and advocates for self-determination and individualism.

Line by Line Meaning
Ooh, ooh yeah, ooooh yeah
The singer is expressing excitement and enthusiasm about what they're going to sing about.
Get your party gown
Get dressed up and ready to have a good time.
Get your pigtail down
Let your hair down and get ready to have fun.
Get your heart beatin' baby
Get excited and ready to rock out to this song.
Got my timin' right
The singer is ready and prepared to perform the song at the perfect moment.
Got my act all tight
The singer is confident in their ability to perform the song flawlessly.
It's gotta be tonight my little School babe
The singer is urging their lover to tie up their family and spend the night with them.
Your Mamma says you don't
The lover's mother is against their relationship with the singer.
Your Daddy says you won't
The lover's father is also against their relationship with the singer.
And I'm boilin' up inside
The singer is feeling angry and frustrated about the resistance they're facing from their lover's parents.
Ain't no way I'm gonna lose out this time, oh no
The singer is determined not to give up on their lover and let them slip away.
Tie your mother down
The singer wants their lover to tie up their mother to prevent her from interfering with their relationship.
Lock your daddy out of doors
The singer wants their lover to lock their father out of the house to keep him from interfering with their relationship.
I don't need him nosin' around
The singer doesn't want the lover's father to be involved with their relationship in any way.
Give me all your love tonight
The singer wants their lover to focus on them and show them all their love tonight.
You're such a dirty louse
The singer is angry with their lover for not standing up to their parents and going along with their demands.
Go get outta my house
The singer is fed up with the lover and wants them to leave.
That's all I ever get from your Family ties
The singer is frustrated with the lover's family and doesn't want to deal with them anymore.
In fact I don't think I ever heard A single little civil word from those guys
The singer has never been treated kindly or respectfully by the lover's family.
But you know I don't give a light
The singer doesn't care about the lover's family and is willing to do whatever it takes to be with them.
I'm gonna make out all right
The singer is confident that they will be able to overcome the challenges facing their relationship and be together.
I've got a sweetheart hand
The singer is offering their love and support to the lover.
To put a stop to all that Snipin' an' grousin' goin' on all night
The singer wants to put an end to the fighting and arguments that are happening because of their relationship.
Take your little brother swimmin' With a brick (that's all right)
The singer is suggesting that the lover's little brother should be distracted and kept away from the situation.
Or you ain't no friend of mine, ooh no friend of mine
The singer is indicating that if the lover doesn't comply with their demands, they will not be friends anymore.
Ooh, your Mammy and your Daddy gonna Plague me till I die
The singer knows that the lover's parents will always be a problem in their relationship.
They can't understand it, I'm just a Peace lovin' guy
The singer doesn't understand why the lover's parents are against their relationship, as they are a peaceful person.
Get that big big big big big big daddy out of doors
The singer wants the lover to keep their father away from the situation.
Give me every inch of your love - ooh All your love tonight
The singer wants to be loved and cared for completely by their lover tonight.
Yeah, gotta get my timin' right hey Ooh, all your love Tie your mother down
The singer is emphasizing the importance of timing and being in the right place at the right time to be with their lover.
Lyrics © Sony/ATV Music Publishing LLC
Written by: Brian May

Lyrics Licensed & Provided by LyricFind
To comment on or correct specific content,
highlight it