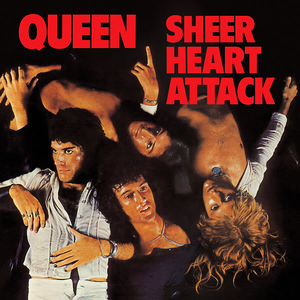 Sheer Heart Attack is a Queen album from 1974. It was their third studio album, and was produced by Queen and Roy Thomas Baker for EMI in the UK, and Elektra in the US. During Queen's first North American Tour (as a support band for Mott the Hoople) Brian May collapsed with hepatitis (he had been infected with an unclean needle during a vaccination before the Australian tour), but he continued to work from hospital. When he was fit, the work continued in studio, but then he fell ill again, this time with a stomach ulcer. With an ailing guitarist
Read Full Bio
Sheer Heart Attack is a Queen album from 1974. It was their third studio album, and was produced by Queen and Roy Thomas Baker for EMI in the UK, and Elektra in the US.

During Queen's first North American Tour (as a support band for Mott the Hoople) Brian May collapsed with hepatitis (he had been infected with an unclean needle during a vaccination before the Australian tour), but he continued to work from hospital. When he was fit, the work continued in studio, but then he fell ill again, this time with a stomach ulcer.

With an ailing guitarist and all plans of their first US tour scuttled, the band flew back home and decided what their future would be while May recovered. The guitarist felt guilty, and was a bit nervous that someone would replace him in the band. Much to his relief, no one in the group had even considered it. All three members were continuing on recording without Brian at the time. Production planning had left a lot of spaces in the songs for his solos.

Whenever he felt well enough, May came back and completed the tracks with guitar solos and backing vocals. "She Makes Me" used night-life recordings from New York. "Now I'm Here", released also as a single, was an idea of Brian's in hospital, when he was thinking about touring with Mott the Hoople.

It would seem that the plans meant to jump full-on into recording their next album, an unplanned but necessary LP in order to remain in the public eye. With basic sessions starting at Trident Studios in July 1974, Queen were reduced to a trio, with John Deacon occasionally deputizing on guitar as well as his normal bass duties. As a result, the trio made the most of their time, and no idea was too crazy to explore, which might explain why John's first songwriting contribution, Misfire, was recorded.

Thirteen songs were written and recorded, with Freddie Mercury taking on the lion's share: six were written by him, while four were penned by Brian. John Deacon and Roger Taylor each wrote one, and Stone Cold Crazy was credited as a four-way composition, though it had started off as a Wreckage song, written by Freddie.

As if Queen II hadn't been experimental enough, the band shifted into new territories with this new album, leaving behind the conceptual themes of the predecessor but allowing themselves enough freedom to try new things. In addition to hard rock, the band also explored glam rock (Tenement Funster), early heavy metal (Stone Cold Crazy), music hall (Bring Back That Leroy Brown), arena rock (In The Lap Of The Gods... Revisited), and bubblegum pop (Killer Queen, Misfire).

Two stately ballads, Freddie's Lily Of The Valley and Brian's Dear Friends, were also present, as is expected on any Queen album. More instruments were also introduced, with the album's rear sleeve running a virtual laundry list of everything except the kitchen sink (they would throw that in for A Night At The Opera):

Deacon played almost all guitars on his own composition, most of the acoustic guitars on other songs, and double bass on Bring Back That Leroy Brown; Brian plucked at a ukulele-banjo on Bring Back That Leroy Brown as well as pounding away on a piano on Now I'm Here and Dear Friends; Freddie played Hammond organ on Now I'm Here and jangle piano on Killer Queen and Bring Back That Leroy Brown.

Of course, it was up to Roy Thomas Baker to make sure that all of this made sense, and with Brian out of commission for a good portion of the sessions (in a stroke of bad luck, after recovering enough from hepatitis, he was stricken with yet more health problems, this time a duodenal ulcer that would often send him running to the studio toilet), a lot of gaps were left in which the recovering guitarist would need to add his parts.

It was a herculean effort that was pulled off effortlessly; the dream team of Baker and engineer Mike Stone would make their final mark to Queen's recording history on the following album, A Night At The Opera.

With all of the finishing touches placed on the album, as well as another iconic album sleeve by Mick Rock, Sheer Heart Attack was released to an unsuspecting public in November 1974, hot on the heels of the Killer Queen / Flick Of The Wrist single, which had done exceedingly well in the UK charts, reaching #2 and staying in the Top Twenty for ages. Most surprisingly, the single charted in the US, becoming the band's first chart entry, reaching #12 and paving the way for further successes, though the States were skipped over for the follow-up single, Now I'm Here, which peaked at a respectable #11 in the UK. As for the album, it reached #2 in the UK and #12 in the US.

In 1991, the album was reissued on CD in the US, where it received a fairly standard remix of Stone Cold Crazy; no additional material was recorded during the sessions, except for an early, unusable demo of the title track (written by Roger, it would later appear on News Of The World).


Track listing

Side one
"Brighton Rock" (May) – 5:08
"Killer Queen" (Mercury) – 3:01
"Tenement Funster" (Taylor) – 2:48
"Flick of the Wrist" (Mercury) – 3:19
"Lily of the Valley" (Mercury) – 1:43
"Now I'm Here" (May) – 4:10

Side two
"In the Lap of the Gods" (Mercury) – 3:20
"Stone Cold Crazy" (Mercury/May/Taylor/Deacon) – 2:12
"Dear Friends" (May) – 1:07
"Misfire" (Deacon) – 1:50
"Bring Back That Leroy Brown" (Mercury) – 2:13
"She Makes Me (Stormtrooper in Stilettoes)" (May) – 4:08
"In the Lap of the Gods... Revisited" (Mercury) – 3:42

Bonus tracks (1991 Hollywood Records CD reissue)
"Stone Cold Crazy" (1991 Remix by Michael Wagener)

Song information:

Brighton Rock:

Brian May wrote "Brighton Rock" in 1973 but they couldn't finish recording it for the second album so they did it in the third. The title is something of a pun: Brighton rock is a long, cylindrical sugar candy traditional to that seaside resort. The term was also iconic in UK pop culture as the title of a dark Graham Greene thriller/noir novel later adapted into a successful film starring Richard Attenborough as a teenage sociopath. It tells the story of two young lovers meeting in Brighton on a public holiday. Jenny cannot linger because she is afraid her mother will find out "how I spent my holiday", but afterwards "writes a letter every day"; Jimmy, eager on the day, is not so happy with her "nothing can my love erase": now he is the one afraid of discovery by "my lady". The song was originally intended to be a duet but Freddie Mercury ended up doing both female and male parts of the vocals.

A brief whistled snatch of I Do Like To be Beside the Seaside appears over the noise that opens this track, the first on the album. This mirrors its previous appearance as the playout of Seven Seas of Rhye, the final track on their previous album.

The song is probably best-known for its lengthy guitar solo interlude. This featured May's technique of using multiple echoes used to build up guitar harmony and contrapuntal melodic lines. The studio version only contains one "main" guitar and one "echoed" guitar for a short section, but live, he would usually split his guitar signal into "main" and two "echoed", with each going to a separate bank of amplifiers.

Variations of this solo often featured during live Queen concerts, either as part of a rendition of Brighton Rock, a medley of it with some other songs (as witnessed on the News of the World tour where it segued after Freddie Mercury's multiple echoed vocal solo at the end of White Man and Brian May's solo would segue into "The Prophet's Song" or "Now I'm Here"), or on its own as a guitar solo.

Originally the solo was part of the song "Blag", from May and Roger Taylor's previous band Smile. May would then play it live in the Queen song "Son and Daughter", and this arrangement also appeared on a session for the BBC in late 1973. Later, the first half of "Brighton Rock" segued, via the guitar solo, to the closing section of "Son and Daughter", and as of the 1977 A Day at the Races tour was eventually played as a track in its own right until 1979. However, during the News of the World tour of 1977 and 1978, a shortened version of the song was played without the lengthy guitar solo during the beginning of the concert. Proof of that can be heard on bootlegs from the tour.

In the late seventies, the guitar solo was adapted to include some bass and drums, including a timpani solo by Taylor (from October, 1978 to November, 1981). In 1980 and 1981, the solo was included as a medley with Keep Yourself Alive, before becoming a performance in its own right. During the recent tour of Queen + Paul Rodgers, a modified version, incorporating bits of "Chinese Torture" (from the album The Miracle) and the introduction from "Now I'm Here" was featured in the concerts. The live piece is often between nine to sixteen minutes long.


Killer Queen:
"Killer Queen" was written by Freddie Mercury and it was the band's first international hit. It is one of the few songs by Mercury for which he wrote the lyrics first. The band initially did the song without Brian May while he was in the hospital, leaving spaces for whenever he felt better. Mercury played jangle piano as well as a grand one.


Tenement Funster:

"Tenement Funster" is Roger Taylor's song on the album. He sang the lead vocals. Backing track consisted of Taylor's drums, Mercury's piano, Deacon's bass and May's Red Special guitar. It's a typical Taylor track about youth and rebellion. It also includes echo effects with May's guitar, like in "Brighton Rock". The last couple of guitar notes overlap into "Flick Of The Wrist".

Flick of the Wrist:
"Flick of the Wrist" was the Double A-side of "Killer Queen" but it was much less promoted and therefore not as popular outside the Queen fandom. The song includes Mercury singing octave vocals. When May returned to work having recovered from his hepatitis, he had not heard the song before he recorded his guitar and backing vocals. It is a heavy track with quite dark lyrics and an aggressive tone, something that may seem unusual for later Queen-songs, but in the early days (especially on Queen II) Mercury and May would often write grim songs. At about 1:14 - 1:16, the line "Baby you've been had" can be heard. This line is also the opening to the next song on the album, "Lily of the Valley", making a 3-song overlap (Tenement Funster into Flick Of The Wrist, Flick Of The Wrist into Lily Of The Valley).


Lily of the Valley:

"Lily of the Valley" is one of May's favorite songs by Mercury. Mercury played piano and did all of the vocals. The song has a reference to Seven Seas of Rhye in the line "messenger from Seven Seas has flown to tell the King of Rhye he's lost his throne".


Now I'm Here:
"Now I'm Here" is the band's second single in the album. Written by May while at the hospital, it was recorded during the last week of the sessions, with May playing piano. The song relies a lot on delay machines, foreshadowing "The Prophet's Song".

In the Lap of the Gods:
"In the Lap of the Gods" is, according to Mercury himself, the direct prelude to "Bohemian Rhapsody" and the A Night at the Opera album in general. There are fast piano arpeggios as in "Death on Two Legs" and some multi-tracked harmonies. Taylor provided the screams, which he proved weren't artificially created when he did them every night during their world tour.

Stone Cold Crazy:
"Stone Cold Crazy" was allegedly written by Mercury whilst in Wreckage, one of his pre-Queen bands. Queen played it live as early as 1972, apparently as the first song they performed on stage and, in late 1974, they finally decided to record a studio version. Amusingly enough, nobody seemed to remember who wrote the lyrics when the album was released, hence the shared writing credit. The lyrics themselves deal with gangsters, making a reference to Al Capone.

The song was amongst the fastest song in Queen's repertoire and, at the time, was uncommonly quick-paced in the rock and roll genre.

"Stone Cold Crazy" is a precursor to the metal sub-genres of speed and thrash metal. Even beyond the fast tempo, May's staccato riffs and Taylor's jackhammer drums are similar to later metal styles. Songs such as this one influenced metal bands for years to come. In Leather Charm's (Metallica's) first recorded song, Hit the Lights, roots of Brian May's staccato riffs for "Stone Cold Crazy" can be heard near the end of the song. Though Hit the Lights is the first known song under the sub-genre thrash metal, it is apparent that "Stone Cold Crazy" influenced the development of the sub-genre and other forms of metal to come in future years.

Metallica covered this song on the "Rubaiyat – Electra's 40th Anniversary" album released in 1990 and subsequently won a Grammy Award for their version (which also appeared in their covers' album Garage Inc.). It was also released in 1991 as a b-side track on the single release of Metallica's Enter Sandman. It was also performed live with Brian May (lead guitar), Roger Taylor (drums), and John Deacon (bass guitar) of Queen, James Hetfield (vocals) of Metallica, and Tony Iommi (rhythm guitar) of Black Sabbath on 20 April 1992 for the Freddie Mercury Tribute Concert.


Dear Friends:

"Dear Friends" was May's song featuring him on the piano and backing vocals, Mercury doing lead vocals.

Def Leppard covered this song for a Wal Mart bonus EP for their cover album, Yeah!


Misfire:

"Misfire" was John Deacon's first composition, and has a light-hearted Caribbean theme. Deacon played most of the guitars including the solo, and Mercury sang all the vocals.

Neko Case performed a country version of the song on her 1997 solo debut album, "The Virginian."


Bring Back That Leroy Brown:

"Bring Back That Leroy Brown" was written by Mercury and features him doing most of the vocals (with production techniques using tape speed to make it sound really low in the harmonies) as well as grand piano and jangle piano. May played ukulele-banjo and Deacon did a line with a double bass. The song's title alludes to the standard Bad Bad Leroy Brown by the American singer-songwriter Jim Croce (little known in Queen's native UK) who had died in a plane crash the previous year.


She Makes Me (Stormtrooper in Stilettoes)
"She Makes Me" was written and sung by May with Deacon playing acoustic guitars. The song's finale features what May referred to as "New York nightmare sounds", which include NYC police vehicle sirens and deep-breathing sounds which accompany the closing bars.

In the Lap of the Gods... Revisited
With its powerful chorus and stadium rock-esque sound, "In the Lap of the Gods... Revisited" is, in many ways, the forerunner to "We Are the Champions". The explosion heard at the end of the song was achieved through tape-saturation. Live, it was achieved with actual pyrotechnics, the first use of such effects by the band.


Reception:

The first single, "Killer Queen" reached #2 in the British charts and provided Queen with their first US Top 20 hit peaking at #12 on the Billboard singles chart. Several songs from this album harken back to the earliest days of Queen and their predecessors Smile and Wreckage. "Brighton Rock" houses a guitar solo by Brian May, which began its life in the Smile song "Blag", then floated around in the live and BBC versions of the song "Son And Daughter", before finding its home in on the opening track here. The track begins with someone whistling the short melody "I do like to be beside the seaside", featured on "Seven Seas of Rhye", the last track from their previous album.

"Stone Cold Crazy" was the first song credited to all four members of Queen but it had been played by Mercury's early band Wreckage. The original working title for "Tenement Funster" song was "Tin Dreams". "Misfire" is John Deacon's first composition to appear on a Queen album.


The release of Sheer Heart Attack coincided with Queen's first tour of Japan, which caused country-wide hysteria with numerous Japanese fans watching the band's first tour in Asia.

Drummer Roger Taylor was not satisfied with his hair on the original photograph, so the photographer Mick Rock used fake extensions, much to the band's amusement.

Sheer Heart Attack was Queen's first album to hit the US Top 20 peaking at #12 in 1975 and was certified Gold in sales by the R.I.A.A. in 1975.

The album is included in the book 1001 Albums You Must Hear Before You Die.


Press reviews
New Musical Express: "A feast. No duffers, and four songs that will just run and run: Killer Queen, Flick Of The Wrist, Now I'm Here and In The Lap Of The Gods...revisited. Even the track I don't like, Brighton Rock, includes May's Echoplex solo, still a vibrant, thrilling experience whether you hear it live or on record."
Winnipeg Free Press: "The more I listen to Sheer Heart Attack, the third album from Queen, the more I realize how much I under-rated it a few months back when it was first released. Side one in particular is a delight, with Brian May's multi-tracked guitar, Freddie Mercury's stunning vocalizing and Roy Thomas Baker's dynamic production work teaming up in a no-holds barred, full-scale attack on the senses."
Personnel
Freddie Mercury: Vocals, Piano, Jangle Piano
Brian May: Guitars, Vocals, Piano, Ukulele, Banjo
Roger Taylor: Drums, Percussion, Vocals
John Deacon: Bass Guitars, Acoustic Guitars, Rhythm Guitar, Electric Guitar

Charts
Country Charts Sales
Peak position Weeks Certification Sales
Belgium 1
United Kingdom 2 42 2x Platinum 700.000
Netherlands 6 Platinum 100.000
Norway 9 22
United States 12 32 Platinum 1.300.000
Japan 23 Gold 250.000
Canada 200.000
France 150.000
Germany 200.000
Italy 150.000
Spain 60.000


Tour
Main article: Sheer Heart Attack Tour
From 10 October 1974 through to 1 May 1975 the album was promoted on tour. The tour consisted of 3 legs and 77 individual shows, and was the band's first world tour.

The supporting bands consisted of Styx, Kansas, Hustler, and Mahogany Rush.
Genre not found
Artist not found
Album not found
Search results not found
Song not found
Brighton Rock
Queen Lyrics
Happy little day, Jimmy went away
Met his little Jenny on a public holiday
A happy pair they made, so decorously laid
'Neath the gay illuminations all along the promenade
"It's so good to know there's still a little magic in the air
I'll weave my spell"
"Jenny will you stay, tarry with me pray
Nothing 'ere need come between us tell me love, what do you say?"
"Oh no I must away to my Mum in disarray
If my mother should discover how I spent my holiday
It would be of small avail to talk of magic in the air
I'll say farewell"
Oh Rock of Ages, do not crumble, love is breathing still
Oh Lady Moon, shine down a little people magic if you will
Jenny pines away, writes a letter everyday
"We must ever be together, nothing can my love erase"
"Oh no I'm compromised, I must apologize
If my lady should discover how I spent my holidays"
Lyrics © Sony/ATV Music Publishing LLC
Written by: Brian May

Lyrics Licensed & Provided by LyricFind
To comment on specific lyrics,
highlight them