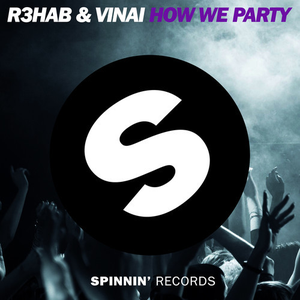 Rising Dutch DJ and producer R3hab has established his name in the international dance scene in a short period of time. His producing skills and love for electronic music have made him one of the highest requested remixers in the dance scene right now, remixing for artists like Lady Gaga, Jennifer Lopez, Calvin Harris, Lil Wayne, Ne-Yo, Pitbull, Sean Paul, Dada Life, Snoop Dogg and Bob Sinclar to name a few.
Then there are also R3hab's original productions
Read Full Bio
Rising Dutch DJ and producer R3hab has established his name in the international dance scene in a short period of time. His producing skills and love for electronic music have made him one of the highest requested remixers in the dance scene right now, remixing for artists like Lady Gaga, Jennifer Lopez, Calvin Harris, Lil Wayne, Ne-Yo, Pitbull, Sean Paul, Dada Life, Snoop Dogg and Bob Sinclar to name a few.
Then there are also R3hab's original productions that have moved dance floors around the world and more than frequently get listed in Beatport's charts. His most notable releases to date are 'Pump The Party' produced together with Ferruccio Salvo, 'The Bottle Song', released on Wall Recordings and the much-anticipated 'Prutataaa', which is R3hab's first collaboration with Afrojack and was released recently.
It might therefore not surprise people that the multi-talented and much-promising R3hab quickly got signed by Afrojack to his Wall Recordings imprint and is quoted as being "one of its biggest talents".
When it comes to DJ'ing R3hab really knows his business, bringing all the right music to the dance floor at all the right times. Whether you are enjoying his sets on the radio or at the club it is clear that when R3hab is behind the decks people get uplifted and want to dance. There is no getting around the energy that he brings to his craft and this experience is something you really should not miss.
So far R3hab has played at the most famous clubs around the world, in countries like the USA, Spain, Belgium, Greece, Switzerland, Germany, Morocco, France, Australia, England and the Caribbean. 2011 will surely see him continue his trend of travelling around the globe and bringing his music close to you, as well as surprising people with more top quality remixes and original material. Be sure to keep following this young Dutch multi-talent, the best has yet to come!
Genre not found
Artist not found
Album not found
Search results not found
Song not found
How We Party
Vinai Lyrics
We have lyrics for 'How We Party' by these artists:



4. Radio Record | R3hab VINAI [Intro] Yeah! Y'all know what it is It's the unstoppable T.U…
DJ Blyatman & XS Project Here we are Blyatman XS project GO! Everyday I drink Everyd…
R3hab I jump the line And you're always waiting for me It's who…
R3HAB & VINAI I jump the line And you're always waiting for me It's who…



We have lyrics for these tracks by Vinai:



Bounce Generation Everybody, everybody Everybody, everybody Everybody, everybo…
Break the Beat We won't do what you want us to do Bounded to…
Hide Away Da-da-da-da, da-da-da, da-da-da-da-da-da-da Da-da-da-da-da …
I Was Made Do, do, do, do, do, do, do, do, do Do, do,…
Parade I gave you the keys to my door But all I…
Rise Up Rise up I've been through the fire Made it to the wire,…
Sit Down Everybody get low, low, low Everybody go down, down, down Ev…
Superman Baby, can't believe that you called again I don't even know…
The Wave Hell Yeah Hell Yeah Hell Yeah... Here, now let′s make it go…
The Wave ft. Harrison Hell yeah… Here, now let's make it go wild Here, now let's…
Touch I don't know a thing 'bout love But I know there's…
Up All Night We up all night until the sun comes up Oh, yeah,…

The lyrics can frequently be found in the comments below or by filtering for lyric videos.