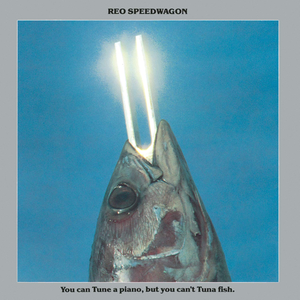 You Can Tune A Piano, But You Can't Tuna Fish
You Can Tune a Piano, but You Can't Tuna Fish is the seventh studio album by REO Speedwagon, released in 1978. It was their first album to be co-produced by lead singer Kevin Cronin and lead guitarist Gary Richrath. The album was REO's first to make the Top 40, peaking at #29. The album sold over 2 million copies in the U.S. which led it to go 2× Platinum. This is the first album to feature Bruce Hall on bass, replacing Gregg Philbin. In 2013, the album was released on CD by UK-based company Rock Candy Records, with expanded liner
Read Full Bio
You Can Tune a Piano, but You Can't Tuna Fish is the seventh studio album by REO Speedwagon, released in 1978. It was their first album to be co-produced by lead singer Kevin Cronin and lead guitarist Gary Richrath. The album was REO's first to make the Top 40, peaking at #29. The album sold over 2 million copies in the U.S. which led it to go 2× Platinum.

This is the first album to feature Bruce Hall on bass, replacing Gregg Philbin. In 2013, the album was released on CD by UK-based company Rock Candy Records, with expanded liner notes and photos.

The track "Time for Me to Fly" was covered by Dolly Parton on her 1989 album White Limozeen. In 2005, the album cover was featured in Pitchfork Media's list of "The Worst Record Covers of All Time", and in 2014 its title was featured in NME's list of "The 50 Worst Album Titles in History."
Genre not found
Artist not found
Album not found
Search results not found
Song not found
As soon as you are able, woman I am willing
To make the break that we are on the brink of
My cup is on the table, my love is spilling
Waiting here for you to take and drink of
So if you're tired of the same old story
Oh, turn some pages
I will be here when you are ready
To roll with the changes, yeah, yeah
I knew it had to happen, felt the tables turnin'
Got me through my darkest hour
I heard the thunder clappin', felt the desert burnin'
Until you poured on me like a sweet sun shower
So if you're tired of the same old story
Oh, turn some pages
I will be here when you are ready
To roll with the changes, ooh
So if you're tired of the same old story
Oh baby, turn some pages
I will be here when you are ready
To roll with the changes, baby
Roll with the changes
Ah, you know you know you know you got to
(Keep on rollin') Oh yeah
(Keep on rollin') Ooh roll with the changes
Keep on rollin' (Keep on rollin', keep on rollin')
Oh, now roll with the changes, oh, baby
(Keep on rollin') Oh, babe (Keep on rollin')
Oh, you got to learn to roll with the changes
Got to, got to, got to, got to keep on rollin'
(Keep on rollin'), got to learn to, got to learn to
Got to learn to roll
(Keep on rollin', keep on rollin', oooh)
(Keep on rollin', keep on rollin', oooh)
(Keep on rollin', keep on rollin', oooh)
(Keep on rollin', keep on rollin', oooh, aah)
Lyrics © BMG Rights Management
Written by: KEVIN PATRICK CRONIN

Lyrics Licensed & Provided by LyricFind
To comment on specific lyrics,
highlight them