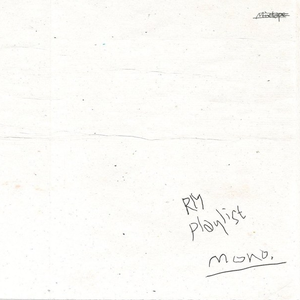 Kim Namjoon (Korean: 김남준; born September 12, 1994), better known as RM, is a South Korean rapper, songwriter, and record producer. He is the leader and the main rapper in the South Korean boy group BTS, managed under Big Hit Labels. Active during his pre-debut days as an underground rapper ( Runch Randa ). 13-year-old Nam-joon was already a prodigy in rap, he'd often attended gigs in his hometown Ilcheon and earned a place for himself in the underground scene at an early age, impressing even older underground rappers. He had made a collab with the famous rapper Zico back
Read Full Bio
Kim Namjoon (Korean: 김남준; born September 12, 1994), better known as RM, is a South Korean rapper, songwriter, and record producer. He is the leader and the main rapper in the South Korean boy group BTS, managed under Big Hit Labels.

Active during his pre-debut days as an underground rapper ( Runch Randa ). 13-year-old Nam-joon was already a prodigy in rap, he'd often attended gigs in his hometown Ilcheon and earned a place for himself in the underground scene at an early age, impressing even older underground rappers. He had made a collab with the famous rapper Zico back in 2008, the track can be found on many platforms including YouTube and SoundCloud.

In early 2015, RM earned not only the approval from big names in the Korean Hip-hop scene, but he had also gained respect from the American Hip-hop figure Warren G. The two came together for the track "P.D.D", where RM asks his haters to stay alive to witness his success. The west coast rapper stated in an interview with CJ America, "I couldn't understand all his lyrics, but I can say that it was very good because his flow, style, and rhythm are all excellent." He then even went on to say, "When I hear Rap Monster's songs, it sounds like Snoop Dogg or me rapping with the beats we've made."

He released his first solo mixtape in the same year, titled 'RM'. It's a work where Nam-joon gives his take hip-hop's influence in his life, the hardships he'd experienced in pursuit of his career, as well as his struggle with self-love and self-acceptance. "Awakening", the third track of the mixtape, talked of his internal conflict between his two identities of "rapper" and "idol", as he had received backlash from the underground Hip-hop community prior to his debut with BTS, claiming that he'd betrayed his roots as a rapper. To this day, the mixtape is considered one of the best works inside the Korean Hip-Hop scene.

In 2018, he came out with a second mixtape named "mono". A project containing a few collaborations (with artists such as HONNE, NELL, eAeon) where Nam-joon experimented with lofi Hip-Hop and ballad. Though different from his previous works, he was still able to showcase his soul-deep lyricism, where he often implemented his skill of using wordplay and metaphors to further reach his listeners. With this mixtape, he continued to explore his own identity and life through a microscope, touching topics like loneliness, self-doubt, longing, and even explored the concept of love and hate. 'mono' proved RM a unique artist of diversity and growth. The mixtape is available on Spotify, iTunes, and SoundCloud. During its first day of release, the mixtape reached high positions on stream platforms, giving RM a profile with verification, resulting in his becoming of a more acknowledged rapper, producer, and songwriter.

A lot of prestigious artists, from South Korea and EUA, found interest in RM and invited him for collaborations. Famous American rappers like Wale and Lil Nas X, even the rock group Fall Out Boy and famous Korean artists like Drunken Tiger and Gaeko.

In 2017 was released the track "Change", a collab between Wale and Rap Monster (RM). The song talks of global violence, the school system, social injustice, and bullying. The two conversed through lyrics, claiming that people were controlled by the higher power and voiced out their wish of a changing world.

In 2019 Lil Nas X called RM for one of the remixes of his hit "Old Town Road". And this collab gave Nam-joon a chance to perform along with Lil Nas X for the first time on the 2019 edition of the Grammy's stage.
Genre not found
Artist not found
Album not found
Search results not found
Song not found