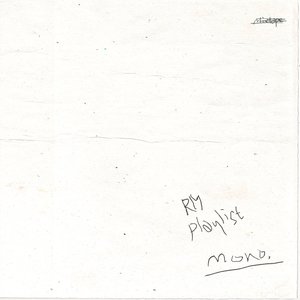 mono. is RM's second solo mixtape following his 2015 release, RM. The cover art of the album incorporates the word 'playlist' rather than 'mixtape' because the tracks were stylistically produced to effortlessly flow from one song to another, evident with the rain at the end of "지나가 (everythingoes)" as it transitions into "Forever Rain." The mixtape was released on October 23, 2018 and was first disclosed on BTS's twitter. It was released for free on multiple platforms, emphasizing RM's desire to simply share his voice and thoughts with others. mono. debuted at No. 1 on the iTunes charts in 86 countries including the US, Germany, the UK, and Brazil, making RM one of the first
Read Full Bio
mono. is RM's second solo mixtape following his 2015 release, RM. The cover art of the album incorporates the word 'playlist' rather than 'mixtape' because the tracks were stylistically produced to effortlessly flow from one song to another, evident with the rain at the end of "지나가 (everythingoes)" as it transitions into "Forever Rain."

The mixtape was released on October 23, 2018 and was first disclosed on BTS's twitter. It was released for free on multiple platforms, emphasizing RM's desire to simply share his voice and thoughts with others.

mono. debuted at No. 1 on the iTunes charts in 86 countries including the US, Germany, the UK, and Brazil, making RM one of the first solo Korean artists (alongside fellow member J-Hope) to chart at the top in the US and UK. With only three days of tracking, mono. debuted at number 26 on the Billboard 200 album chart with 21,000 album units sold, 16,000 of which were traditional album sales.

In addition, Billboard wrote an article reviewing the mixtape:

(mono.) does an about-face from (RM) release's largely bellicose nature in favor of a more introspective mixtape. Featuring songs performed in both Korean and English.
Genre not found
Artist not found
Album not found
Search results not found
Song not found
tokyo
RM Lyrics
Wake up in Tokyo, feel like a torso
I know it's time to go
I see Pinocchio wearing a poncho
That's me some time ago
Do I miss myself?
Do I miss your face?
I don't know (I don't know)
I don't know (I don't know)
Ooh, ooh
Ooh, ooh, ooh, ooh
Life is a word that sometimes you cannot say
And ash is a thing that someday we all should be
When tomorrow comes
How different it's going to be?
Why do love and hate sound just the same to me?
I can't sleep
Homesick, babe
I just wanna
Stay right next to you
If I could choose my dream
I just wanna
Stay right next to you
Ooh, ooh
Ooh, ooh, ooh, ooh
Lyrics © Sony/ATV Music Publishing LLC
Written by: Dong Hyuk Shin, Nam Jun Kim

Lyrics Licensed & Provided by LyricFind
To comment on specific lyrics,
highlight them