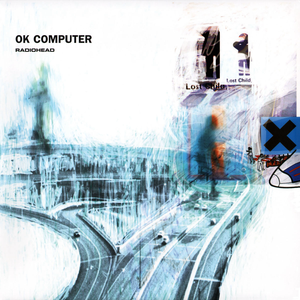 "OK Computer" is the third album by the English rock band Radiohead, released in 1997. It reached #1 on the UK Albums Chart and marked Radiohead's highest entry into the American market at the time, where it debuted at #21. "OK Computer" expanded the band's worldwide popularity, becoming the last Radiohead album to have a delayed release outside of the United Kingdom. As of 2007, it has been certified triple platinum in the UK and double platinum in the US. "OK Computer" included the singles "Paranoid Android", "Karma Police" and "No Surprises". The album was recorded in rural Oxfordshire and
Read Full Bio
"OK Computer" is the third album by the English rock band Radiohead, released in 1997. It reached #1 on the UK Albums Chart and marked Radiohead's highest entry into the American market at the time, where it debuted at #21. "OK Computer" expanded the band's worldwide popularity, becoming the last Radiohead album to have a delayed release outside of the United Kingdom. As of 2007, it has been certified triple platinum in the UK and double platinum in the US. "OK Computer" included the singles "Paranoid Android", "Karma Police" and "No Surprises".

The album was recorded in rural Oxfordshire and Bath, England with Nigel Godrich, who would work with the band on all their future recordings. Although OK Computer was dominated by guitar, its expansive sound and wide range of influences set it apart from many of the Britpop and alternative rock bands popular at the time, laying the groundwork for Radiohead's later, more experimental work. The lyrics, by Thom Yorke, and the album's artwork by Yorke and frequent collaborator Stanley Donwood, emphasised themes such as consumerism, social disconnection, political stagnation and modern malaise, though the band denied they set out to make a concept album.

Upon its release, "OK Computer" received almost unanimously positive reviews. Consensus among critics was that the album was a landmark of its time and would have far-reaching impact and importance. NME gave the album a ten out of ten score, and reviewer James Oldham wrote "Here are 12 tracks crammed with towering lyrical ambition and musical exploration; that refuse to retread the successful formulas of before and instead opt for innovation and surprise; and that vividly articulate both the dreams and anxieties of one man without ever considering sacrifice or surrender. In short, here is a landmark record of the 1990s, and one that deserves your attention more than any other released this year." Taylor Parkes of Melody Maker connected the album's release to the era's feeling of paranoia and alienation about millenarianism, and said "It's as pained and as slow-moving as the emotions that inspired it. ... In one way or another, Radiohead have excelled themselves." Q awarded the album five out of five stars, with writer David Cavanagh stating that "the majority of OK Computer's 12 songs ... takes place in a queer old landscape: unfamiliar and ominous, but also beautiful and unspoiled. ... It's a huge, mysterious album for the head and soul." Nick Kent wrote in Mojo that "Others may end up selling more, but in 20 years time I'm betting "OK Computer" will be seen as the key record of 1997, the one to take rock forward instead of artfully revamping images and song-structures from an earlier era." In a four out of five stars review, Caroline Sullivan of The Guardian wrote that the album "is surprising and sometimes inspiring but its intensity makes for a demanding listen."

The album was also favourably received by critics in North America. Rolling Stone gave the album four out of five stars. Reviewer Mark Kemp wrote that the album is "a stunning art-rock tour de force ... On "OK Computer", Radiohead take the ideas they had begun toying with on The Bends into the stratosphere. ... "OK Computer" is evidence that Radiohead are one rock band still willing to look the devil square in the eyes", but warned "OK Computer" is not an easy listen." An Entertainment Weekly review by David Browne gave the album a B+, and wrote that "When the arrangements and lyrics meander or sprout pretensions, the album grows ponderous and soggy. For all of Radiohead's growing pains, though, their aim — to take British pop to a heavenly new level — is true." In an article for The New Yorker, writer Alex Ross praised "OK Computer" for its progressiveness, and contrasted Radiohead's risk-taking with the more musically conservative "dadrock" of their contemporaries Oasis. Ross wrote that "Throughout the album, contrasts of mood and style are extreme. This band has pulled off one of the great art-pop balancing acts in the history of rock." Ryan Schreiber wrote, in a highly enthusiastic ten out of ten review in his online music magazine Pitchfork, that "Radiohead's third piece of incredible work, "OK Computer", is not only their best yet, but one of the year's greatest releases. The record is brimming with genuine emotion, beautiful and complex imagery and music, and lyrics that are at once passive and fire-breathing."

Despite OK Computer's widespread praise, it also received some criticism. Robert Christgau of the Village Voice granted "OK Computer" a B− but ranked it as the "Dud of the Month" in his consumer guide; Christgau commented that the album lacked "soul", calling it "arid" and "ridiculous" and comparing it unfavourably to Pink Floyd. Andy Gill wrote for The Independent in an otherwise positive review, "For all its ambition, "OK Computer" is not, finally, as impressive as "The Bends", which covered much the same sort of emotional knots, but with better tunes. It is easy to be impressed by, but ultimately hard to love, an album that so luxuriates in its despondency". While a review in Time was largely positive, particularly praising the songs "Airbag", "Paranoid Android", and "Let Down", reviewer Christopher John Farley criticised the second half of the album. Farley stated, "While the first half-dozen tracks reward repeated listenings with melodies that grow and bloom with familiarity, there is often no structure to be found in the remaining half-dozen numbers."

At the end of 1997, "OK Computer" appeared in many critics' lists and listener polls for best album of the year. "OK Computer" topped the year-end polls of the magazines Mojo, Vox, Entertainment Weekly, Hot Press, Muziekkrant OOR, HUMO, Eye Weekly, and Inpress, and tied for first place with Daft Punk's Homework in The Face. The album placed second in NME, Melody Maker, Rolling Stone, Village Voice, Spin and Uncut. Q and Les Inrockuptibles both listed "OK Computer" in their unranked year-end polls. "OK Computer" was a nominee for the 1997 Mercury Prize, a prestigious award recognizing the best British or Irish album of the year. The album was nominated in the Album of the Year and Best Alternative Music Performance categories at the 1998 Grammy Awards, ultimately winning the latter award.

"OK Computer" first appeared in a "best of all time" list three months after its release, placing 16 in a chart based on submissions by customers of Virgin Megastores. This chart heavily favoured recent releases, which suggested that OK Computer's popularity was a passing fad. However, "OK Computer" has since appeared frequently in professional lists of greatest albums. In early 1998, "OK Computer" topped a Q reader's poll of the greatest albums of all time, and in 2001 Q placed it at number one in a list of the top 50 pop albums of the last 15 years. A number of publications, including NME, Melody Maker, Spin, Alternative Press, Pitchfork Media, and Time placed "OK Computer" prominently in lists of best albums of the 1990s or of all time. In 2003, the album was ranked number 162 on Rolling Stone magazine's list of the 500 greatest albums of all time. Additionally, retrospective reviews from The A.V. Club and Slant Magazine have received the album favourably; likewise, Rolling Stone gave the album five stars in the 2004 Rolling Stone Album Guide, with critic Rob Sheffield saying "Radiohead was claiming the high ground abandoned by Nirvana, Pearl Jam, U2, R.E.M., everybody; and fans around the world loved them for trying too hard at a time when nobody else was even bothering."

"OK Computer" was recorded in the lead up to the 1997 general election. It was thus seen by critics as encompassing public opinion through its "despairing-yet-hopeful tone" and themes of alienation. Yorke said his lyrics had been affected by reading a book about the two decades of Conservative government which were just coming to an end in 1997, as well as about factory farming and globalisation. However, in interviews Yorke expressed little hope things would change under the "New Labour" government of Tony Blair. With the approach of the year 2000, many people felt the tone of the album was millennial.

Some critics have credited "OK Computer" with "killing" 1990s Britpop, as within a few years of its release, the dominant style of UK guitar pop had become slower and more melancholy. Many of the newer acts used similarly complex, atmospheric arrangements. The band Travis worked with Godrich to create the languid pop texture of The Man Who, which became the biggest selling album of 1999 in the UK. Others have credited Radiohead with beginning a mainstream revival of progressive rock and ambitious concept albums, though the band denied their affiliation with the genre. Radiohead described the prevalence of bands that "sound like us" as one reason to break with the style of "OK Computer" for their next album, Kid A. When asked by MTV interviewer Gideon Yago what the band thought of "bands like Travis, Coldplay, and Muse ... making a career sounding exactly like Radiohead did in 1997", Yorke replied "Good luck with 'Kid A'!".

Several rock bands which later became popular, ranging from Coldplay and Bloc Party to TV on the Radio, have said they were formatively influenced by "OK Computer"—TV on the Radio's debut album, for instance, was titled OK Calculator. Additionally, the album's popularity paved the way for British alternative rock bands such as Muse, Snow Patrol, and Keane. Classical and jazz musicians such as Christopher O'Riley and Brad Mehldau have performed material from "OK Computer", and composer Esa-Pekka Salonen said "When I heard OK Computer, after five minutes I said, 'I actually get this. I understand what these people are trying to do.' And what they were trying was not so drastically different from what I was trying to do." Radiodread is a song for song cover of the album in a Reggae style.

"OK Computer" has received great acclaim from the public and critics. It is often cited as Radiohead's best work and as a landmark album of its time. In 1998, it was nominated for a Grammy Award as Album of the Year, and won for Best Alternative Music Album.
Genre not found
Artist not found
Album not found
Search results not found
Song not found
In the next world war
In a jack knifed juggernaut
I am born again
In the neon sign
Scrolling up and down
I am born again
In an interstellar burst
I am back to save the universe
In a deep, deep sleep
Of the innocent
I am born again
In a fast German car
I'm amazed that I survived
An airbag saved my life
In an interstellar burst
I am back to save the universe
In an interstellar burst
I am back to save the universe
In an interstellar burst
I am back to save the universe
Lyrics © BMG Rights Management, Warner Chappell Music, Inc.
Written by: Colin Charles Greenwood, Edward John O'Brien, Jonathan Richard Guy Greenwood, Philip James Selway, Thomas Edward Yorke

Lyrics Licensed & Provided by LyricFind
To comment on specific lyrics,
highlight them