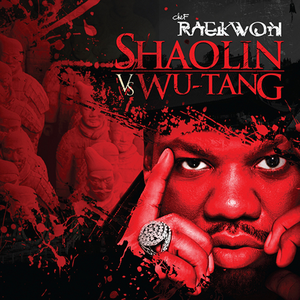 Shaolin vs. Wu-Tang is the fifth studio album by American rapper and Wu-Tang Clan-member Raekwon, released March 7, 2011, on Ice H20 and EMI Records. Guests for the album include Black Thought, Busta Rhymes, Ghostface Killah, GZA, Inspectah Deck, Lloyd Banks, Method Man, Nas, and Rick Ross, among others. The album debuted at number 12 on the US Billboard 200 chart, selling 29,000 copies in its first week. It produced two singles, "Butter Knives" and the title track. Upon its release, Shaolin vs. Wu-Tang received positive reviews from most music critics, who complimented Raekwon's performance and commended him for his
Read Full Bio
Shaolin vs. Wu-Tang is the fifth studio album by American rapper and Wu-Tang Clan-member Raekwon, released March 7, 2011, on Ice H20 and EMI Records. Guests for the album include Black Thought, Busta Rhymes, Ghostface Killah, GZA, Inspectah Deck, Lloyd Banks, Method Man, Nas, and Rick Ross, among others.
The album debuted at number 12 on the US Billboard 200 chart, selling 29,000 copies in its first week. It produced two singles, "Butter Knives" and the title track. Upon its release, Shaolin vs. Wu-Tang received positive reviews from most music critics, who complimented Raekwon's performance and commended him for his musical direction.
Due to the 8 Diagrams controversy, which took place in late 2007, Shaolin Vs. Wu-Tang was initially planned to be a Wu-Tang Clan group album, minus production from RZA.Raekwon later revealed that it would instead be his fifth studio album, and as originally intended, would not feature contributions from RZA.In regards to this decision, Raekwon clarified in an interview with Vibe "RZA doesn't have to be on every album. I wanted to give some other producers a chance. It's not about beef."
When Raekwon was asked about the album in an interview with Entertainment Weekly, he explained "It's not nothing derogatory towards Wu. It's just that Shaolin (i.e. Staten Island) is the place, Wu-Tang is the crew that came from that place. It's like me just going back to my history of being an emcee first, before I actually became part of Wu-Tang. I always give RZA that support as far as saying he brought Wu-Tang to the table. It was his philosophy. He picked certain dudes to be part of this group, and he said, 'This is what it's going to be called'. Before that, I was on the block. I was living in Shaolin. So this album just shows the street side of me, challenging the great side of Wu-Tang. Which is almost like how T.I. did T.I. vs. T.I.P. You're going to get sounds that relate to Wu-Tang. You're going to get sounds that relate to great Rae at his best shit, too. You're going to get a lot of animation as far as the skits are concerned. It's going to be a hot one. Everyone's going to love it."
Writing and recording for Shaolin vs. Wu-Tang began in early 2010, and finished later that year, with the album's completion being announced on December 7, 2010, on the Shade 45 Morning Show. Unlike Raekwon's previous album Only Built 4 Cuban Linx... Pt. II, Shaolin vs. Wu-Tang contains more collaborations from non Wu-Tang members, such as Nas, Havoc, Black Thought, Lloyd Banks, Rick Ross, Raheem DeVaughn, and Estelle. In regards to their collaboration, Lloyd Banks explained in an interview with Vibe magazine how he had Raekwon as a guest on his song "Sooner Or Later" (from the H.F.M. 2 album), stating "I had the beat for a minute, just rocking, vibing with it. I wrote about three verses to it and the sample, the beat—everything just reminded me of the Wu-Tang sound… So I was like, it's gotta be somebody from the Wu. And I really respect what Rae's been doing recently. He killed it." Soon after this collaboration, Raekwon offered Banks a spot on the Scram Jones produced track "Last Trip to Scotland". Banks explained "Soon as I heard Raekwon's verse it was on some storytelling shit, so I already knew what I had to do with it. Rae is one of the best at that, so his verse opened up my mind. It wasn't like I had a blank beat to go off of..
Although a number of artists such as Scoop DeVille, Pete Rock, and Kanye West were reported to have worked on the album at one time or another, their contributions did not surface on the final version. In spite of Erick Sermon being inaccurately credited for production on the track "Every Soldier in the Hood", Oh No was later reported to be the song's producer
In November 2010, Raekwon confirmed the album's March 8, 2011 release date. On December 7, 2010, Raekwon announced on the Shade 45 Morning Show that Shaolin vs. Wu-Tang is completed. Shaolin vs. Wu-Tang was released by Raekwon's Ice H20 imprint label and distributed through EMI, on March 8 in the United States and on March 7, 2011 in the United Kingdom. The album's first single, "Butter Knives", was produced by Bronze Nazareth and released on December 8, 2010.[ The album's title track was released as the second single on January 11, 2011. In March 2011, Raekwon promoted the album with a five-date concert tour in the United Kingdom.
Genre not found
Artist not found
Album not found
Search results not found
Song not found
Shaolin Vs. Wu-Tang
Raekwon Lyrics
Aiyo! Come on! Let go of the ratchet, son, come on, let's go! Come on!
Villagers, gangstas, pillagers, paintbrush
New whips, blue fifths, Louis Shallah, bitch
Ostrich turtlenecks, the Chef, already reps
Lean off the petty jets, we buy the very best
Outfits, powerful rich, pouncers, camel clips
One bump, two lumps, the shotgun, the new jumps
With flying bird, buying herb, new kick, designer birds
She on, and we up, let's re-up, and free'd up
Jakes hate it, Rae made it, Clientele, we gon' sell
You gon' starve, he gon' jail, night boots, swim with whales
Better snub, surgical leather gloves, never loved
We gon' kill, take it to the Hill, we forever real
Old records, old luggage, you ill with no rugged
You shoot and we spray, kill off them old buzzards
We love it, can't stand it, you read, the Wu Manual
We found it, stay grounded, we will, we still scrambling
The wrist lifter, the grave sitter, baby sitter
The jobless, to open the vault, call your sister
The Pyrex, the up in the five, live as Twister
Blunt rolling, only a robe on, some whiskers
Knee slapper, the gat packer, blackjacker
Extortionist, friendly as shit, Bob and Back-lur
Ones folder over the stove, gold rover
The gear dresser, the chop bagger, Marvin Haggler
Rap stabber, eat you alive, gold tarantula
Sixteen paces and shit, hold the heckler
Pimp style, Axel Foley, stolen Rolly
All ya niggas that know me, ya'll owe me
Lyrics © O/B/O APRA AMCOS

Lyrics Licensed & Provided by LyricFind
To comment on specific lyrics,
highlight them