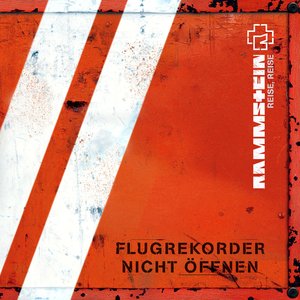 Reise, Reise (Low German language (literally): "Journey, Journey", traditional wake-up call on ships, derived from engl. "to rise") is Neue Deutsche Härte band Rammstein's fourth studio album. It was released on 27 September 2004 in Germany and followed shortly by its release across Europe. It was released in North America on 16 November 2004. It was in the top ten in several European charts and a number one hit in Germany, Austria, Switzerland, Iceland, Finland, Estonia and Mexico. As of February 2006, the album has shipped 1.5 million copies globally. As used in "Reise, Reise aufstehen! Kommt hoch nach alter
Read Full Bio
Reise, Reise (Low German language (literally): "Journey, Journey", traditional wake-up call on ships, derived from engl. "to rise") is Neue Deutsche Härte band Rammstein's fourth studio album. It was released on 27 September 2004 in Germany and followed shortly by its release across Europe. It was released in North America on 16 November 2004. It was in the top ten in several European charts and a number one hit in Germany, Austria, Switzerland, Iceland, Finland, Estonia and Mexico. As of February 2006, the album has shipped 1.5 million copies globally.

As used in "Reise, Reise aufstehen! Kommt hoch nach alter Seemannsart", the album name is an old Low German sailor's expression to waken other sailors, hence the translation of the title would be "Arise, Arise", as seen in the song of the same name. Given Rammstein's propensity to use puns, a double meaning could well be intended, as the standard High German translation of "Reise" is "journey" or "travel".

The album art shows a damaged airplane cockpit voice recorder depicted on the front and back covers. Its caption ("Flugrekorder, nicht öffnen") means "Flight Recorder, Do Not Open". The inner part of the Digipak edition case shows a picture of the six members in suits wielding suitcases and weapons leaving from a crashed airplane.

The cover art is an allusion to the song "Dalai Lama", which deals with an airplane accident. It is also suggestive of the overarching 'travelling' theme of the album.

The airplane accident of which the album is based occurred on the 12th of August, 1985. A Boeing 747, Japan Airlines Flight 123 took off from Tokyo International Airport and about 30 minutes later, crashed into the side of a mountain. 520 out of the 524 passengers and crew died, and as of 2008 it is still the deadliest single aircraft disaster in history. Curiously, the band also added the final moments of Flight 123 as a hidden pregap track on the UK and European copies of the disk as an Easter egg.

The song "Reise, Reise" itself contains a recording of the last 40 seconds of the flight in which the onboard computer is warning "Pull up! Pull up!" and the pilots shout in panicked Japanese, however, on the European pressings, the track has to be rewound before the 0:00 mark to be heard. On the US release, the recording is the beginning of "Reise, Reise".
Genre not found
Artist not found
Album not found
Search results not found
Song not found
Auf den Wellen wird gefochten,
Wo Fisch und Fleisch zur See geflochten,
Der eine sticht die Lanz' im Heer,
Der andre wirft sie in das Meer
Ah, Ahoi
Reise, Reise,
Seemann, reise,
Jeder tut's auf seine Weise,
Der eine stößt den Speer zum Mann,
Der andere zum Fische dann
Reise, Reise,
Seemann, Reise,
Und die Wellen weinen leise,
In ihrem Blute steckt ein Speer,
Blutet leise in das Meer
Die Lanze muss im Fleisch ertrinken,
Fisch und Mann zur Tiefe sinken,
Wo die schwarze Seele wohnt,
Ist kein Licht am Horizont
Ah, Ahoi
Reise, Reise,
Seemann, reise,
Jeder tut's auf seine Weise,
Der eine stößt den Speer zum Mann,
Der andere zum Fische dann
Reise, Reise,
Seemann, reise,
Und die Wellen weinen leise,
In ihrem Blute steckt ein Speer,
Blutet leise in das Meer
Reise, Reise
Reise, Reise,
Seemann, reise,
Und die Wellen weinen leise,
In ihrem Herzen steckt ein Speer,
Bluten sich am Ufer leer,
Bluten sich am Ufer leer
Lyrics © Universal Music Publishing Group, Kobalt Music Publishing Ltd.
Written by: RICHARD Z. KRUSPE, PAUL LANDERS, TILL LINDEMANN, DOKTOR CHRISTIAN LORENZ, OLIVER RIEDEL, CHRISTOPH DOOM SCHNEIDER

Lyrics Licensed & Provided by LyricFind
To comment on specific lyrics,
highlight them