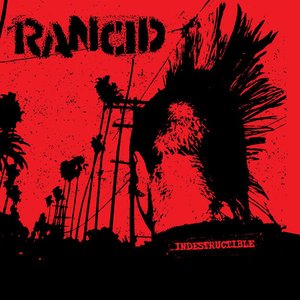 Indestructible is the sixth studio album by the American punk band Rancid, released on August 19, 2003. On vinyl, it is also a double album. Despite critical acclaim, the band was criticized by many fans for Indestructible's poppier sound. It debuted (and peaked) at #15 on the charts, with 51,000 copies sold in its first week, making it Rancid's second highest charting album behind their 2009 album, Let the Dominoes Fall. Indestructible marks the last recording by drummer Brett Reed, who left the group in late 2006 and was replaced by current drummer Branden Steineckert (formerly of The Used). After
Read Full Bio
Indestructible is the sixth studio album by the American punk band Rancid, released on August 19, 2003. On vinyl, it is also a double album. Despite critical acclaim, the band was criticized by many fans for Indestructible's poppier sound. It debuted (and peaked) at #15 on the charts, with 51,000 copies sold in its first week, making it Rancid's second highest charting album behind their 2009 album, Let the Dominoes Fall. Indestructible marks the last recording by drummer Brett Reed, who left the group in late 2006 and was replaced by current drummer Branden Steineckert (formerly of The Used).


After a break in 2001, Rancid returned to the studio with co-producer Brett Gurewitz in 2002, to record their next album. Work on it was meant a year long for the band. Most notably, finishing up the album was extremely stressful for all of the members of Rancid.


Delay of release
The album was delayed several times before its official release. First scheduled for release was summer/fall 2002, then early 2003, mid-2003 and finally August 19, 2003. One of the reasons why Indestructible had yet to be released was their various other activities. Singer/guitarist Tim Armstrong released an album with his then-new side project Transplants and second guitarist Lars Frederiksen released an album with Lars Frederiksen and the Bastards. Warner Bros. Records released the CD version while LP was released by Epitaph.
Genre not found
Artist not found
Album not found
Search results not found
Song not found
Indestructible
Rancid Lyrics
And I know I'm indestructible
Yeah, I know I'm indestructible
Tonight
Break down
Come and tell me it's not true
It's a shake down
Come on and tell me who are you
It's so fake now
Everything I see right through
I'm ashamed now
To say I ever knew you
See the great Athenians
Man, they're not even from Athens
And the kid from Ave. "A"
He's not even from Manhattan
And nothing's what it seems
I'll just stand here laughing
I'm gonna keep on going now
I can't be distracted
And I know I'm indestructible
Yeah, I know I'm indestructible
Tonight
Play back
Rock and roll come and save me
It's a safe bet
You will never ever betray me
And I'll give back
Everything that you gave me
And I know that
No one can ever ever contain me
And I won't get bogged down like some American consumers, nah
I'm dancing now to a whole different drummer
And I'll keep listening to the great Joe Strummer
Cause through music he can live forever
Lyrics © Wixen Music Publishing
Written by: LARS FREDERIKSEN, TIM ARMSTRONG

Lyrics Licensed & Provided by LyricFind
To comment on specific lyrics,
highlight them