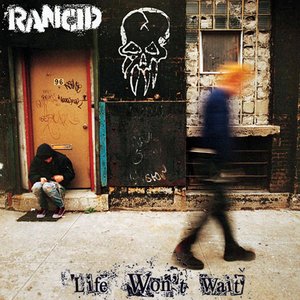 Life Won't Wait is the fourth album by the American punk rock band Rancid. It was released on June 30, 1998 on Epitaph Records and is the follow-up to the successful ...And Out Come the Wolves. The album branches out from Rancid's punk and ska roots to explore roots reggae and rockabilly, and dabbles in elements of dub, hip-hop, funk and other forms of music as The Clash did with Sandinista!. The album's personnel includes some of Rancid's influences and contemporaries such as members of The Specials and The Slackers. Lyrically, the album discusses riots, revolution, politics, and historical events
Read Full Bio
Life Won't Wait is the fourth album by the American punk rock band Rancid. It was released on June 30, 1998 on Epitaph Records and is the follow-up to the successful ...And Out Come the Wolves.

The album branches out from Rancid's punk and ska roots to explore roots reggae and rockabilly, and dabbles in elements of dub, hip-hop, funk and other forms of music as The Clash did with Sandinista!. The album's personnel includes some of Rancid's influences and contemporaries such as members of The Specials and The Slackers.

Lyrically, the album discusses riots, revolution, politics, and historical events as well as making references to the Illuminati and Bakunin.


Around early 1997, still riding high off of the success of ...And Out Come the Wolves, Rancid decided to immediately enter the studio following the ...And Out Come the Wolves tour to record the next album. The recording of Life Won't Wait took place not just in the U.S. (from San Francisco to Los Angeles, New York City, New Orleans), but also in Jamaica. Two of the songs were recorded in Kingston: "Hoover Street" and the title track, "Life Won't Wait". With the cooperation of numerous Jamaican reggae artists (such as Buju Banton) is very distinctive on this album, not just in the vocals, but also in instrumental parts, which all makes Life Won't Wait very different from most of the other Rancid releases.

Life Won't Wait was also the first Rancid album not produced or engineered by Brett Gurewitz since their 1993 self-titled debut.


Life Won't Wait was released on June 30, 1998, and was the final Rancid album distributed via the main label of Epitaph Records. After its release, the band moved to frontman Tim Armstrong's vanity label (and subsidiary of Epitaph) Hellcat Records, who released their next album, 2000's Rancid. Although not as successful as ...And Out Come the Wolves, the album peaked at number 35 on the Billboard 200 album chart, making it one of Rancid's highest ranking albums so far.

Stephen Thomas Erlewine of Allmusic described the album as having a ska influence. He praised the music as a "powerful slice of old-school punk — as powerful as any of their records" and claims "it actually sounds a lot like" ...And Out Come the Wolves. The album received a rating of four out of five stars.

Track listing
All tracks written by Armstrong, unless otherwise noted.

1."Intro" – 0:48
2."Bloodclot" (Armstrong/Lars Frederiksen) – 2:45
3."Hoover Street" – 4:10
4."Black Lung"(Armstrong) – 1:53
5."Life Won't Wait" (Armstrong/Frederiksen/Vic Ruggiero/Buju Banton) – 3:48
6."New Dress" (Armstrong/Frederiksen) – 2:51
7."Warsaw" – 1:31
8."Hooligans" (Armstrong/Frederiksen/Ruggiero) – 2:33
9."Crane Fist" (Armstrong/Frederiksen) – 3:48
10."Leicester Square" (Armstrong/Frederiksen) – 2:35
11."Backslide" – 2:54
12."Who Would've Thought" – 2:57
13."Cash, Culture and Violence" – 3:10
14."Cocktails" – 3:21
15."The Wolf" – 2:39
16."1998" (Armstrong/Howie Pyro) – 2:46
17."Lady Liberty" (Armstrong/Frederiksen) – 2:20
18."Wrongful Suspicion" (Armstrong/Ruggiero) – 3:32
19."Turntable" – 2:17
20."Something in the World Today" (Armstrong/Frederiksen) – 2:34
21."Corazon de Oro" – 3:59
22."Coppers" (Armstrong/Frederiksen/Dr. Israel) – 5:02

Track 2 is featured on the Playstation 1 game ESPN X-Games Pro Boarder, as well as the movie Idle Hands.
Genre not found
Artist not found
Album not found
Search results not found
Song not found
The phenomena you are about to witness
Could well revolutionize your way of thinking
We are presenting startling facts and evidence
That take up where explanations leave off
Some of these revelations will very well go against things you have been taught
And perhaps believed all your life
Prepare yourself for the evidence that will follow
Lyrics © Wixen Music Publishing
Written by: Timothy Armstrong

Lyrics Licensed & Provided by LyricFind
To comment on specific lyrics,
highlight them