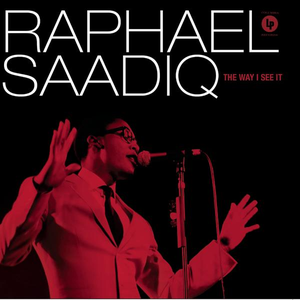 The Way I See It (Bonus Track Version)
Raphael Saadiq (born Charlie Ray Wiggins on May 14, 1966 in Oakland, California) is an acclaimed American music artist. He is a singer, songwriter and record producer associated with the neo-soul music movement.

Saadiq made a name for himself as the lead vocalist in the rhythm and blues and dance trio Tony! Toni! Toné!. He went by his birth name during the beginning of Tony! Toni! Toné!, where he was joined by his brother Dwayne Wiggins, and his cousin Timothy Christian. He adopted the name of Raphael Saadiq in the mid-1990s.
Read Full Bio
Raphael Saadiq (born Charlie Ray Wiggins on May 14, 1966 in Oakland, California) is an acclaimed American music artist. He is a singer, songwriter and record producer associated with the neo-soul music movement.

Saadiq made a name for himself as the lead vocalist in the rhythm and blues and dance trio Tony! Toni! Toné!. He went by his birth name during the beginning of Tony! Toni! Toné!, where he was joined by his brother Dwayne Wiggins, and his cousin Timothy Christian. He adopted the name of Raphael Saadiq in the mid-1990s.

After the 1996 Tony! Toni! Toné! album, House of Music, (when he performed under his current name) Saadiq started his solo career. He produced a few solo tracks, but Saadiq's next big project became the R&B supergroup Lucy Pearl. He recorded the self-titled album with Dawn Robinson (En Vogue) and Ali Shaheed Muhammad (A Tribe Called Quest). This group only lasted for one album. His solo album Instant Vintage, released in 2002, also earned 5 Grammy nominations.

Saadiq released his third solo album, The Way I See It, on September 16 2008, featuring collaborations with Stevie Wonder and Joss Stone. Saadiq acknowledges the album's old school soul sound, which he says includes nods to Gladys Knight & The Pips, Al Green, The Four Tops, The Delfonics and The Stylistics.

Various artists have tapped Saadiq to produce their work through the years. Some of Saadiq's most notable work has been with D'Angelo. The 2000 collaboration "Untitled" won D'Angelo a Grammy award for Best R&B Album. In 2007, Saadiq was called on to produce the whole third album from UK Soul singer Joss Stone. Other artists he has collaborated with include The Roots, Macy Gray, Snoop Dogg, Kelis, Q-Tip and Young Bellz.

In 2002, Saadiq founded his own record label, Pookie Entertainment. Among the artists on the label are Joi and Truth Hurts.

Saadiq has been playing music since the age of six. Back in the 1970s and 1980s, he played bass at church and school. He also enjoyed his on-stage moments at various local events of his hometown.

http://vimeo.com/3020000
Genre not found
Artist not found
Album not found
Search results not found
Song not found
Sure hope you mean it (sure hope you mean it)
Sure hope you love me girl (don't fool me baby)
Sure hope you mean it (sure hope you mean it)
Sure hope you love me girl (don't fool me baby)
Do you mean what you say when you say that you love me
With all honesty I think I love you
It's every day I think about how special this could be
And how your love is everything to me
In my mind I can see no one but you
Like in my dreams I know I'm holding you
So now tell me truth cause I need to know
See I wanna take control but you gotta let me know
Don't fool me baby
[Chorus]
I go uh-uh uh huh yeah yeah
There's been aces among spades
All your love I could never trade
There's something about you
That shakes away my pain
See this heart of mine
Just can't be without you
Cause being without you I could never be I don't wanna be
It's so hard to find a love so true
But if you mean what you say I love you
Now don't fool me darling
Tell me it's real
I only wanna love you and have a couple kids
Don't fool me baby
[Chorus]
I wanna call you sometimes
Tell you your the best
That without your precious love
For sure I could never rest
[Chorus]
Lyrics © Universal Music Publishing Group
Written by: RAPHAEL SAADIQ

Lyrics Licensed & Provided by LyricFind
To comment on specific lyrics,
highlight them