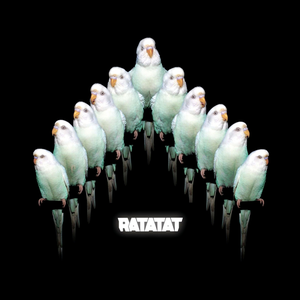 LP4 is the fourth studio album by Ratatat, released on June 8, 2010. The name comes from the acronym for long play (LP), as it is their fourth album. It is similarly titled to their third release, LP3. A majority of the tracks are from the same studio session as their previous album.

1. "Bilar" – 4:14
2. "Drugs" – 4:55
3. "Neckbrace" – 4:06
4. "We Can't Be Stopped" – 2:10
5. "Bob Gandhi" – 4:01
6. "Mandy" – 3:42
7. "Mahalo" – 2:00
Read Full Bio
LP4 is the fourth studio album by Ratatat, released on June 8, 2010. The name comes from the acronym for long play (LP), as it is their fourth album. It is similarly titled to their third release, LP3. A majority of the tracks are from the same studio session as their previous album.

1. "Bilar" – 4:14
2. "Drugs" – 4:55
3. "Neckbrace" – 4:06
4. "We Can't Be Stopped" – 2:10
5. "Bob Gandhi" – 4:01
6. "Mandy" – 3:42
7. "Mahalo" – 2:00
8. "Party with Children" – 2:58
9. "Sunblocks" – 3:42
10. "Bare Feast" – 2:38
11. "Grape Juice City" – 3:56
12. "Alps" – 4:21

iTunes pre-order bonus track
13. "Biddang" – 3:21
Genre not found
Artist not found
Album not found
Search results not found
Song not found
We have lyrics for these tracks by Ratatat:



Allure The allure of breaking the law Was always too much for…
Alright Ayo we can't stop, won't stop never intend to They feel…
Dead Wrong Bad boy baby Yeah, yeah Junior M.A.F.I.A., yeah Yeah, B.I…
Diamonds We the cause of all the commotion Your mouth running, but…
Drugs (excerpt from the 1976 Werner Herzog film "Stroszek") Was…
Gettysburg [Instrumental] bum tisk bum tsk tsk bum tick tick tick tick…
Loud Pipes Instrumental.…
Neckbrace They were just getting ready to swing & Knock me out…
Over Here We getting money over here, what it do pimpin' See ya…
Party With Children I've been thinking what to do with my future I could…
Seventeen Years I've been rapping for about seveteen years okay? I don't wr…
Shorty Wanna Ride Young Buck: Shorty want to Ride With Me, Ride With…
Spanish Armada Backstreet Boys Miscellaneous Nunca Te Hare Llorar (I'll N…
Stomp (Shotgun Cocks) Young Buck: Uh Ohhhhh, Young Buck Dirty S…
The Mule What? King of the Ghetto what they call me cause I…
Three Kings [Slim Thug][Hook: x 2] When I hit the club all the…
Wildcat RRRRRRRRRRRRRRRRRRRRAAAAAAAAAAAAAAAAAAAWWWWWWWWWWWWRRRRRRRRR…
Wildcat (E*Vax remix) Que pase lo que tiene que pasar Esto es tierra de…

The lyrics can frequently be found in the comments below, by filtering for lyric videos or browsing the comments in the different videos below.