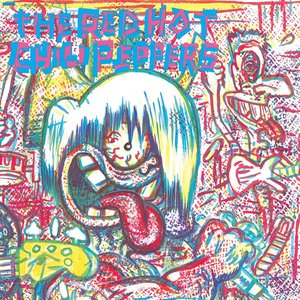 The Red Hot Chili Peppers
The Red Hot Chili Peppers is the debut studio album by American alternative rock band Red Hot Chili Peppers, released on August 10, 1984 on EMI. The album was produced by Gang of Four guitarist Andy Gill, and is the only album to feature guitarist Jack Sherman. The Red Hot Chili Peppers struck a deal with EMI records. However, guitarist Hillel Slovak and drummer Jack Irons were also in What Is This?, who had signed with MCA records two weeks prior - thus, the two were unable to play with the band. The Chili Peppers found replacements with former Weirdos
Read Full Bio
The Red Hot Chili Peppers is the debut studio album by American alternative rock band Red Hot Chili Peppers, released on August 10, 1984 on EMI. The album was produced by Gang of Four guitarist Andy Gill, and is the only album to feature guitarist Jack Sherman.

The Red Hot Chili Peppers struck a deal with EMI records. However, guitarist Hillel Slovak and drummer Jack Irons were also in What Is This?, who had signed with MCA records two weeks prior - thus, the two were unable to play with the band. The Chili Peppers found replacements with former Weirdos drummer Cliff Martinez and studio guitarist Jack Sherman.

The recording of the album was not a smooth process. Andy Gill and the band fought over creative issues, with Gill directing them towards a more "radio-friendly" sound. In Kiedis' autobiography Scar Tissue, he says that he was demolished when he saw that Gill had written the word "shit" next to the title of the song "Police Helicopter" on a notepad as it was one of the first songs they had written and in Kiedis' words "It embodied the spirit of the band which was the kinetic, stabbing, angular, shocking assault force of sound and energy".

They went on tour to support the record but the rest of the band did not get along with Sherman. They only earned about $500 each from the tour. Both albums, The Red Hot Chili Peppers and Squeezed by What Is This? did not do well, so Jack Sherman was fired from the Peppers and Hillel Slovak returned to perform on Freaky Styley, the Chili Peppers' second album.

The Red Hot Chili Peppers was released with the Chili Peppers disappointed in the production. It failed to chart on the Billboard 200. The album is generally accepted as being a critical and commercial failure. The few reviews that were published of the album were negative, with the exception of the first issue of Spin magazine which, according to Anthony Kiedis in his autobiography Scar Tissue, gave the album a positive review. Stephen Thomas Erlewine of Allmusic gave the album a negative review, and stated that "their first effort didn't quite gel into a cohesive album.", giving the album only 2½ stars out of 5. The band lost a substantial amount of money from the album and the supporting tour. As of 2007, it has sold about 300,000 copies worldwide.
Genre not found
Artist not found
Album not found
Search results not found
Song not found
Hoo, Lord
Well, I'm gonna ride a saber tooth horse through the Hollywood hills
The farther west, the farther out
Yeah, that's the way I feel
Well, I dig the dirt an' I dig the dust I barbecue my meals
Ridin' wild on a paisley dragon through the Hollywood hills, yeah
Huh, Hollywood hills
Well, I'm gonna ride a saber tooth horse through the Hollywood hills
Just don't show me anything 'cause that's the way I feel
Well, I dig the dirt an' I dig the dust
I barbecue my meals
Ridin' wild on a paisley dragon through the Hollywood hills, yeah
Huh, Hollywood hills
Passion dripping from the coyote's eyes
He can taste his blood
An' blood never lies pale face die
True men don't kill coyotes
True men don't kill coyotes
Well, I'm gonna ride a saber tooth horse through the Hollywood hills
The farther west, the farther out yeah, that's the way I feel
Well, I dig the dirt an' I dig the dust I barbecue my meals
Ridin' wild on a paisley dragon through the Hollywood hills, yeah
Huh, Hollywood hills
Passion dripping from the coyote's eyes
He can taste his blood
An' blood never lies pale face die
True men don't kill coyotes
True men don't
Well, I'm gonna ride a saber tooth horse Through the Hollywood hills
Just don't tell me anything 'cause that's the way I feel
Well, I dig the dirt an' I dig the dust I barbecue my meals
Ridin' wild on a paisley dragon Through the Hollywood hills, yeah
Huh, Hollywood hills
Passion dripping from the coyote's eyes
He can taste his blood
An' blood never lies pale face die
True men don't kill coyotes
True men don't
True men don't kill coyotes
True men don't
True men don't kill coyotes
True men don't
Lyrics © Sony/ATV Music Publishing LLC, MoeBeToBlame
Written by: MICHAEL PETER BALZARY, ANTHONY KIEDIS, CLIFF MARTINEZ, JACK SHERMAN

Lyrics Licensed & Provided by LyricFind
To comment on specific lyrics,
highlight them