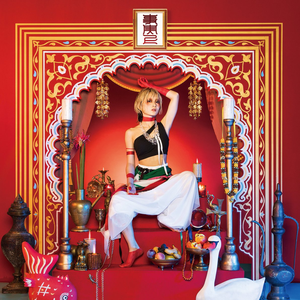 Jijitsujo is Reol's first major album after she started her solo act in 2018, different from the REOL (RΞOL) that released Σ (Sigma.) Giga-P still takes a major part in producing this album.
Genre not found
Artist not found
Album not found
Search results not found
Song not found
幽居のワルツ
れをる Lyrics
We have lyrics for these tracks by れをる:



drop pop candy 雨降りでも傘はささないの (初めましてと猫は鳴く) お気に入りのヒールを濡らすの 何気ないような日常が今ほら 変わりた…
Echo You know me, my soul, I do too well 'Cause you…
Hibikase Mayonaka ni tsugu oto no keikoku Kyouwa on ni you gozen…
mede:mede (巡る巡る 見えた世界が霞む end ぐるぐる もう終止符を打つ?) 朝の揺りかご 並ぶ眠たい目 指先で触る 光る携帯電…
MONSTER 風に触った闇は揺れて 奏でた音色 静けさを舞う 浮かぶ月 見つめる僕の目は 何色なんだ? 震えるこの手は 色んなもの全部…
No Title Zutto yume miteta boku ni nareta kana Tou ni kaerenai toko…
Opening その目と耳、第六感で聴け 今まで触れた他の何ともちげぇ! と思わせたい君をもっともっと ここが出発点乗り込めhurry …
Tetrodotoxin Synthesizer No. 2 恋の欠片 キミに投げつけてみても 1ミリさえ 削れてくれないゲージ 僕の声が よく聞き取れないなら 端子を奪ってジャック…
アシンメトリー どうして世界は廻るの どうして命を刻むの 今日見た夢の話から 遠くで光る星の悲しみまで もし君と逢えば興味が奪われる…
オオエドランヴ JP GREAT 咲かせ咲かせや葵の花 御代に舞い散れ今宵も只 天下の舞台は我らが園 この血その徳とす 乱れ乱れ参る…
ヒビカゼ 真夜中に告ぐ 音の警告 協和音に酔う 午前零時 あなたが触れる 光 増す熱 指先に踊らされ 感覚 即 体感 寝静まる夜 …
ミッドナイトストロウラ 星は輝き 感傷浸り アイデンティティ ゆらりゆらり やっと手にした光 でもまだ足りない こんなんじゃ照らせない 深い暗闇…
ロジックエージェント 枯れては戸惑いを募らせて 遠く揺らぐ日々を眺めてた 掌の影からぶら下げて 微かに残るその続きを教えてよ 見慣れ始めた光…
水底游歩道 降り注ぐ日差しは ... 揺らめいた景色に ... La la ha ha ha La la ha…
生命線 色素 現代 青写真の鍵 縛り 緩急 交差点に恋 手抜き 表現 形而上 否定的な言葉 確かめて 利かし 強制 ノイズ系…

The lyrics can frequently be found in the comments below or by filtering for lyric videos.