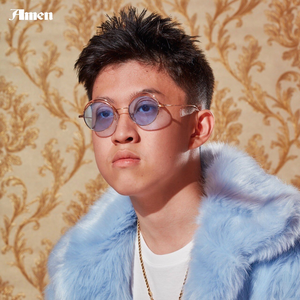 Amen is the debut studio album from the Indonesian rapper Rich Brian (previously known as Rich Chigga or Brian), released on 2 February 2018, by 88rising Music and Empire Distribution. It was suported by four singles: "Glow Like Dat", "Chaos", "See Me", and "Cold". The album also features guest appearances from August 08, Joji[~/artist], Niki, and Offset from Migos.
Genre not found
Artist not found
Album not found
Search results not found
Song not found
Amen
by
Rich Brian
I'm givin' my number to any bitch
Lookin' like Ronda
I'm gonna stall, I'm takin' many pics
I'm thinkin' 'bout havin' many kids
Even some are gon' be like, "Goddamn that's a lot of kids"
Hit 'em with a, get 'em with out of the hits
I'm thinkin' will I put 'em out of the bitch
$uicideBoy$, kill 'em all, rest in piss
Sip on La Croix the buzz that I missed
Talkin' 'bout somethin' that I never did
I talk to myself, and all my seven chicks
They love to go down, dawg, like your relevance
I'm a rapper, but my name isn't Chance
Come to my show, people think I'm intense
Don't look at me, somethin' wrong with your lens
One day the money's gon' be for the Benz
Flow be so dirty, it needed a cleanse
I'm in my zone, I went through this shit alone
Didn't have no friends, talk to myself we always get along
I'm still learnin', I'm still fuckin' up
Correct me if I'm wrong
Talkin' business more than usual that means I'm out with Sean (88)
Never yellowin' my urinal, I'm always drinkin' on that Pellegrino
I been rockin' my own merch, I'm makin' way more green than CeeLo
I saw people from my school, they all turned out to be some weirdos
I don't need no education, Internet's my favorite teacher
Ayy, ayy
Told 'em, told 'em
Told that bitch that I don't really give a fuck 'bout you
Told that man that he gotta quit it, it ain't cool
Makin' up for the competition that I ain't do
As a teen, all the fighting and 'em wars virtual
Now I'm gettin' old (now I'm gettin' old), and my dick is gettin' older
Keep 7 bitches on my phone like a folder
Wonder what 18, man I was a toddler
Damn, home school felt like yesterday
I worked at my mom's cafe
Met a girl like every day
It's my only social place
They thought I was from LA
No I'm not, but now I'm here
Tryna fill my parents' plate
They call me up like every day
People say I'm good, they say I get what I should
Tell me not to worry, everything will go real smooth
People think I'm Dory, I'm forgettin' 'bout my hood
Man should I be sorry for just doin' somethin' new?
Man these dudes, gotta be more quiet than they think
They be hella sure, but I always say Amen
Do the shit for the people that look like me
So the girls can't see them when they think of me
And not that kid that throw that fit
'Cause he didn't get straight A's all week
Lyrics © Kobalt Music Publishing Ltd.
Written by: Brian Soewarno

Lyrics Licensed & Provided by LyricFind
To comment on specific lyrics,
highlight them