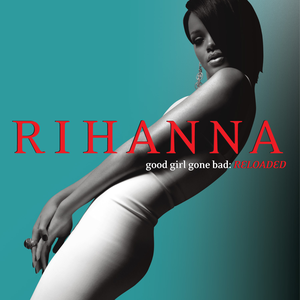 Good Girl Gone Bad: Reloaded
Good Girl Gone Bad is the third studio album by Barbadian R&B/pop singer Rihanna, released on June 4, 2007 in most European countries and on June 5, 2007 in the United States.

The album was re-released in June 2008, a year after its original release, under the title Good Girl Gone Bad: Reloaded. The double-disc deluxe edition package includes a DVD counterpart featuring behind the scenes footage and four live performances from her concert tour with three new singles: the US
Read Full Bio
Good Girl Gone Bad is the third studio album by Barbadian R&B/pop singer Rihanna, released on June 4, 2007 in most European countries and on June 5, 2007 in the United States.

The album was re-released in June 2008, a year after its original release, under the title Good Girl Gone Bad: Reloaded. The double-disc deluxe edition package includes a DVD counterpart featuring behind the scenes footage and four live performances from her concert tour with three new singles: the US, Canadian and UK number-one "Take a Bow",[16] "If I Never See Your Face Again"[17] with Maroon 5 and "Disturbia", which became the third single from the album to reach number one on the Billboard Hot 100. The album has been certified 2x platinum by the Recording Industry Association of America (RIAA), denoting shipments to US retailers of two million,[18] and selling over seven million copies worldwide.
Genre not found
Artist not found
Album not found
Search results not found
Song not found
Umbrella
Rihanna Lyrics
Uh huh, uh huh (yeah, Rihanna)
Uh huh, uh huh (Good Girl Gone Bad)
Uh huh, uh huh (take three, action)
Uh huh, uh huh (Hov)
No clouds in my stones
Let it rain, I hydroplane in the bank
Comin' down like Dow Jones
When the clouds come, we gone
We Roc-A-Fella
We fly higher than weather
In G5's or better
You know me (you know me)
In anticipation for precipitation stack chips for the rainy day
Jay, Rain Man is back
With Little Ms. Sunshine, Rihanna, where you at?
You have my heart
And we'll never be worlds apart
Maybe in magazines
But you'll still be my star
Baby, 'cause in the dark
You can't see shiny cars
And that's when you need me there
With you I'll always share
Because
When the sun shines, we'll shine together
Told you I'll be here forever
Said I'll always be your friend
Took an oath, I'ma stick it out to the end
Now that it's raining more than ever
Know that we'll still have each other
You can stand under my umbrella
You can stand under my umbrella, ella, ella, eh, eh, eh
Under my umbrella, ella, ella, eh, eh, eh
Under my umbrella, ella, ella, eh, eh, eh
Under my umbrella, ella, ella, eh, eh, eh, eh, eh-eh
These fancy things will never come in between
You're part of my entity, here for infinity
When the war has took its part
When the world has dealt its cards
If the hand is hard
Together we'll mend your heart
Because
When the sun shines, we shine together
Told you I'll be here forever
Said I'll always be your friend
Took an oath, I'ma stick it out to the end
Now that it's raining more than ever
Know that we'll still have each other
You can stand under my umbrella
You can stand under my umbrella, ella, ella, eh, eh, eh
Under my umbrella, ella, ella, eh, eh, eh
Under my umbrella, ella, ella, eh, eh, eh
Under my umbrella, ella, ella, eh, eh, eh, eh, eh-eh
You can run into my arms
It's okay, don't be alarmed
Come into me (there's no distance in between our love)
So gon' and let the rain pour
I'll be all you need and more
Because
When the sun shines, we shine together
Told you I'll be here forever
Said I'll always be your friend
Took an oath, I'ma stick it out to the end
Now that it's raining more than ever
Know that we'll still have each other
You can stand under my umbrella
You can stand under my umbrella, ella, ella, eh, eh, eh
Under my umbrella, ella, ella, eh, eh, eh
Under my umbrella, ella, ella, eh, eh, eh
Under my umbrella, ella, ella, eh, eh, eh, eh, eh-eh
It's raining, raining
Ooh, baby, it's raining, raining
Baby, come into me
Come into me
It's raining, raining
Ooh, baby, it's raining, raining
You can always come into me
Come into me
It's pouring rain
It's pouring rain
Come into me
Come into me
It's pouring rain
It's pouring rain, come into me
Lyrics © DistroKid, Sony/ATV Music Publishing LLC, Peermusic Publishing, Warner Chappell Music, Inc.
Written by: Christopher A. Stewart, Shawn C. Carter, Terius Youngdell Nash, Thaddis Laphonia Harrell

Lyrics Licensed & Provided by LyricFind
To comment on specific lyrics,
highlight them