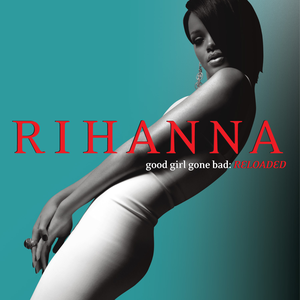 Good Girl Gone Bad: Reloaded
Good Girl Gone Bad: Reloaded is the reissue of Barbadian singer Rihanna's third studio album Good Girl Gone Bad. It was first released digitally in selected countries on June 2, 2008, by Def Jam Recordings and SRP Records. Launched to mark the first anniversary of the original album, Good Girl Gone Bad: Reloaded features three newly recorded songs and a DVD showing exclusive behind-the-scenes footage of Rihanna's worldwide tour, the Good Girl Gone Bad Tour. For the new material, she worked with past collaborators Ne-Yo, Stargate, and C. "Tricky" Stewart, as well as Brian Kennedy, Mark Endert, Mike Elizondo, Mark
Read Full Bio
Good Girl Gone Bad: Reloaded is the reissue of Barbadian singer Rihanna's third studio album Good Girl Gone Bad. It was first released digitally in selected countries on June 2, 2008, by Def Jam Recordings and SRP Records. Launched to mark the first anniversary of the original album, Good Girl Gone Bad: Reloaded features three newly recorded songs and a DVD showing exclusive behind-the-scenes footage of Rihanna's worldwide tour, the Good Girl Gone Bad Tour. For the new material, she worked with past collaborators Ne-Yo, Stargate, and C. "Tricky" Stewart, as well as Brian Kennedy, Mark Endert, Mike Elizondo, Mark "Spike" Stent and Maroon 5.
Genre not found
Artist not found
Album not found
Search results not found
Song not found
Umbrella
Rihanna Lyrics
Uh huh, uh huh (yeah, Rihanna)
Uh huh, uh huh (Good Girl Gone Bad)
Uh huh, uh huh (take three, action)
Uh huh, uh huh (Hov)
No clouds in my stones
Let it rain, I hydroplane in the bank
Comin' down like Dow Jones
When the clouds come, we gone
We Roc-A-Fella
We fly higher than weather
In G5's or better
You know me (you know me)
In anticipation for precipitation stack chips for the rainy day
Jay, Rain Man is back
With Little Ms. Sunshine, Rihanna, where you at?
You have my heart
And we'll never be worlds apart
Maybe in magazines
But you'll still be my star
Baby, 'cause in the dark
You can't see shiny cars
And that's when you need me there
With you I'll always share
Because
When the sun shines, we'll shine together
Told you I'll be here forever
Said I'll always be your friend
Took an oath, I'ma stick it out to the end
Now that it's raining more than ever
Know that we'll still have each other
You can stand under my umbrella
You can stand under my umbrella, ella, ella, eh, eh, eh
Under my umbrella, ella, ella, eh, eh, eh
Under my umbrella, ella, ella, eh, eh, eh
Under my umbrella, ella, ella, eh, eh, eh, eh, eh-eh
These fancy things will never come in between
You're part of my entity, here for infinity
When the war has took its part
When the world has dealt its cards
If the hand is hard
Together we'll mend your heart
Because
When the sun shines, we shine together
Told you I'll be here forever
Said I'll always be your friend
Took an oath, I'ma stick it out to the end
Now that it's raining more than ever
Know that we'll still have each other
You can stand under my umbrella
You can stand under my umbrella, ella, ella, eh, eh, eh
Under my umbrella, ella, ella, eh, eh, eh
Under my umbrella, ella, ella, eh, eh, eh
Under my umbrella, ella, ella, eh, eh, eh, eh, eh-eh
You can run into my arms
It's okay, don't be alarmed
Come into me (there's no distance in between our love)
So gon' and let the rain pour
I'll be all you need and more
Because
When the sun shines, we shine together
Told you I'll be here forever
Said I'll always be your friend
Took an oath, I'ma stick it out to the end
Now that it's raining more than ever
Know that we'll still have each other
You can stand under my umbrella
You can stand under my umbrella, ella, ella, eh, eh, eh
Under my umbrella, ella, ella, eh, eh, eh
Under my umbrella, ella, ella, eh, eh, eh
Under my umbrella, ella, ella, eh, eh, eh, eh, eh-eh
It's raining, raining
Ooh, baby, it's raining, raining
Baby, come into me
Come into me
It's raining, raining
Ooh, baby, it's raining, raining
You can always come into me
Come into me
It's pouring rain
It's pouring rain
Come into me
Come into me
It's pouring rain
It's pouring rain, come into me
Lyrics © BMG Rights Management, Universal Music Publishing Group, Sony/ATV Music Publishing LLC, Songtrust Ave, Peermusic Publishing, Warner Chappell Music, Inc.
Written by: Christopher A. Stewart, Shawn C. Carter, Terius Youngdell Nash, Thaddis Laphonia Harrell

Lyrics Licensed & Provided by LyricFind
To comment on specific lyrics,
highlight them