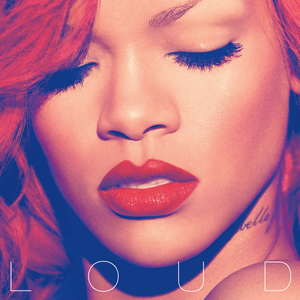 Loud (Japan Version) is the Japanese edition of Rihanna's fifth studio album Loud. It features the standard 11-track set plus the bonus tracks "Only Girl (In the World) (The Bimbo Jones Radio)" and "Only Girl (In the World) (CCW Radio Mix)". Six months after the release of Rated R, Rihanna begun work on her fifth studio album. Wanting to return to making "happy, up-tempo music," Loud saw the departure from the personal, melodramatic themes of her previous album, bringing back the dancehall elements of her first two albums, Music of the Sun and A Girl Like Me. The album was
Read Full Bio
Loud (Japan Version) is the Japanese edition of Rihanna's fifth studio album Loud. It features the standard 11-track set plus the bonus tracks "Only Girl (In the World) (The Bimbo Jones Radio)" and "Only Girl (In the World) (CCW Radio Mix)".

Six months after the release of Rated R, Rihanna begun work on her fifth studio album. Wanting to return to making "happy, up-tempo music," Loud saw the departure from the personal, melodramatic themes of her previous album, bringing back the dancehall elements of her first two albums, Music of the Sun and A Girl Like Me.

The album was released on November 12, 2010, by Def Jam Recordings and SRP Records, supported by seven singles: "Only Girl (In the World)", "What's My Name" featuring Drake, "Raining Men" featuring Nicki Minaj, "S&M" featuring Britney Spears, "California King Bed", "Man Down", and "Cheers (Drink to That)".
Genre not found
Artist not found
Album not found
Search results not found
Song not found
Na na na, come on
Na na na, come on
Na na na, na na come on
Na na na, come on, come on
Come on, na na-na na come on
Na na na, come on
Na na na, na na, come on
Na na na, come on, come on
Come on, na na na na
Feels so good being bad
There's no way I'm turning back
Now the pain is for pleasure
'Cause nothing can measure
Love is great, love is fine
Out the box, out of line
The affliction of the feeling leaves me wanting more
'Cause I may be bad but I'm perfectly good at it
Sex in the air, I don't care, I love the smell of it
Sticks and stones may break my bones
But chains and whips excite me
'Cause I may be bad but I'm perfectly good at it
Sex in the air, I don't care, I love the smell of it
Sticks and stones may break my bones,
But chains and whips excite me
Na na na come on, come on, come on
I like it, like it, come on, come on, come on
I like it, like it, come on, come on, come on
I like it, like it come on, come on, come on
I like it, like it
Love is great, love is fine
Out the box, out of line
The affliction of the feeling leaves me wanting more
'Cause I may be bad but I'm perfectly good at it
Sex in the air, I don't care, I love the smell of it
Sticks and stones may break my bones
But chains and whips excite me
Na na na come on, come on, come on
I like it, like it, come on, come on, come on
I like it, like it, come on, come on, come on
I like it, like it come on, come on, come on
I like it, like it
S, S, S and M, M, M
S, S, S and M, M, M
Oh I love the feeling you bring to me
Oh, you turn me on
It's exactly what I've been yearning for
Give it to me strong
And meet me in my boudoir
Make my body say ah, ah, ah
I like it, like it
'Cause I may be bad but I'm perfectly good at it
Sex in the air, I don't care, I love the smell of it
Sticks and stones may break my bones
But chains and whips excite me
'Cause I may be bad but I'm perfectly good at it
Sex in the air, I don't care, I love the smell of it
Sticks and stones may break my bones
But chains and whips excite me
Na na na come on, come on, come on,
I like it, like it, come on, come on, come on
I like it, like it, come on, come on, come on
I like it, like it come on, come on, come on
I like it, like it
S, S, S and M, M, M
S, S, S and M, M, M
S, S, S and M, M, M
S, S, S and M, M, M
Lyrics © Peermusic Publishing, Sony/ATV Music Publishing LLC, Universal Music Publishing Group, Songtrust Ave
Written by: ESTHER DEAN, MIKKEL STORLEER ERIKSEN, SANDY JULIEN WILHELM, TOR ERIK HERMANSEN

Lyrics Licensed & Provided by LyricFind
To comment on specific lyrics,
highlight them