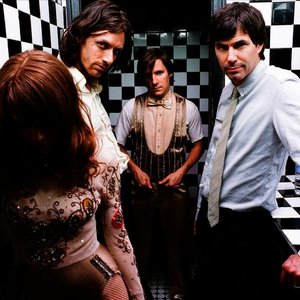 2005-06-18: The Grand Ballroom, San Francisco, CA, USA
Rilo Kiley was an American indie rock band which formed in 1998 in Los Angeles, California. The band consisted of Jenny Lewis (vocals, guitar), Blake Sennett (vocals, guitar), Pierre de Reeder (bass, keyboards) and Jason Boesel (drums). Lewis and Sennett are former child actors and were introduced to each other by Tara Subkoff, a mutual friend, in 1993. In 2001, original drummer Dave Rock left the band and was replaced by Boesel. They began their career on Barsuk Records, releasing Take Offs And Landings in 2001. They moved to Omaha-based indie label Saddle Creek for their second album, 2002's The
Read Full Bio
Rilo Kiley was an American indie rock band which formed in 1998 in Los Angeles, California. The band consisted of Jenny Lewis (vocals, guitar), Blake Sennett (vocals, guitar), Pierre de Reeder (bass, keyboards) and Jason Boesel (drums).

Lewis and Sennett are former child actors and were introduced to each other by Tara Subkoff, a mutual friend, in 1993. In 2001, original drummer Dave Rock left the band and was replaced by Boesel.

They began their career on Barsuk Records, releasing Take Offs And Landings in 2001. They moved to Omaha-based indie label Saddle Creek for their second album, 2002's The Execution of All Things. But come time for their third release, More Adventurous in 2004, the band left Saddle Creek for Brute/Beaute, a Warner Bros. imprint.

2004 saw a great increase in recognition for the band, as Sennett and Boesel released an album with their band The Elected and Lewis sang backup on Ben Gibbard's (Death Cab For Cutie) indie electronic side project The Postal Service. Lewis toured with The Postal Service before heading out on two tours in support of Rilo Kiley's More Adventurous in the summer and fall of 2004. The album spent late 2004 high on Billboard Magazine's Heatseekers Chart, success only furthered by appearances on the Late Night with Conan O'Brien and Jimmy Kimmel Live. The band opened for Bright Eyes on the international leg of Conor Oberst's tour for 2005's i'm wide awake, it's morning. In Fall 2005, Rilo Kiley were the opening act for the North American dates of Coldplay's Twisted Logic Tour.

Lewis released her first solo album in January of 2006, with Leigh and Chandra Watson as Jenny Lewis with the Watson Twins. The album, entitled Rabbit Fur Coat, was co-produced by Clifford M Ward and Mike Mogis. Furthermore, The Elected released their second album, sun, sun, sun on the same day as Lewis' album.

The 4th Rilo Kiley LP, Under the Blacklight, was released in August 2007. This has a more pop-influenced sound and received mixed reviews.

The band broke up in 2011 after vague statements made by Blake Sennett comparing the band to a "corpse" and referring to disagreements among members.
Genre not found
Artist not found
Album not found
Search results not found
Song not found
Any chimp can play human for a day.
Use his opposable thumbs to iron his uniform,
And run for office on election day,
Fancy himself a real decision maker,
And deploy more troops than salt shakers.
But it's a jungle when war is made,
And you'll panic and throw your own shit at the enemy.
The camera pulls back to reveal your true identity.
Look, it's a sheep in wolf's clothing.
A smoking gun holding ape.
Any asshole can open up a museum.
Put all of the things he loves on display
So everyone could see them.
The house, a car, a thoughtful wife
Ordinary moments in his ordinary life.
But if she breaks a smile, she'll give you away
Cause no one wants to pay to see your happiness.
No one wants to pay to see your day to day
And I'm not buying it either
But I'll try selling it anyway.
Any idiot can play Greek for a day
And join a sorority or write a tragedy
And articulating all that pain
And maybe you'll get paid.
But it's a sin when success complains,
And your writers block-it don't mean shit.
Just throw it against the wall and see what sticks.
Gotta write a hit
I think this is it.
It's a hit.
And if it's not,
Then it's a holiday for hanging
Yeah it's a holiday for hanging
Yeah it's a holiday for hanging
Yeah it's a holiday for hanging
Yeah shoo-bop-shoo-bop my baby
Any fool can play executioner for a day,
And say with fingers pointed in both directions
'he went thataway',
It's only a switch or syringe,
Aww, exempt from eternal sins.
But you still wear a cross,
And you think you're gonna get in.
Ah, but the pardons never come from up-stairs.
They're always a moment too late,
But it's entertainment
Keep the crowd on their toes,
It's justice, we're safe.
It's not a hit, it's a holiday
Shoo-bop-shoo-bop my baby
It's a holiday for hanging, yeah
It's a holiday for hanging, yeah
It's a holiday for hanging, yeah
It's a holiday for hanging, yeah
I'm a holiday for hanging,
I'm a holiday for hanging,
I'm a holiday yeah
I'm a holiday for hanging,
It's a holiday for hanging, yeah
Lyrics © O/B/O APRA AMCOS

Lyrics Licensed & Provided by LyricFind
To comment on specific lyrics,
highlight them