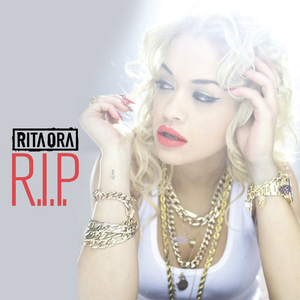 Rita Sahatçiu Ora, better known as Rita Ora, is an Albanian-British singer-songwriter from London, UK. Born in Prishtina in 1990, Ora's family moved to London where she was raised. According to the Hot Right Now Songfacts, during her early teens Ora attended the Sylvia Young Theatre School, whose other notable alumni include Emma Bunton and Amy Winehouse.

Her first UK exposure came after several collaborations with British singer Craig David. In 2009
Read Full Bio
Rita Sahatçiu Ora, better known as Rita Ora, is an Albanian-British singer-songwriter from London, UK. Born in Prishtina in 1990, Ora's family moved to London where she was raised. According to the Hot Right Now Songfacts, during her early teens Ora attended the Sylvia Young Theatre School, whose other notable alumni include Emma Bunton and Amy Winehouse.

Her first UK exposure came after several collaborations with British singer Craig David. In 2009, she also auditioned for BBC talent competition 'Your Country Needs You' – to select the United Kingdom's entrant for the Eurovision Song Contest – but withdrew her application.

In 2009, she signed a recording contract with Jay-Z's label Roc Nation and relocated to America. The How We Do (Party) Songfacts reports that when Ora visited Clear Channel with Jay-Z to present music and videos from her debut release, the executives were so enthused by what they heard that they organised for How We Do (Party) to be immediately premiered on DJ JJ's afternoon show on New York's top hit music station WHTZ (Z100). Her debut album ORA was released on 26th August, 2012.

In December 2015, Ora filed a lawsuit against Roc Nation, seeking release from the label and citing that the contract she signed in 2008 is "unenforceable", due to California's "seven-year rule." The complaint stated that she's "only been permitted to release one album despite creating multiple additional records for release" and that her relationship with Roc Nation is "irrevocably damaged." Her complaint also pointed out a breach of contract, reporting that Roc Nation breached the recording agreement by improperly taking twenty percent commission of her income. In January 2016, Roc Nation filed a counter-lawsuit against Ora for breaking her recording contract. They reached a settlement in May 2016. In June 2016, it was reported that she signed a new record deal with Atlantic Records and Warner Music Group.

Ora's second studio album, Phoenix, was released in November 2018. The lead single, "Your Song", reached the UK top ten; and the subsequent singles, "Anywhere" and "Let You Love Me", reached the top five in the UK. "Let You Love Me" allowed Ora to become the first British female solo artist to have thirteen top ten songs in the United Kingdom. Phoenix was supported by the "Phoenix World Tour" which began March 1st, 2018 and commenced July 16th, 2019.

In September 2019, Ora revealed she had begun work on her third studio album.
Genre not found
Artist not found
Album not found
Search results not found
Song not found
R.I.P. to the girl you used to see
Her days are over, baby she's over
I decided to give you all of me
Baby come closer, baby come closer
Sexy senorita, I feel your aura
Jump out that new motor
Get in my flying saucer
I'll make you call me daddy
Even though you ain't my daughter
Baby I ain't talking books
When I say that I can take you across the borders
I'm young and free, I'm London G
I'm tongue in cheek
So baby give me some time to drink
Slow and steady for me
Go on like a jersey for me
And say the words soon as you're ready for me
I'm ready for ya
Hit 'em all, switch it up
Put 'em on, zip it up
Let my perfume, soak into your sweater
Say you'll be here soon, sooner the better
No option for, you saying no
I run this game, just play a role
Follow my lead, what you waiting for?
Thought it over and decided tonight is your night
Ca-a-an you fe-e-el my he-he-he-he-heart is beatin'
Ca-a-an you fe-e-el my he-he-he-he-heart is beatin'
R.I.P. to the girl you used to see
Her days are over, baby she's over (I-I-I'm ready for ya)
I decided to give you all of me
Baby come closer, baby come closer (I-I-I'm ready for ya)
Nothing on, I strut around
I do it big, I shut it down
I wonder if you'll be able to handle me
Mental pictures, no cameras please
Ca-a-an you fe-e-el my he-he-he-he-heart is beatin'
Ca-a-an you fe-e-el my he-he-he-he-heart is beatin'
R.I.P. to the girl you used to see
Her days are over, baby she's over (I-I-I'm ready for ya)
I decided to give you all of me
Baby come closer, baby come closer (I, I, I'm ready for ya)
Yeah I hear you talking
Don't know who you trying to flatter
Got my mind made up (I, I, I'm ready for ya)
I'm in control, but with you being a man
You don't seem to understand (I, I, I'm ready for ya)
I, I, I'm ready for ya
I, I, I'm ready for ya
So keep thinking you the man
Cause it's all part of a plan
I, I, I'm ready for ya
Ca-a-an you fe-e-el my he-he-he-he-heart is beatin'
Ca-a-an you fe-e-el my he-he-he-he-heart is beatin'
R.I.P. to the girl you used to see
Her days are over
Lyrics © Universal Music Publishing Group, Sony/ATV Music Publishing LLC, Kobalt Music Publishing Ltd.
Written by: Nneka Egbuna, Mikkel Eriksen, Aubrey Graham, Tor Hermansen, Will Kennard, Saul Milton, Patrick Okogwu, Farhad Samadzada, Renee Wisdom

Lyrics Licensed & Provided by LyricFind
To comment on specific lyrics,
highlight them