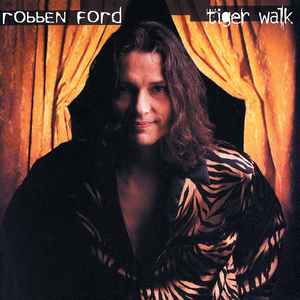 Personnel:
Robben Ford - Guitar, Vocal
Steve Jordan - Drums, Percussion
Charlie Drayton - Bass
Bernie Worrell - Organ
Benmont Tench - Organ
Russell Ferrante - Piano
Lenny Castro - Percussion
Bob Malach - Tenor Saxophone
Ronnie Cuber - Baritone Saxophone


Recorded at Avatar Studios, NYC.
Produced by Niko Bolas and Robben Ford. Executive producers: Chick Corea and Ron Moss.


Robben Ford made no compromises on Tiger Walk, the gifted guitarist's seventh solo album.
Read Full Bio
Personnel:
Robben Ford - Guitar, Vocal
Steve Jordan - Drums, Percussion
Charlie Drayton - Bass
Bernie Worrell - Organ
Benmont Tench - Organ
Russell Ferrante - Piano
Lenny Castro - Percussion
Bob Malach - Tenor Saxophone
Ronnie Cuber - Baritone Saxophone


Recorded at Avatar Studios, NYC.
Produced by Niko Bolas and Robben Ford. Executive producers: Chick Corea and Ron Moss.


Robben Ford made no compromises on Tiger Walk, the gifted guitarist's seventh solo album. The all-instrumental outing sends Ford in a new direction, a cracking, chugging chunk of smoking funk with more in common to records by Booker T and the MGs and the Crusaders than the records Ford has been making though the past decade.

"This project for me was like 'I'm going to do exactly what I want,"' said the guitarist. "It was a perfect situation."

He recruited his dream rhythm section, drummer Steve Jordan and bassist Charley Drayton, who Ford first heard playing on Keith Richards solo albums ("I just loved the sound of the rhythm section. I wrote the music with these guys in mind, " he said.) and obtained the services of engineer Niko Bolas, who also worked on those same Keith Richards records, to co-produce the album with him.

"This is a guitar album. The last three records I've done have been band oriented records, but I haven't done a Robben Ford record. I like bands. The best music in the world comes out of bands; it doesn't come out of sessions. When I started doing the blues records, to some extent my guitar playing went into the background. The records I did with the Blue Line are mostly song performances. But I'm a guitar player first and this record showcases my guitar playing."

Once Ford contacted Jordan and Drayton, the die was cast. At the suggestion of the other players, Ford added on keyboards Bernie Worrell, a onetime member of Parliament-Funkadelic who has made powerful contributions to the work of the Talking Heads, among others. They met at Avater Studios in New York, site of the former Power Station, the exact place Ford wanted to make the album.

We cut all the music, for the most part, live in the studio," he said. Basically I played rhythm guitar and I played solos. The melodies were put on afterwards. It's something like 90 percent live playing with the occasional keyboard overdub, one or two rhythm guitar overdubs."

Ford will put together a touring edition of the band and take this new direction on the road. His straightforward rhythm and blues approach may surprise a lot of people who think they already know Ford.

"The Stax/Volt thing is very strong in my background.", said Ford. "When I was in bands in high school, that's all we played - Otis, Sam and Dave,Wilson Pickett." And that shows on this record. It's an R&B record, like a modern Booker T. and the MGs. It's a rhythm and blues band, all about the groove. I've always tried to keep a strong element of backbeat in my music. But on this record, I'm avoiding any complex musical issues. On 'Red Lady,' there's a few hip chords that are sort of surprising. But otherwise I think it's a funk oriented record. I played the way play.

"There's some good playing on the other records, " he said, 'but you have to look for it. With this record, I feel a guitar player - not a bandleader or a songwriter - but a guitar player."

"In The Beginning was the first thing written for this record. I sat down and just started playing the rhythm guitar figure. I think it's a little variation of the Miles Davis' "Jack Johnson" lick. I like the contrast in the melodic and open feel of the bridge."

Ghosts was inspired by a salsa tune I heard in a coffee house - no idea who it was. I wanted to write something that had a little humor in it as I tend toward writing in a minor keys most of the time."

"Freedom' was written over a year ago. I didn't think it worked at first and hesitated to play it with my group. As usual with things like that, it turns out to be most people's favorite thing we play.

"Red Lady w/Cello was written for Me'Shell Ndegeocello. The red lady is the guitar. I love the way she has brought hip-hop and an expanded sense of musicality together. This song is a tribute to that."

" 'Oasis is inspired again, I think from Miles. I wanted to write something I felt was contemporary yet came out of very simple but beautiful pieces like 'So What" or Coltrane's "Impressions." Just a couple of chords but getting a lot music out of them."

"'Just Like It Is' come straight out of Hendrix, obviously. But also from the classic 'Rhythm & Blues Review' kind of thing; very 'Apollo Theater' was the idea. We did a thing like this when I was playing with Michael McDonald and I always wanted to get to something like it with my band."

" I Can't Stand The Rain' is just a great song."

"'The Champ' started with my little twist on a Coltrane melody. I just took a theme of his and developed it my own way. I really love the way this song turned out."

"' Tiger Walk' was a way to bring chords directly into a melody, and it would up a little 'Link Wray' like 'Rumble.' The improvisation on this really got out there, which I hadn't expected but it turned out great. I love what Bernie does on the organ on this one."

"'Comon' Up' is straight out of Keith Richards - "999" from the 'Main Offender' record. I've got some rock in roll in me, you know."



Reviews:
"Robben Ford, known in recent years for his blues work with his band, the Blue Line, eschews vocals here, teaming up with keyboard funk master Bernie Worrell for some chunky, funky, wah-wah-laden grooves. This music, led by Ford's blazing guitar lines, is more appropriately categorized as instrumental rock than jazz, but the rhythms recall James Brown and Worrell's alma mater, the P-Funk gang, as often as they do those of a hard rock band. Tenor saxophonist Bob Malach turns in a couple of solid solos, and the rhythm section of drummer Steve Jordon and bassist Charlie Drayton cooks throughout." © Jim Newsom, AMG


"Robben Ford released his seventh solo album recently, enlisting the help of Steve Jordan on drums, Charlie Drayton on bass and Bernie Worrell on keyboards. Tiger Walk doesn't have as much of a blues feel to it as Ford's recent albums. This one has more of a funk/R&B sound overall. It's also more of a guitar player's album, as opposed to a band album where the guitar gets pushed into the background.

After three albums with his band, The Blue Line, Ford decided to take some time off and find some new inspiration. Once he contacted Jordan and Drayton, the die for his new band was cast. One of the best tracks on Tiger Walk is "Freedom," featuring some fiery licks as it builds, then brings you back down again.

Ford does a great cover of the R&B classic, "I Can't Stand the Rain," throwing a trademark B.B. King lick in for good measure. The song starts with an almost tribal feel, then slips into a groove that just won't quit. "The Champ" expands on a John Coltrane melody, and turned out to be one of Ford's favorites on the album.

Overall, Tiger Walk is probably the best thing Ford's recorded since his excellent Talk to Your Daughter album. There are a couple tracks that don't quite work, but the guitar work is outstanding throughout, reaffirming his stature as one of the best players around." © 1997 Steve Marshall
Genre not found
Artist not found
Album not found
Search results not found
Song not found
In The Beginning
Robben Ford Lyrics
We have lyrics for 'In The Beginning' by these artists:



Amorphis I have a good mind Take into my head To start of…
Beatiful Mapiyato yanqua hopi Ane himu tangaquunu tanpo Lomata ya tat…
Bethany Dillon In the beginning was the word The word was God And put…
Brian Carter In the beginning Good always overpowered the evils Of al…
Brotha Lynch And Doomsday In the beginning There was darkness And then came the…
Claptone In… the beginning Before one woman caught my eye In… the beg…
Dana Dirksen In the beginning, God created the earth, God created the hea…
Daughn Gibson I wasn't me I'm not the same guy You got it wrong Someone…
Defender In the desert of silence Walks a man beyond the grave In…
Fahrenhaidt Once there was one sea that grew into two Wonders of…
Frankie Laine In the beginning the lord made the earth The heaven the…
Genesis Ocean of motion Squirming around and up and down Pushing tog…
Genesis (Peter Gabriel Years) Ocean of motion Squirming around and up and down Pushing t…
In:aviate The peace I've found will save this soul And I've built…
Jamie Soles In the beginning, God created, the heavens and the earth On…
Justin Hayward In the beginning there was love around our lives In the…
K Naan So! In the beginning There was a hum From a poet whose …
K'naan So! In the beginning There was a hum From a poet whose puls…
Kate Stewart Back, back to the beginnin' Rewind it, gotta start again I b…
Knightz Of Bass the story so far: in the beginning, the universe was…
K\'naan So! In the beginning There was a hum From a poet whose …
Magnum Pages were written turn yellow the age of the rhyme Sadly…
Mike Oldfield In the beginning God created the heaven and the earth. An…
Mötley Crüe In the beginning Good always overpowered the evils Of all…
Mötley Crüe In the beginning Good always overpowered the evils Of al…
My Brightest Diamond In the beginning There was a spark Like two great symbols cl…
O.S.I.R.I.S. Once I was lost inside your eyes Now I'm lost within…
Old Man Luedecke In the beginnin', when true love was winnin' List of my…
Paul Williams In the beginning Empty pages With our story still untold …
Ramp It's just a matter of attitude What I'm going to talk…
Rearview Mirror You're not above and nothing is real subtle when you…
Recon [Jones] In the beginning was the Word And the Word was w…
Rob Rock In the beginning God created the heavens and the earth…
See You Next Tuesday Although comfortable It's not safe to cry yourself to sleep…
Sunz of Man Blood clot... Yo what I'm about to do Is explain how the…
The Moody Blues First Man: I think, I think I am, therefore I…
The Ring My friend I know what you been thinking, I see…
The Statler Brothers In the beginning The Lord made the Earth The Heavens the hil…
The Stills This story ends In Bloodshed The face I love The city I'm fr…
Todd Snider In the beginning, man wondered to himself: Why, oh why are…
Unbelievable Truth You seem to want it just like it was in…
Weyes Blood I gave my strength. For years like an ox I pushed, and…
With Faith Or Flames a beast considered slain now rests within the realm of…
Wizard In former times when the gods brought the steel to…
Zaxas A beast considered slain now rests within the realm of reaso…
Zeds Dead Oh, that's unexpected Yeah ya' that's right! Yeah ya' th…



We have lyrics for these tracks by Robben Ford:



Ain't Got Nothin' but the Blues Ain't got the change of a nickel Ain't got no bounce…
Badge Thinkin' bout the times you drove in my car Thinkin' that…
Birds Nest Bound I'm going to build me a birds nest Right in the…
Blue & Lonesome I'm blue and lonesome Lord, as a man could be I'm blue…
Blue and Lonesome I'm blue and lonesome, As a man can be I'm blue and…
Bonnie Twenty-one days of travel I played twenty one night stands …
Born Under a Bad Sign One, two Born under a bad sign I been down…
Busted Up Busted up over you, busted up over you Well, you take…
Can't Let Her Go Careless since that day, I remember Pictures come from heart…
Chevrolet Buy you a Chevrolet Buy you a Chevrolet Buy you a Chevrole…
Comin' Up [Pimp C] Hold up (Hold Up), we jammin' I can't let nobod…
Deaf Dumb And Blind I couldn't hear when you spoke to me and now you're…
Don't Deny Your Love There's a place I used to go Where deep waters would…
Don't Let The Sun Catch You Crying Don't let the sun catch you crying, crying at my…
Don't Lose Your Faith In Me I let you down And I know it And it was hard For…
Don't Let Me Be Misunderstood Baby, do you understand me now, sometimes I feel a…
Everything I Do Gonna Be Funky Everything I do gohn be funky! Everything I do gohn be…
For The Love Of Money Money money money money money Money money money money mone…
Freedom relax you have nothing to fear the people all around you l…
Goin' Down Slow (speaks) Man, you know I've enjoyed things that kings and q…
Golden Slumbers Once there was a way, To get back homeward. Once there…
Good Thing You cover your senses You cover your eyes You tell…
Good To Love I didn't want to do it I thought I could take…
Hand In Hand With The Blues I watch the streets outside my window I wait but I…
Hard To Please Good mornin' baby what's the matter You didn't sleep so wel…
Help the Poor Help the poor, Won't you help poor me? I need help from…
Hey Brother Hey, brother It's been too long So I put out my hand I…
Homework Oh baby, you know I may be a fool I'm wastin'…
How Deep In The Blues It's none of my business giving advice You can take it…
How Deep In the Blues (Do You Want to Go) It's none of my business giving advice You can take it…
I Can't Stand The Rain I can't stand the rain Against my window Bringing back…
I Got Over It I got over it finally got around it I got over…
I Put a Spell on You I put a spell on you because you're mine You better…
If This I promise all that I have I'll give to you Your…
It's My Own Fault It's my own fault, baby Treat me the way you wanna…
Keep On Running Keep on running, keep on hiding One fine day I'm gonna…
Lateral Climb The sun heats up another working day Coffee, tea, and I'm…
Let Me In If you take my hand All that I feel Will be revealed If…
Lovin' Cup Early in the morning when the sun come up You're sittin'…
Make Me Your Only One I'm a drifter, I walk this world alone I'm a drifter,…
Me And My Woman Me and my woman don't get along one day at…
Moonchild Blues I had love all around me Now i'm all alone I was…
Moth To A Flame something tells me yes something tells me no I see danger …
My Everything I love you endlessly I could love the moon and the…
MYSTIC MILE Somewhere over my left shoulder There's a man who waits He's…
Need Somebody All alone And I need somebody to love The night's grown long…
Nobody's Fault But Mine Nobody's fault but mine [Repeat: x 2] Trying to save my…
North Carolina In a small town, North Carolina There's a smile that relieve…
Nothing To Nobody I'm a father to my children I'm a husband to my…
Oasis Hyvyyden varjo peittaa kyyneleen, loytaneen luo vie askelee…
One Man's Ceiling Is Another Man's Floor There's been some hard feelings here About some words that …
Peace Love & Understanding As I walk through This wicked world Searchin for light in …
Peace On My Mind Someone to rule the world, it wouldn't be me The planet's…
POLITICIAN Hey now baby get into my big black car I want…
Raining in My Heart It's raining on the outside And it said it's raining in…
Red Rooster I have a little red rooster He's too lazy to crow…
Riley B. King He's a king without a castle or crown And every…
River Of Soul Travel on so Sometimes you feel lonely People come and the…
Rose Of Sharon I lead with my left You lead with your right The dust…
running out on me It's time to face it, the simple facts are clear that…
SAY WHAT'S ON YOUR MIND You've got to say what's on your mind Don't be afraid…
Something For The Pain Time to search my soul Now that I'm alone And I need…
Sometime Love When you fall for a love that you'll never possess It…
Spoonful Could be a spoonful of coffee Could be a spoonful of…
Start It Up my, my, my I'm loving what you do to me you…
Strong Will To Live If you lose your woman, please don't lose your mind If…
Supernatural This world?s a tortured place to be So many things to…
Talk to Your Daughter Momma, Papa, please talk to you daughter for me Momma,…
Tell Me I'm Your Man tell me, tell me I'm your man there's a need…
The Way You Treated Me When I first met you baby You were so nice and…
There'll Never Be Another You There'll Never be Another You 8 bar intro Oh, she knows …
Think Twice Here I stand baby, holding out my hand You need…
Tired of Talkin' Baby I'm out of breath, we're talkin' our selves to…
Top of the Hill No need to hide it, or to deny it, I'll…
Trying to Do the Right Thing Your eyes look out at me and I know what…
Up The Line You used to love me Said I was your one desire You're…
Water For The Wicked All the misguided people Have no place to rest Given to thei…
When I Cry Today Something has happened to me I'm lost and unrequited The t…
when i leave here Time was baby when you treated me right You used…
Wild About You (Can't Hold Out Much Longer) I'm just wild about you baby, Do you ever think of…
Worried Life Blues Oh lordy, lord, oh lordy, lord It hurts me so bad…
You Got Me Knockin' You took me to the city baby From a little country…

The lyrics can frequently be found in the comments below, by filtering for lyric videos or browsing the comments in the different videos below.