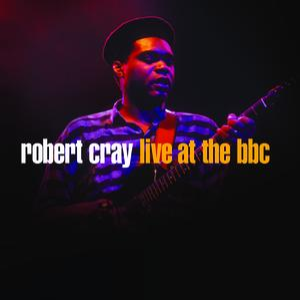 Robert Cray Live At The BBC
Robert Cray (born August 1, 1953, Columbus, Georgia) is an American blues guitarist and singer. A five-time Grammy Award winner, he has led his own band (the Robert Cray Band), as well as an acclaimed solo career. In 2011, Cray was inducted to the Blues Hall of Fame. While Cray was among artists such as Stevie Ray Vaughan and George Thorogood who got wider radio airplay and regular MTV video exposure during the late 1980s, he started playing guitar in his early teens. At Denbigh High School in Newport News, Virginia, his love of blues and soul music flourished as
Read Full Bio
Robert Cray (born August 1, 1953, Columbus, Georgia) is an American blues guitarist and singer. A five-time Grammy Award winner, he has led his own band (the Robert Cray Band), as well as an acclaimed solo career. In 2011, Cray was inducted to the Blues Hall of Fame.

While Cray was among artists such as Stevie Ray Vaughan and George Thorogood who got wider radio airplay and regular MTV video exposure during the late 1980s, he started playing guitar in his early teens. At Denbigh High School in Newport News, Virginia, his love of blues and soul music flourished as he started collecting records. Originally, Robert Cray wanted to become an architect, but at about the same time he was going to study design in architecture he formed a local band "Steakface", described as "the best band from Lakewood you never heard of". Cray on guitar and vocals contributed greatly to Steakface's set list of songs by Jimi Hendrix, Quicksilver Messenger Service, Fleetwood Mac, the Grease Band, Blodwyn Pig, Jethro Tull, Forever More, Spirit, and The Faces.

By the time he was twenty, Cray had seen his heroes Albert Collins, Freddie King and Muddy Waters in concert, and decided to form his own band. His band started playing college towns on the west coast. After several years of regional success, Cray was signed to Mercury Records in 1982. His third release, Strong Persuader, received a Grammy Award, while the crossover single "Smokin' Gun" gave him wider appeal and name recognition.

By then Cray was an opening act for such major stars as Eric Clapton (who remains a friend to this day), and sold out larger venues as a solo artist. Cray has generally played Fender guitars (Telecasters and Stratocasters) and there are two signature Robert Cray Stratocasters models available from Fender.

Cray continues to record and tour.
Genre not found
Artist not found
Album not found
Search results not found
Song not found
I Guess I Showed Her
Robert Cray Lyrics
I paid the clerk and moved right in
A single room with one big twin
There's a chest and mirror
Shower's down the hall
Room 16 ain't got no view
But the hot plate's brand new
I guess I showed her
I guess I showed her
Once again I've been burned
My suspicion's been confirmed
I saw her having lunch
With some new guy
I walked up and said, "Goodbye"
She said, "Wait, can we talk tonight?"
I guess I showed her
Mmmm, I guess I showed her
I guess I showed her
I guess I showed her
I guess I showed her that a man, yeah
Has his limits
Another man is where I draw the line
She can have the house
And everything that's in it
I guess I showed her, yeah
I guess I showed her
She will be surprised
When she comes in tonight
Flips on the light
And finds an empty home
Yeah, every time she's lied
Will flash before her eyes
I guess I showed her, yeah, yeah
I guess I showed her
I guess I showed her, yeah, yeah
I guess I showed her
Now she can have the house
And she can keep the car
I'm just satisfied
Staying in this funky, little old motel
I'm so mad
Well I can't stand it
I can't stand it
Nooooooo!
Lyrics © BMG RIGHTS MANAGEMENT US, LLC
Written by: D. WALKER

Lyrics Licensed & Provided by LyricFind
To comment on specific lyrics,
highlight them