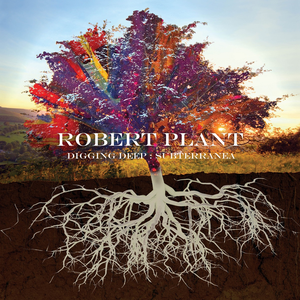 Digging Deep: Subterranea
Digging Deep: Subterranea is a compilation album by Robert Plant, released on October 2, 2020. The collection includes tracks from all his solo albums and three unreleased songs.
Genre not found
Artist not found
Album not found
Search results not found
Song not found
Ooh Ooh Ooh Ooh
Ooh Ooh Ooh
I found a lucky charm
I dressed it up with love
I crossed the Seven Seas to you
Will it be enough?
And I will be a rainbow
Oh, while your storm is gone
And I will bring the song for you
And I will carry on
Ooh Ooh Ooh
Ooh Ooh Ooh
I'm reachin' for the stars
In the sky above
Oh, I will bring their beauty home
The colors of my love
And I will be a rainbow
Now your storm is gone
And I will bring my song to you
And I will carry on
Ooh Ooh Ooh
Ooh Ooh Ooh
Ooh Ooh Ooh
Ooh Ooh Ooh Ooh Ooh Ooh Ooh
Love is enough
Though the world be a wind
And the woods have no voice but the voice of complaining
My hands shall not tremble, my feet shall not falter
The voyage shall not weary, the fish shall not alter
Hmm, It's rainbow, oh it's rainbow
Oh, can't you see the eyes are the eyes of a lover
Pocket full of hearts
A world that's filled with love
A love that carries all before
The passion and the flood
I lie beneath the rainbow
Now your tears have gone
And I will sing my song for you
And I will carry on
Ooh Ooh Ooh Ooh
Ooh Ooh Ooh
Ooh Ooh Ooh
Ooh Ooh Ooh Ooh Ooh
Oh yeah, oh oh oh oh no no baby Ooh oh oh
Oh yeah, Ooh Ooh Ooh
Ooh Ooh Ooh
Ooh Ooh Ooh
(Ooh Ooh Ooh)
Lyrics © Warner Chappell Music, Inc.
Written by: JOHN BAGGOTT, JUSTIN ADAMS, LIAM TYSON, ROBERT PLANT, WILLIAM FULLER

Lyrics Licensed & Provided by LyricFind
To comment on specific lyrics,
highlight them