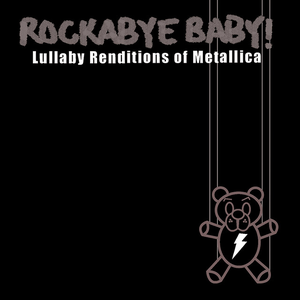 Lullaby Renditions Of Metallica
Baby Rock Records transforms timeless rock songs into beautiful instrumental lullabies, sending your little one to a slumberland of sweet dreams. Delicate instruments such as the glockenspiel, vibraphone, mellotron, harp and bells create a soothing atmosphere of sound. These charming recordings are sophisticated enough for everyone to enjoy, yet gentle enough for your little angel. This is cherub rock for a new generation.

There are currently 25 Rockabye Baby! albums on the market featuring the songs of Coldplay
Read Full Bio
Baby Rock Records transforms timeless rock songs into beautiful instrumental lullabies, sending your little one to a slumberland of sweet dreams. Delicate instruments such as the glockenspiel, vibraphone, mellotron, harp and bells create a soothing atmosphere of sound. These charming recordings are sophisticated enough for everyone to enjoy, yet gentle enough for your little angel. This is cherub rock for a new generation.

There are currently 25 Rockabye Baby! albums on the market featuring the songs of Coldplay, Metallica, Radiohead, Tool, Pink Floyd, The Cure, The Beach Boys, Nirvana, Led Zeppelin, The Eagles, Queens of the Stone Age, U2, The Ramones, Nine Inch Nails, Smashing Pumpkins, No Doubt, Bob Marley, Green Day, Rolling Stones, AC/DC, The Beatles, and Björk.

Rockabye Baby's most recent releases include Lullaby Renditions of AC/DC, which was released on March 4th, 2008[1] and Lullaby Renditions of the Pixies, which was released on June 10th, 2008.[2]

Upcoming Rockabye Baby! albums include tributes to Queen, Kanye West, Stevie Wonder, and Black Sabbath.
Genre not found
Artist not found
Album not found
Search results not found
Song not found
Little miss Mary Mack
Had buttons all down her back
She let Geordie loosen them up and now her belly's fat
Now mary's little lamb
Follows her wherever she goes
No more hanging out at the bar, cause baby ain't old enough
[BRIDGE]
So now its Mary and Georgie, sitting in a tree
With a b-a-b-y baby
I bet they learned a lesson, about early sex
And why it shouldn't be
[CHORUS]
Rockabye baby
Said georgie to mary
(its your turn)
Rockabye baby
Said mary to georgie
(its your turn)
Rock, rockabye rockabye tonight
Rock, rock, rockabye rockabye tonight
Rock, rockabye rockabye tonight
Rockabye baby tonight
Its been three years since they finished high school
Now baby's growing up
Mary works sellin' hot crossed buns, since georgie's up and gone
All thanks to peter's piper, mary can pay the bills
She can't get a 9 to 5 cause she ain't go to college
So now its mary and baby, sitting in a tree
No g-e-org-i-e georgie
I bet she learned a lesson about havin' children before you are ready
[CHORUS]
I said marys been workin all live long day
Evey since baby's daddy went away
She gave up her sweet little puddin pie
Now shes got little boy blue on her side
Screamin' "georgie pordgie let me in"
Saying "not by the hair of my chiny chin chin"
She scribbled down I hate you on his subpoena papers
This baby's yours and I need support
Mary used to be a pretty maid, now shes hustling to get paid
Georgie promised her the finer things, till baby blue was born
Now she sits up all alone at night, wipin tear drops from her eyes
Wishin georgie did her right since baby came alone
[CHORUS]
Rockabye baby its your turn
Rockabye baby its your turn
[Fades out]...
Contributed by Samantha S. Suggest a correction in the comments below.
To comment on specific lyrics,
highlight them