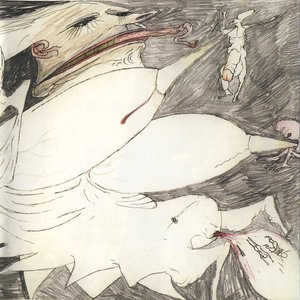 Rudimentary Peni (1980 - present) emerged from the anarcho-punk scene in the UK in the early eighties as one of the most novel and recognizable acts of the era.

Lead singer/guitarist Nick Blinko is notorious for his witty macabre lyrics and dark pen-and-ink artwork, prominently featured on all of Rudimentary Peni's albums. Blinko is also rumored to have written the band's Pope Adrian 37th Psychristiatric album whilst resident in a psychiatric hospital
Read Full Bio
Rudimentary Peni (1980 - present) emerged from the anarcho-punk scene in the UK in the early eighties as one of the most novel and recognizable acts of the era.

Lead singer/guitarist Nick Blinko is notorious for his witty macabre lyrics and dark pen-and-ink artwork, prominently featured on all of Rudimentary Peni's albums. Blinko is also rumored to have written the band's Pope Adrian 37th Psychristiatric album whilst resident in a psychiatric hospital, having suffered from mental illness most of his life, as such, the subject matter of the album relates to the delusions Nick was experiencing at the time, particularly the idea that he was said Pope. Nick's subject matter has been influenced by the work of H.P. Lovecraft who he had studied after having delusions of the macabre element of life and hereafter. Bassist Grant Matthews has also written a number of songs for the band, though his lyrics primarily focus on sociopolitical themes. The band also features drummer Jon Greville.

Very few photos exist of the band, as their albums feature Blinko's drawings, but artist and record label owner Pushead published a few photos of the band in an early edition of his magazine.

The band had early connections with Crass, and released their Farce EP on Crass Records. Though they stopped performing in the 1980s after bassist Grant Matthews was diagnosed with cancer, they continue to record and release material today, though they rarely give interviews. Nick Blinko has also become increasingly popular in the Outsider Art scene, and wrote an autobiographical novel entitled "The Primal Screamer", revered amongst his fans to be a literary masterpiece.

Musicians of a variety of genres (from thrashcore to death metal to apocalyptic folk) have taken influence from the work of Rudimentary Peni. There is even an all-girl high school cover band that does all Rudimentary Peni. The legend created by Rudimentary Peni is part in thanks to their evasion of media coverage and the spread of misinformation.

A new album, No More Pain EP was released on May 5th 2008. Nick Blinko has also finished a new untitled novel, due out sometime in the near future.
Genre not found
Artist not found
Album not found
Search results not found
Song not found
what is this that burns, through every cell, and every fibre of being? divine decay, pure and infernal, the flame of insanity.
Lyrics © O/B/O APRA AMCOS

Lyrics Licensed & Provided by LyricFind
To comment on specific lyrics,
highlight them