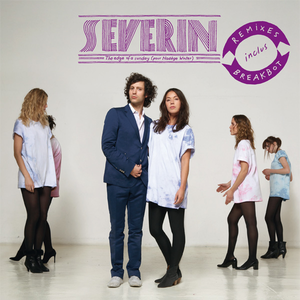 The Edge of a sunday - EP
Séverin est un jeune auteur compositeur né à l'aube de la décennie qui vit l'avènement des synthétiseurs : les années 80.
Ce brillant « chef d'orchestre dans un petit costume rouge » fait de la musique depuis une vingtaine d'années. Flirtant avec de multiples instruments tel un funambule qui testerait ses cordes. Séverin est à l'aise partout (clarinette, guitare, piano, chant…). C'est lors de ses études de cinéma qu'il réalise à quel point la musique tient une grande place dans son univers.
Read Full Bio
Séverin est un jeune auteur compositeur né à l'aube de la décennie qui vit l'avènement des synthétiseurs : les années 80.
Ce brillant « chef d'orchestre dans un petit costume rouge » fait de la musique depuis une vingtaine d'années. Flirtant avec de multiples instruments tel un funambule qui testerait ses cordes. Séverin est à l'aise partout (clarinette, guitare, piano, chant…). C'est lors de ses études de cinéma qu'il réalise à quel point la musique tient une grande place dans son univers. Même si le challenge d'en vivre semble être une échappatoire dorée totalement inaccessible, le jeune homme garde secrètement ce désir enfoui dans son coeur. En grand fan de comédies musicales « made in Jacques Demy's style » (Les demoiselles de Rochefort, Les parapluies de Cherbourg), il continue d'observer avec émerveillement et curiosité le lien magique qu'entretiennent musique et image.

En 2006, Séverin et son acolyte Lafayette forment un duo électro-pop souriant nommé ONE-TWO. Ensemble, ils vont accumuler les premières parties prestigieuses telles : Justice, Bloc Party, Wyclef Jean ou The Rapture … et se forger une solide expérience de la scène en Allemagne, Angleterre et dans le reste de l'Europe.

Puis survient un drame du quotidien : Séverin et sa compagne se séparent. Alors, lui vient le besoin inconditionnel et frénétique de composer de la musique mais uniquement pour des filles, inconsciemment il a besoin de leur plaire, d'être aimé à nouveau pour aimer encore et panser ses plaies… « Je ne pouvais rien faire d'autre que de la musique et ça m'a occupé pendant un an et demi (…) et puis être avec des filles jolies, sympas et talentueuses, ça rend heureux » . Alors il fait de la musique pour ne pas être seul et la maïeutique du projet prend tout son sens. Il avoue discrètement qu'« il n'y a rien de plus touchant qu'une fille qui se sent comprise dans les mots ou la musique d'un morceau que tu lui as écrit ». Ainsi, son chagrin trouve un écho naturel à travers les voix des 14 chanteuses qu'il sélectionne avec minutie et délicatesse. Elles l'inspirent, et le charme opère instantanément…
Genre not found
Artist not found
Album not found
Search results not found
Song not found