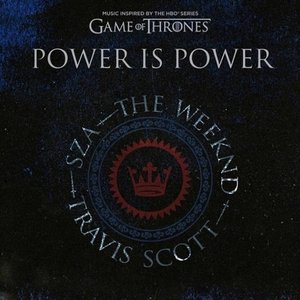 Power is Power (feat. SZA, The Weeknd, Travis Scott) [from For The Throne (Music Inspired by the HBO Series Game of Thrones)]
Solána Imani Rowe, known professionally as SZA, is an American singer and songwriter. Rowe was born in St. Louis, Missouri but raised in Maplewood, New Jersey. She released her self-released debut EP, See.SZA.Run in October 2012.

In April 2013, SZA released her S EP to good critical reviews— in July of that same year, it was announced she was signed to Top Dawg Entertainment and began working on her Z EP, which would eventually become a full-fledged album. Z was released in April 2014. Rowe's debut album, CTRL, was released in June 2017.
Genre not found
Artist not found
Album not found
Search results not found
Song not found
Power is Power
SZA Lyrics
I was born of the ice and snow
With the winter wolves, in the dark alone
The wildest night, I became the one
And you'll know you're mine when the silence comes
Heavy is the crown, only for the weak
A knife in my heart couldn't slow me down
'Cause power is power, my fire never goes out
I rise from my scars, nothing hurts me now
'Cause power is power
Now watch me burn it down
I been down for the coldest war
And I'll know where I been 'cause I bled before, yeah
How do I know if I let you stay?
How do I know if we did it your way?
You wouldn't take my place
Put me away, I'd die lookin' up at your face
How do I ever know? Who can I trust?
Feelings of emptiness
Only love could kill me, God bless
A knife in my heart
Couldn't slow me down (couldn't slow me down)
'Cause power is power ('cause power is power)
My fire never goes out
I rise from my scars
Nothing hurts me now (nothing hurts me now)
'Cause power is power ('cause power is power)
Now watch me burn it down
Breathe, feel the air that I breathe (yeah)
Air that I, air that I breathe (ooh)
Who's hotter? Been a monster with a crown (ooh)
So swamped by high water, keep your head up, you might drown (ooh)
In this world it's way colder, by the day, we count it down
Been around, just been waitin' up, she gon' come around
I took a drag, bust it out the gates, my lil' baby slay
I wore the flag, put that on my face, ain't nobody safe
Lift the mask, they gon' have to see what they can't erase
I took a lie, so I took it back (do-do-do-do-do, yeah)
Danger's on my mind (ah)
Ain't no knife, dagger, bullet that can do it
For you, yeah you know, I go right up straight through it (yeah, yeah)
Heavy is the crown, but never for a queen (oh, yeah)
A knife in my heart
It couldn't slow me down (couldn't slow me down)
'Cause power is power ('cause power is power)
The fire never goes out (oh)
I rise from my scars
Nothing hurts me now (nothing hurts me now)
'Cause power is power ('cause power is power)
Now watch me burn it down (ooh, yeah, yeah)
Now watch me burn it down
Lyrics © WORDS & MUSIC A DIV OF BIG DEAL MUSIC LLC, Universal Music Publishing Group, Sony/ATV Music Publishing LLC, Kobalt Music Publishing Ltd., WORDS & MUSIC A DIV OF BIG DEAL MUSIC LLC, Warner Chappell Music, Inc.
Written by: Abel Tesfaye, Ahmad Balshe, Jacques Webster, Jason Quenneville, Mike Dean, Myles Martin, Ricky Reed, Sam Harris, Solana Rowe, Victor Dimtosis, Zachary Cooper

Lyrics Licensed & Provided by LyricFind
To comment on specific lyrics,
highlight them