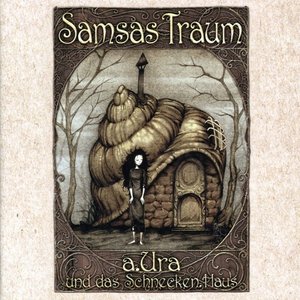 a.Ura und das Schnecken.Haus
"Samsas Traum" was evoked in 1996 by Alexander Kaschte as solo-project, resulting from his incapability of working together with other musicians. Having performed as vocalist and guitarist in several Black-, Death-, Doom- and Melodic-Metal-Bands before, he decided to walk his own paths, to step forward into the wide fields of darker electronic and neoclassical music.

The first demo-tape "Nostalgische Atavismen" sold more than 500 copies in the worldwide underground
Read Full Bio
"Samsas Traum" was evoked in 1996 by Alexander Kaschte as solo-project, resulting from his incapability of working together with other musicians. Having performed as vocalist and guitarist in several Black-, Death-, Doom- and Melodic-Metal-Bands before, he decided to walk his own paths, to step forward into the wide fields of darker electronic and neoclassical music.

The first demo-tape "Nostalgische Atavismen" sold more than 500 copies in the worldwide underground, slowly spreading the news that "Samsas Traum" someday might become more than a very strange little band with even stranger german vocals. After recording and releasing two more demo- and promo-tapes, the band signed their record deal with "Trisol Music Group Germany" (London After Midnight, Sopor Aeternus, L'âme Immortelle) on the 1st of march 1999, exactly three years after the bands foundation. The chief-manager of "Trisol" got to know about "Samsas Traum" randomly; he was phoning "Orkus Magazine" concerning adverts, and the person in charge listened to the bands' latest promo-release while talking to him.
Genre not found
Artist not found
Album not found
Search results not found
Song not found
K.ein einziges Wort
Samsas Traum Lyrics
Kenne ich Dich?
Und schon war ich verloren,
Alle Lieder schwiegen still;
Die größte Liebe
Fing am allerkleinsten an.
Vielleicht flüstert irgendwann,
Wenns der Lauf der Dinge will,
Diese Stimme Nacht für Nacht
In meine Ohren.
Ein einziges Wort von mir,
Sagst Du, das hätte ausgereicht,
Damit die Sehnsucht in Dir
Ihrer Erfüllung weicht.
Streck noch mal die Hände aus,
Denn ich war da;
Du hast nicht aufgehört,
Nach mir zu suchen.
Ja, ich war Dir
Schon einmal nah,
Als ich Dich vor Jahren sah,
Da nahmst Du mich gefangen.
Wir sind aneinander
Vorbeigegangen;
Heute weiß ich nicht woher,
Aber unser Anfang, er wird schwer.
Ein einziges Wort von Dir,
Sag ich, das hätte ausgereicht,
Damit der Wunsch in mir
Endlich seiner Erfüllung weicht
Mit der Zukunft in der Hand,
So stand ich da,
Dir längst verbunden;
Du hast gesucht, und ich
Hab nur gefunden.
Kein einziges Wort von uns
Wird jemals dem einen gleichen,
Das mein Herz Dir entgegen schrie,
Als ich damals
Sprachlos vor Dir stand.
Mit der Feder in der Hand
Sitze ich da und such vergebens
Nach dem Wort unsres Lebens.
Kenne ich Dich?
Und schon war ich verloren
Die Musik schwieg plötzlich still;
Auch große Liebe fängt
Mit kleinen Schritten an.
Vielleicht finden irgendwann,
Wenns der Lauf der Dinge will,
Diese Lieder ihren Weg
In Deine Ohren.
Contributed by Nicholas O. Suggest a correction in the comments below.
To comment on specific lyrics,
highlight them